Welcome to Sportsman Boats, "Behind The Glass," a new series based around the construction process inside the Sportsman Plant. In this episode we are taking a look at the Hull Construction Process. We will dive into each step along the way, explaining the materials we use and why we use them.
The hull is the bottom of the boat; it dictates a boat's ride quality, length, design, shearline, and overall look. Sportsman has an innovative approach to hull construction, where we believe that these materials and processes yield the best results.
Like any great boat, the perfect boat starts with the perfect mold. Our molds go through rigorous maintenance to ensure every new hull meets our quality standards. The team spends countless hours sanding and buffing them to perfection to achieve the highest quality part.
To understand our hull construction, we must understand that boats are built from the outside in starting with the first layer, referred to as the gelcoat layer; this single layer contains the color and gloss and ultimately will be the visible part of the hull. Gelcoat is a pigmented layer of resin. Unlike traditional automotive paints, where color and gloss are layered, Gelcoat is a single tough layer. This allows it to be sanded and buffed throughout its life to restore the original finish. Once the gelcoat has been sprayed on the mold, to ensure proper thickness & consistency, a quality technician takes measurements at different locations of the hull with a mil gauge. This is one of the many steps that we take throughout the construction process to ensure consistent quality in every build. The results are closely recorded using tablets at each quality control station.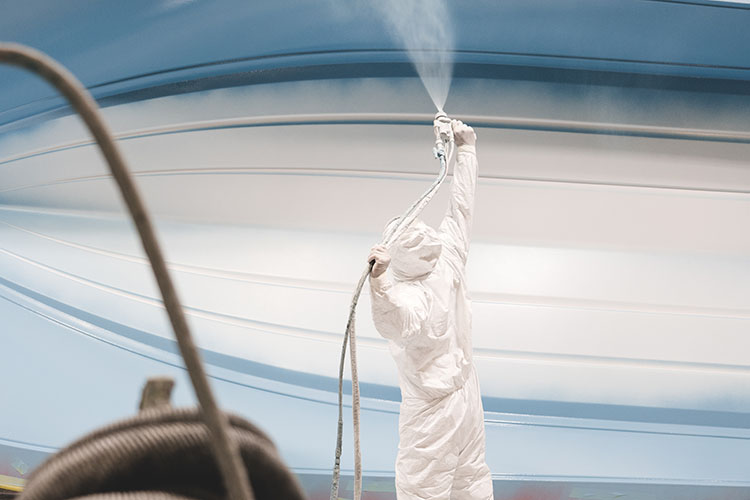 After proper curing time, work begins on the second layer, commonly referred to as the skin coat layer. This chopped fiberglass layer has a very important job. Its job is to support the gelcoat layer and is the first line of defense against water penetration. A key advantage to our construction process is that at this layer, we use a high-quality vinyl ester resin. Vinyl ester resin is preferred for its strength, superior corrosion resistance, and ability to withstand water intrusion. To finish this layer, the team uses special rollers to penetrate and release any trapped air and ensure proper adhesion to the gelcoat layer.
Once the skin coat layer has dried, the strakes are filled with polyester putty. This putty adds to the strength of the hull sides and also helps make a smooth inside of the part, helping further prevent air bubbles and inconsistent layers of glass.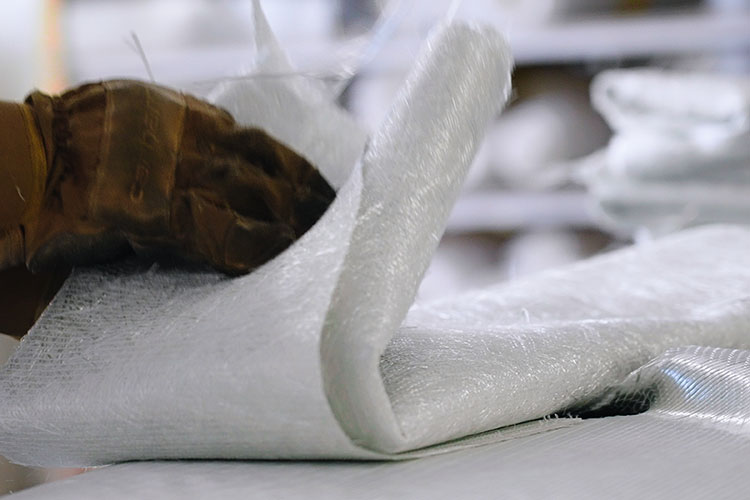 Once the putty is in place, we will add many different types of composite core materials called core mat that each serves a specific purpose ranging from screw retention to sound dampening. First is the hull sides, which receive a full layer of coring; this material is used for sound dampening and rigidity. Next, we focus on the pinning flange, an area that requires high screw retention. Later in the process, we will attach the hull and deck using this flange. Arguably the most important piece of composite material is at the transom, where engines will apply high levels of stress and test the strength of your boat's transom. In this area, we use a no-rot composite material called Coosa Board which is made up of high-density polyurethane foam that's reinforced with layers of fiberglass. This gives us a very strong, reliable transom. These composite materials significantly strengthen the transom and hull sides with minimal impact on the overall performance and weight.
As you may have noticed, each of these materials is precision cut for each Sportsman model using our state-of-the-art CNC machining. This ensures that every single Sportsman Boat is built to precise specifications.
After all materials are laid out strategically, we will encapsulate all of them with fiberglass using a combination of copped and hand-laid fiberglass to a specified thickness.
Thank you for taking a look at our hull construction process. This process is part of our SportTech® Advanced Fabrication Process. This proprietary combination of processes and materials yields the best result each step of the way and has been thoroughly tested for durability, longevity, and finish. All Sportsman Boats features a 100% composite construction with zero wood.
Join us in our next episode for another installment of Behind The Glass, where you'll get an inside look at the backbone of our boats, the Stringer System.