Sportsman Boats announces fourth consecutive win for excellence in customer service for 2020. Awarded by the NMMA.
Sportsman Boats, a family-owned and operated, award-winning manufacturer of center console and bay boats announces their recognition as a recipient of the National Marine Manufacturer Associations'(NMMA) 2020 Marine Industry Customer Satisfaction Index (CSI) Award. This is the fourth consecutive year Sportsman Boats has been recognized for their dedication to outstanding customer service. The Marine Industry CSI Awards honor boat and engine manufacturers who actively measure customer satisfaction and pursue continuous improvement to better serve their customers. Award recipients achieved an independently measured standard of excellence of 90 percent or higher in customer satisfaction over the past program year, based on information provided by customers purchasing a new boat or engine during the period between January 1, 2020 and December 31, 2020. Participating manufacturers must survey all new boat buyers during this period. For this reporting period, the program surveyed more than 175,000 customers.
"We are proud to receive our fourth consecutive Customer Satisfaction Index Award for our excellence in customer service." Said Victor Gonzalez, Director of Marketing for Sportsman Boats. "Customer Service is our top priority here at Sportsman. We believe that by building a quality product and supporting our customers every step of the way, everyone will have the best experience possible."
NMMA Boat & Yacht Certification helps manufacturers ensure their boats are built to applicable standards set by the American Boats & Yacht Council (ABYC), and to promote their compliance to the public.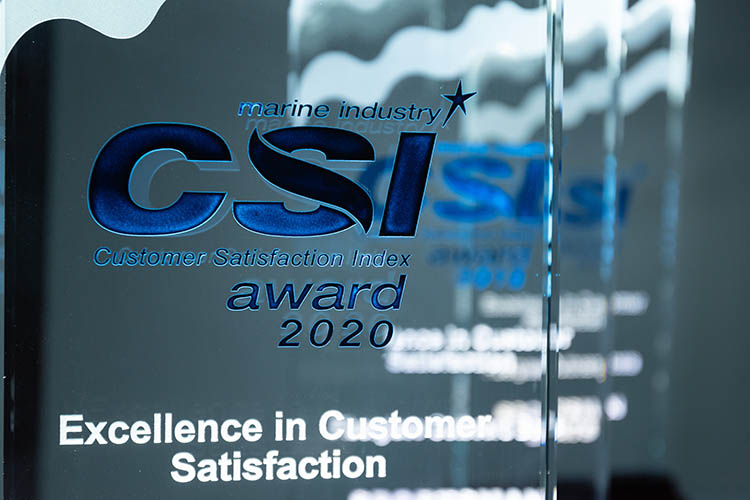 Previous CSI Awards
In order to qualify, Sportsman must submit applications for all models; each model must be physically inspected by an NMMA inspector annually. To achieve Certification, a manufacturer must demonstrate that all variances found during the inspection have been corrected. All of the Sportsman Boats models are certified. We are committed to providing you and your family a safe, reliable and dependable boat for many years to come and we believe this is an important step in achieving that.