Covering fishing features is a top priority to creating a successful episode of "The Sportsman Experience." The Open 352 boasts so many great fishing features that a Top Fishing Features break-down was needed.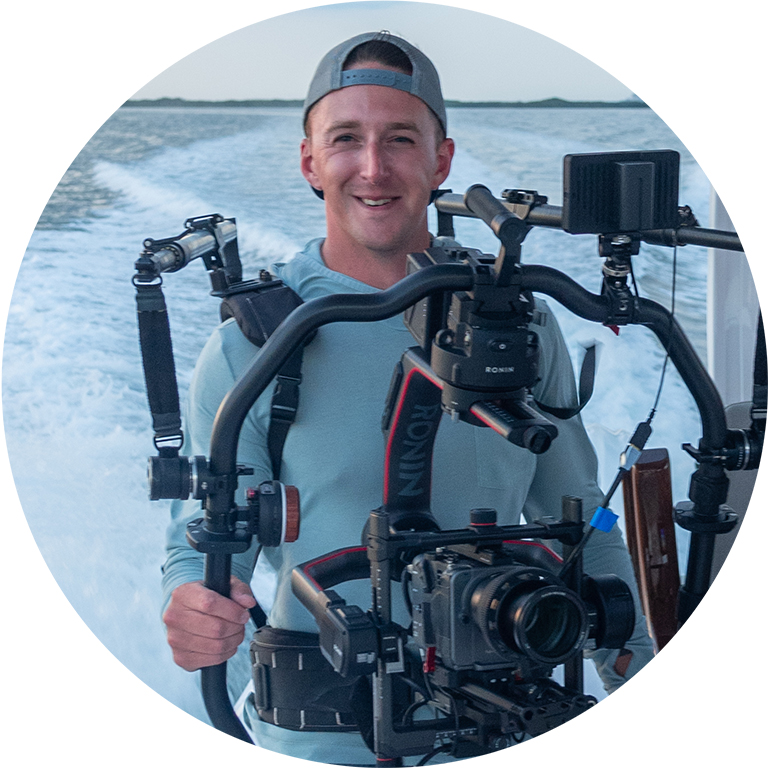 Michael Cheser
Video Producer / Content Creator
What features would you want to see in a boat that's designed to be a family/fishing boat? That's the question our product development team has gone over and over every time they sit down to design or update a new model for the Sportsman lineup. When it comes to shooting an episode of our latest series "The Sportsman Experience." our production team has to think about what features to highlight and how, while also making a great fishing show. One model we go back to time and time again for it's comfort and versatility is our flagship model the Open 352 Center Console. The features make it a great boat to fish from, it's easy to make 70+ mile runs to the gulf stream, and the large console stores the ample amount of camera gear in a dry and protect area during those long runs.
So what features stand out to us as the Top Fishing Features of the Open 352?
Large Rear Cockpit Area The Open 352 boasts a spacious rear cockpit area with a fold-down seat that offers plenty of room for fishing and comfortable seating during long runs to your next fishing spot. Some additional features here are the 88-quart insulated transom cooler box, great for keeping all of your drinks cold throughout a long day on the water. Beneath the seat you will also find the self bailing cockpit which drains any water on the floor overboard and not into the bilge area.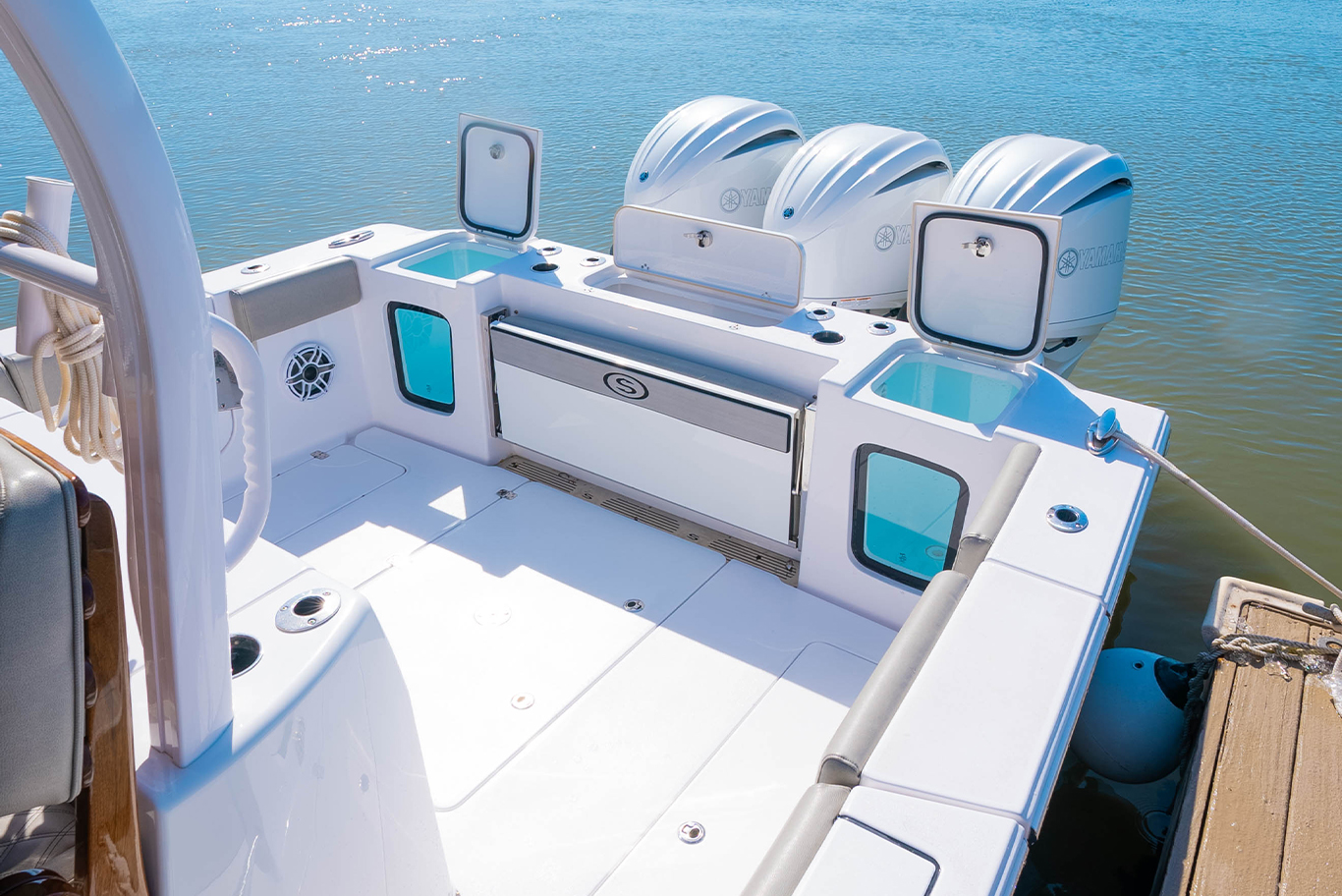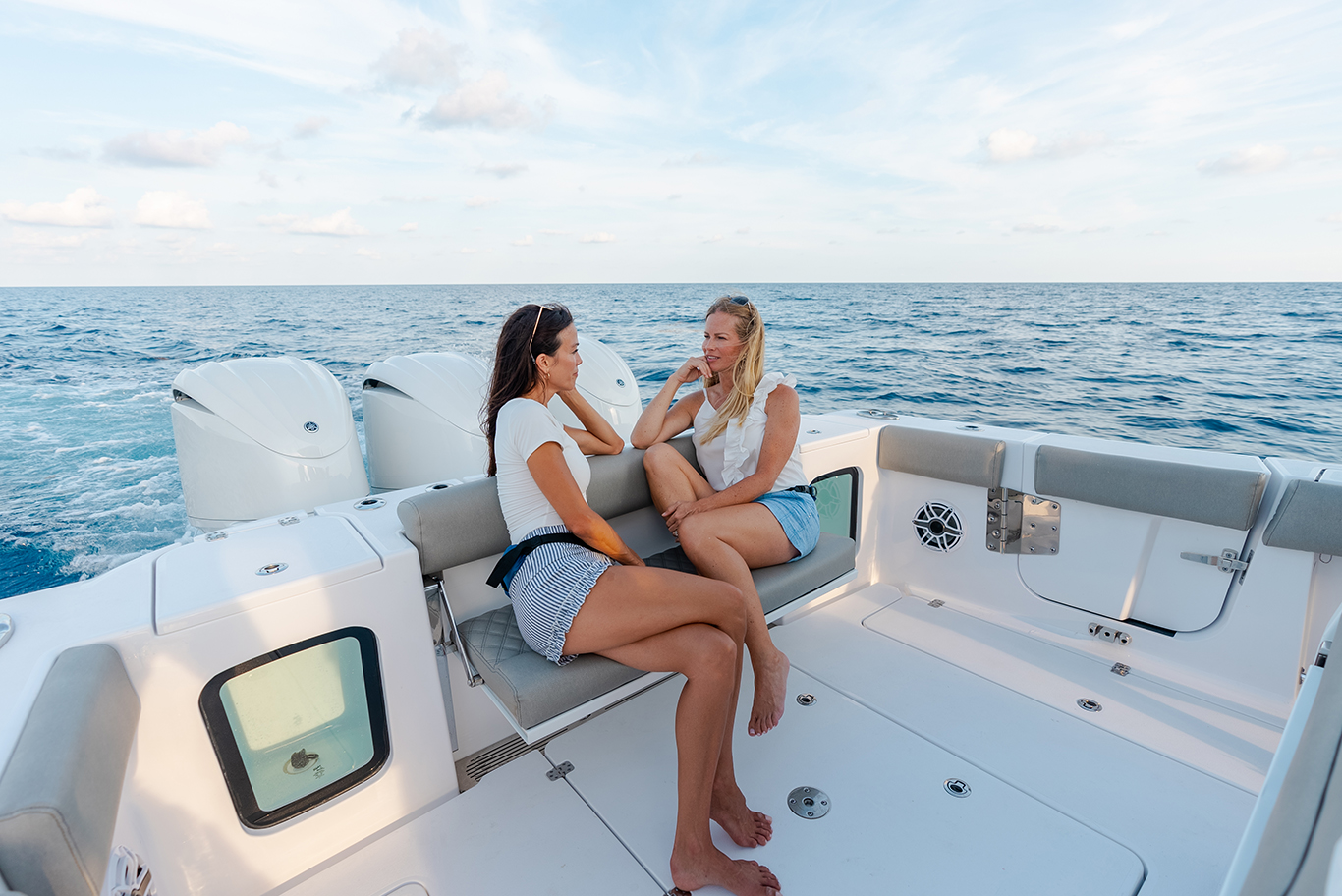 Twin 30-Gallon Pressurized Livewells The twin 30-gallon pressurized livewells of the Sportsman Boats Open 352 Center Console provide a safe and calm place for your bait. The livewells are pressurized to keep the bait from being sloshed around which prevents rednose and dead baits. Additionally the aquarium glass is aesthetically pleasing and provides an easy way to keep an eye on your bait.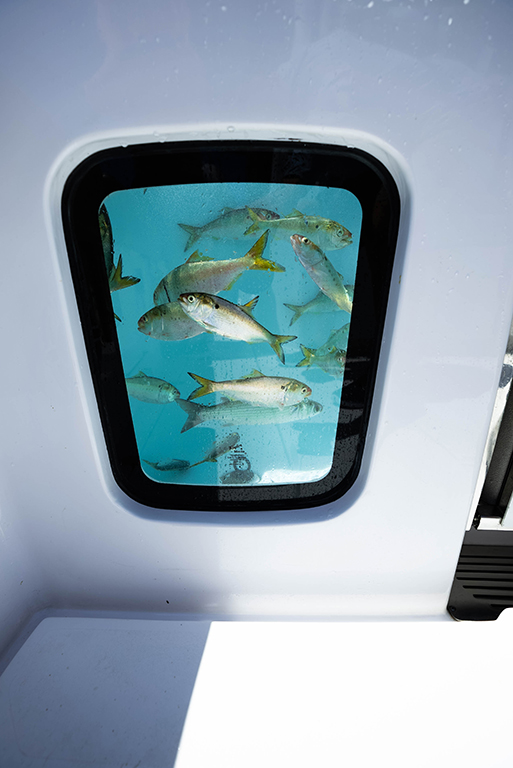 Rear Facing Fold-Up Bench Seat with Leaning Post Sink and Bait Prep Area A feature you may not notice at first glance is the rear facing bench seat. This seat allows you to sit back and relax while watching baits. Above the seat also features a leaning post bait station and sink with a lid. This convenient feature makes it easy to prep your bait and clean up after a successful day of fishing. The lid also provides additional workspace and can be closed to keep the area tidy and organized.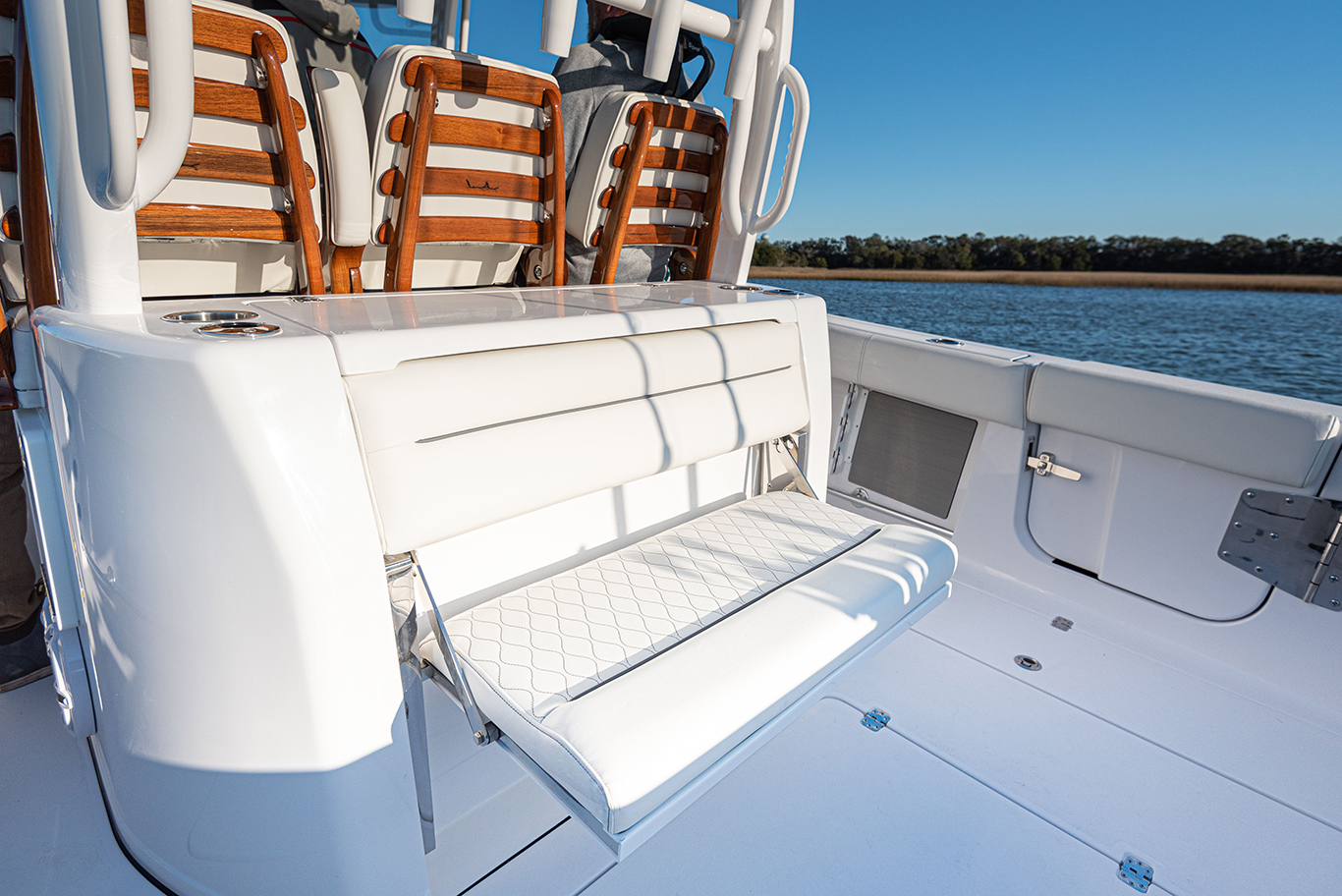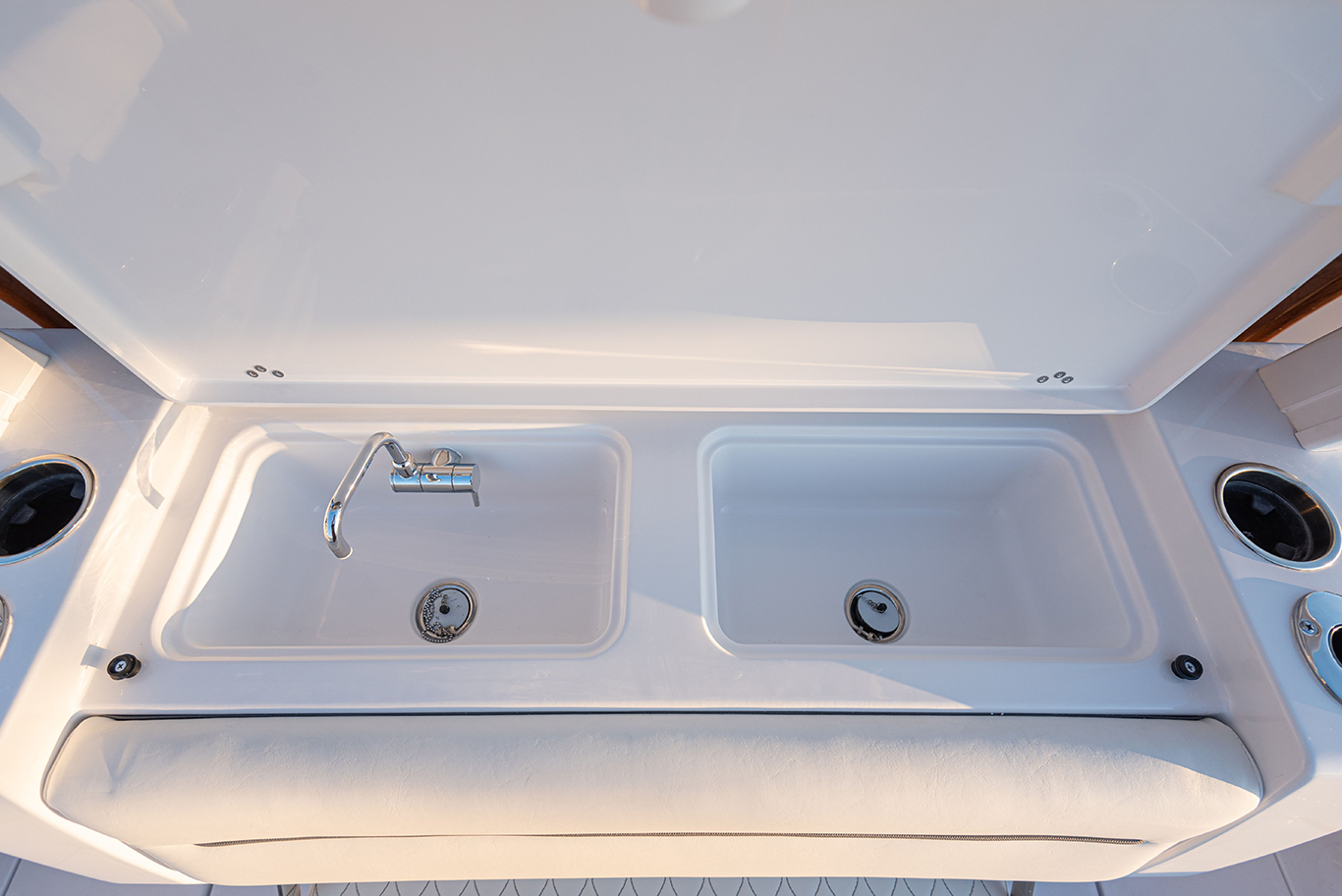 Dual 234-Quart Insulated and Macerated In-Deck Fish Boxes The Open 352 comes equipped with two large 234-quart insulated in-deck fish boxes that can hold ice for several days. Additionally these boxes are incredibly strong as they're designed into the stringer system. Their insulation comes from the foam filled cavity between our full-grid stringer and hull. The lids also insulated with special coring materials which helps block the heat of the sun from penetrating the lid and provides additional strength without making the lids heavy and hard to open.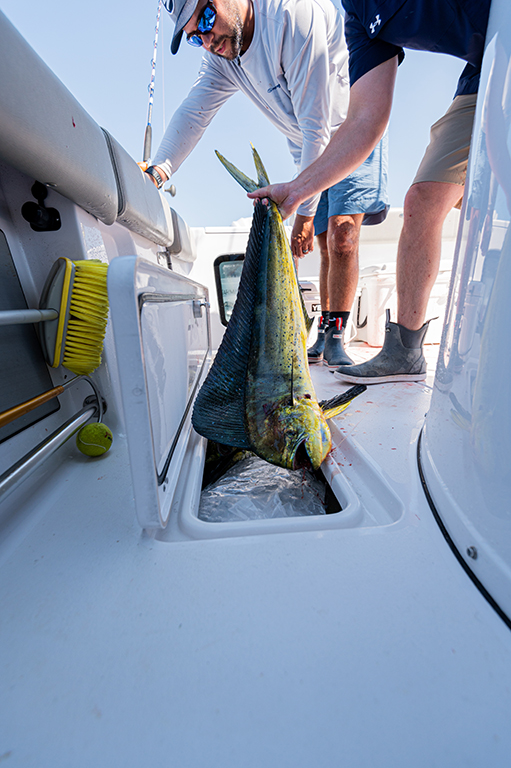 Ample Amount of Rod Storage Rod storage is no issue on the Open 352. This beautiful boat features a generous amount of rod storage, including under-gunwale storage, console storage, and rocket launchers across the hardtop and leaning post. With this much storage space, you'll be able to bring all the gear you need for a successful day of fishing. Once you're ready to fish the transom and gunwales include several Gem-Lux rod holders set at the perfect angle to minimize tangles in your lines while trolling.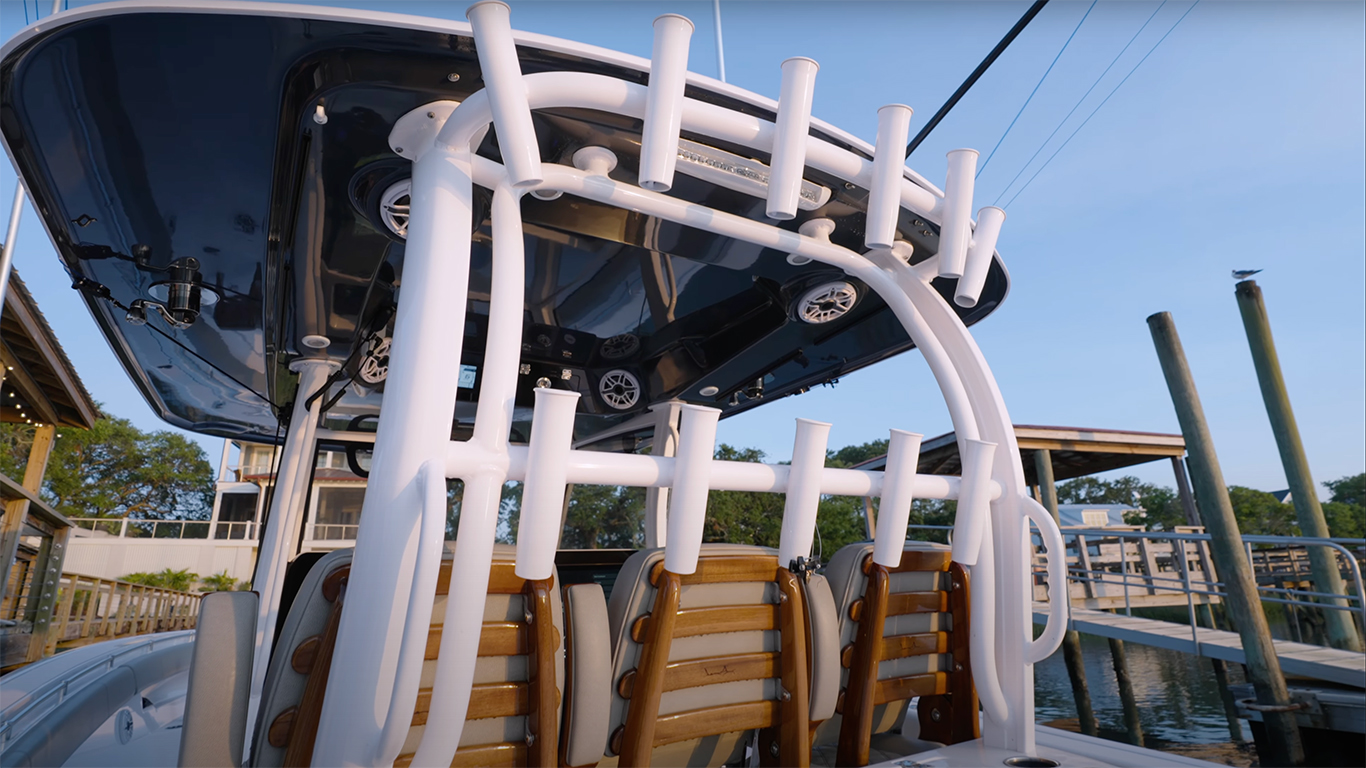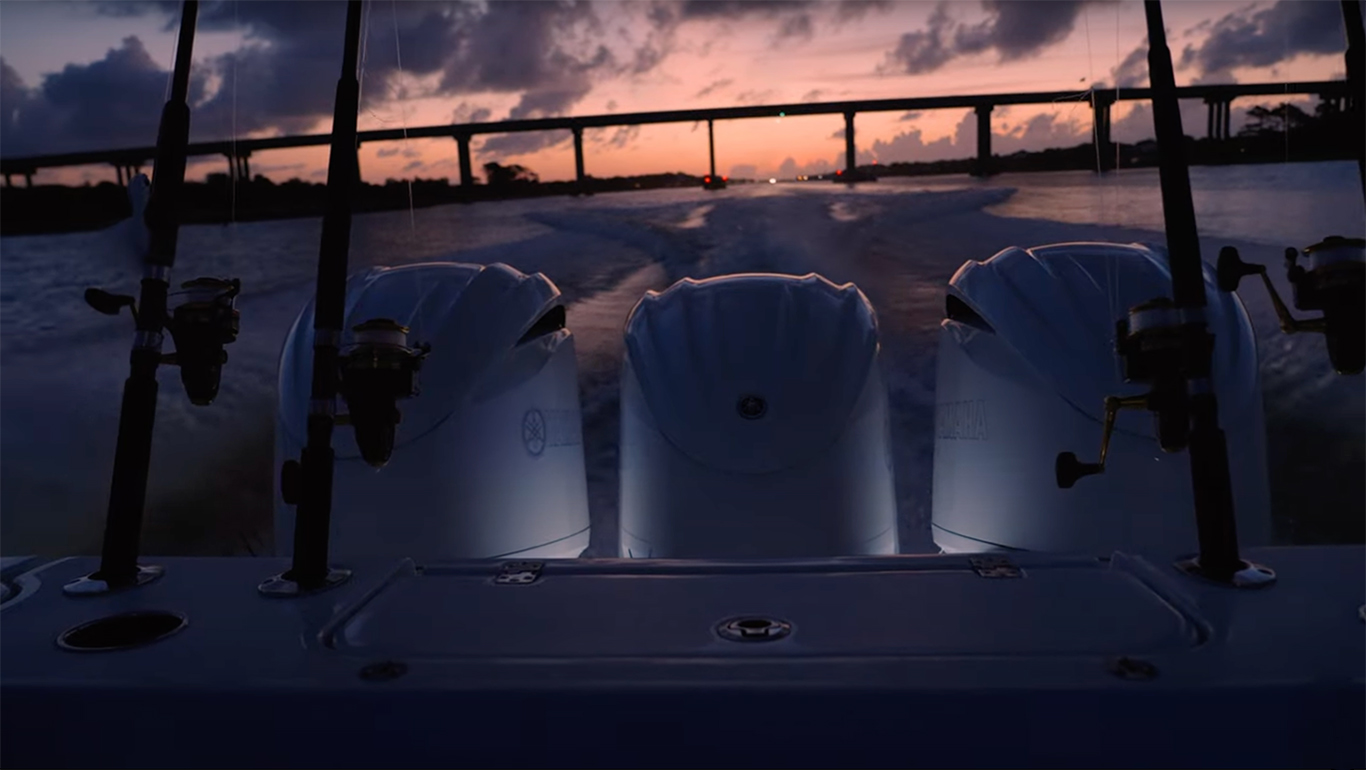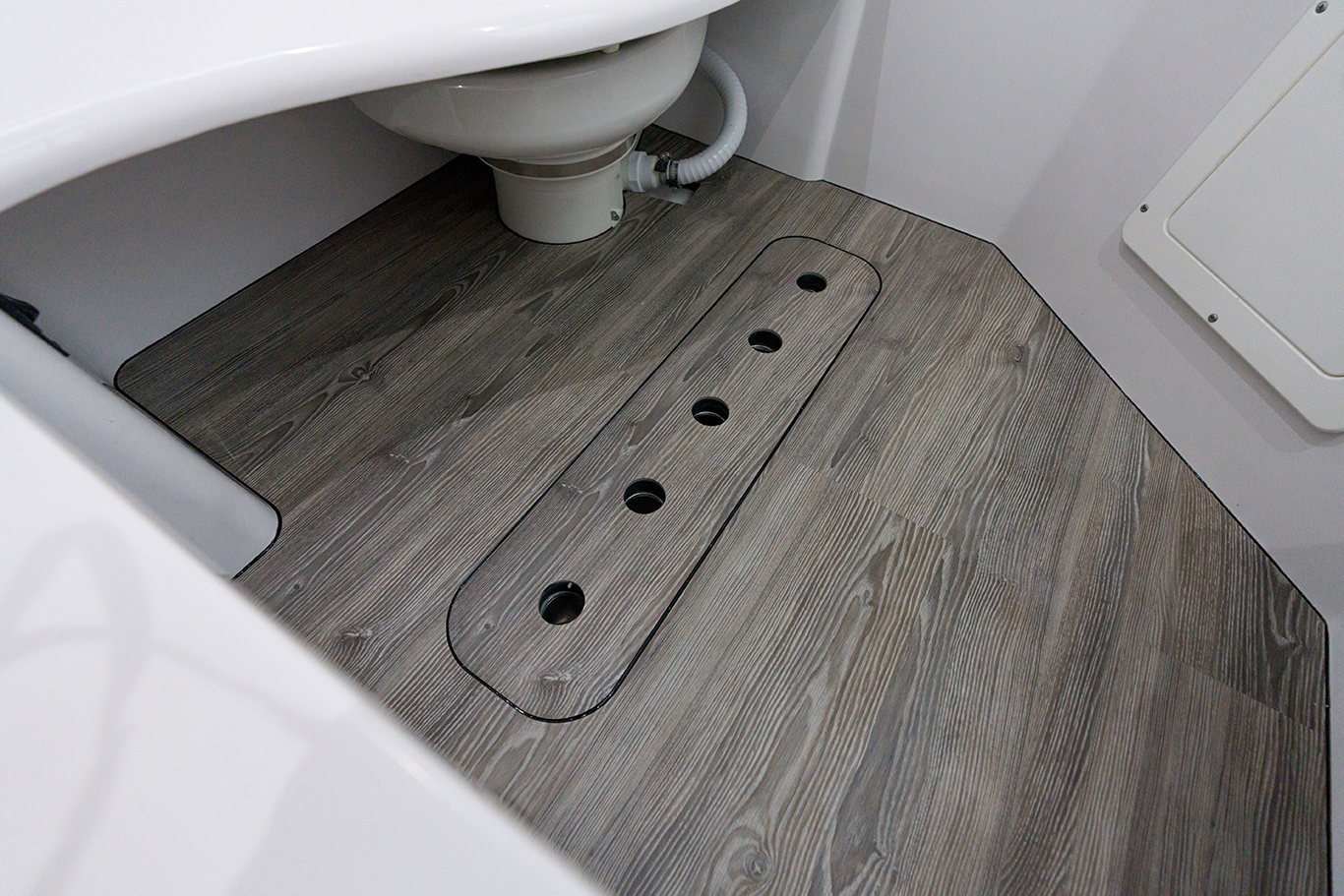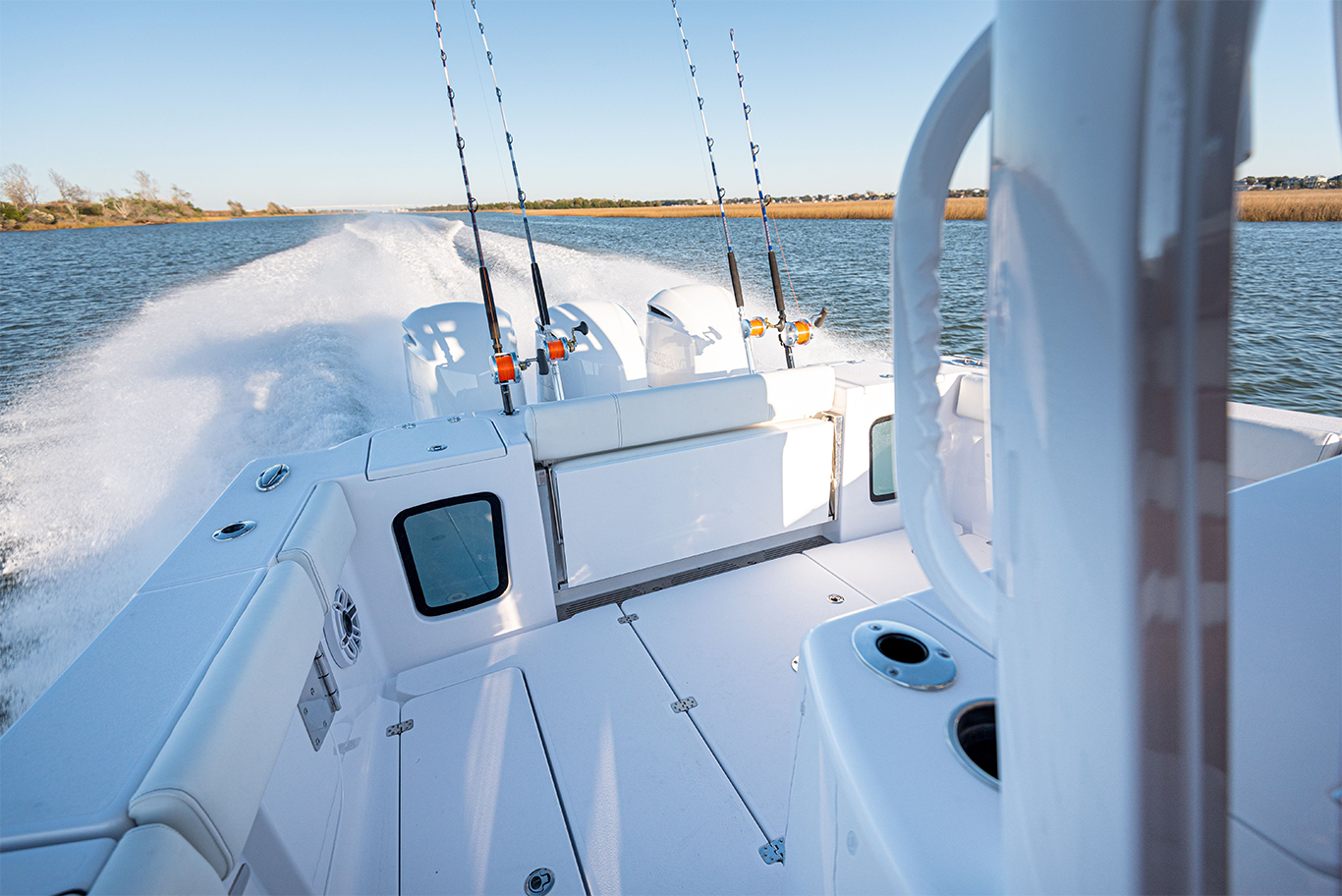 Seakeeper 3 The Seakeeper 3 is a powerful stabilization system that minimizes boat roll, making it easier and more comfortable to fish even in rough waters. The gyroscopic technology of the Seakeeper 3 ensures that you can focus on fishing instead of worrying about the motion of the boat. This is one of the creature comforts that you won't want to miss out on once you experience it.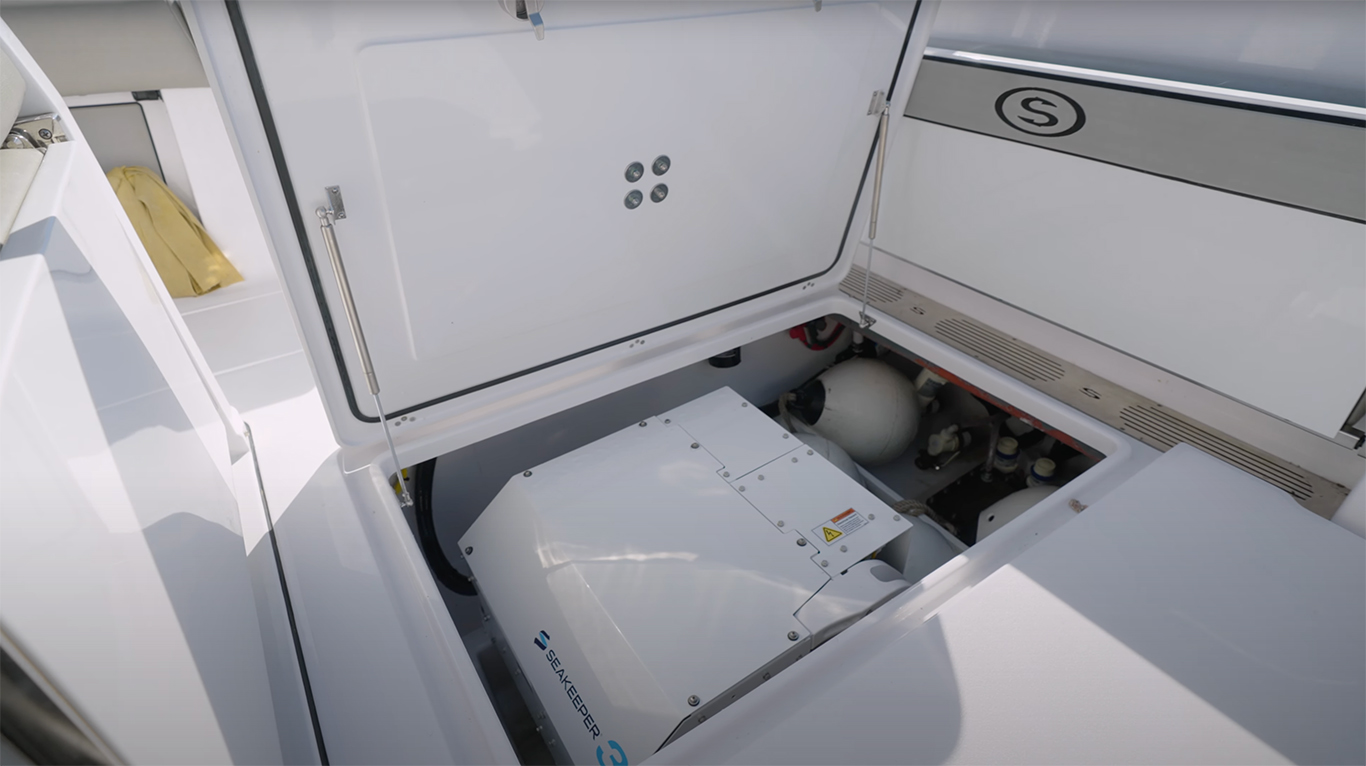 Dual Garmin GPSMAP® 8622 MFD 22" Screens Monitoring everything on your boat while out fishing has never been easier. With twin 22-inch Garmin screens you'll be able to monitor maps and sonar simultaneously. This feature helps you find fish more easily and ensures that you can navigate to your fishing spot with ease. Additionally you can monitor engine gauges, digital switching, and even your Garmin Fusion stereo all on these large screens.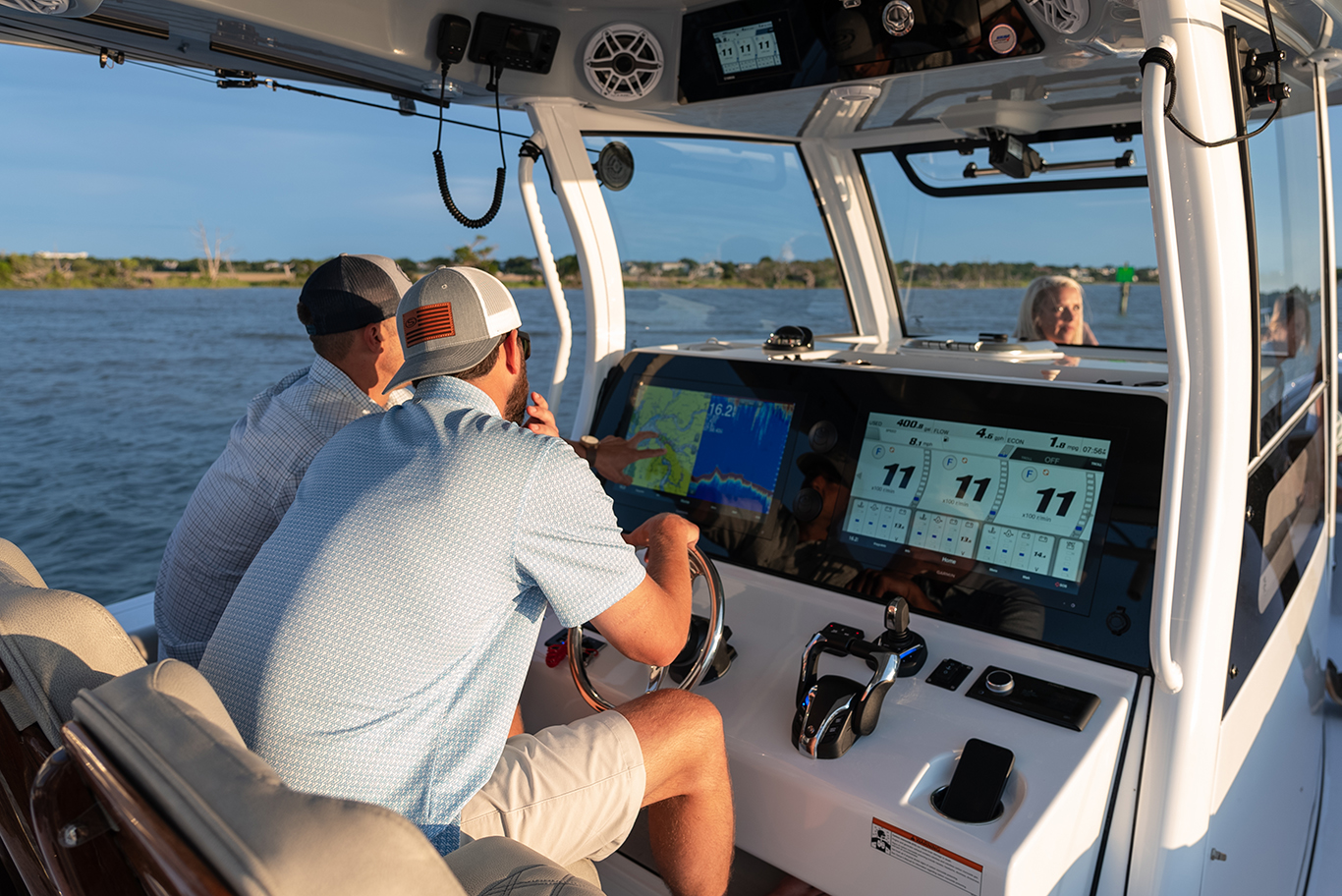 Large Open Bow Layout The large open bow layout of the Open 352 provides plenty of space for additional seating or casting. While out fishing you can easily remove the cushions for more casting space and there's even additional storage for gear below each seat. Here at the bow you'll also find the large chaise lounge seat, this is a comfortable area to lounge while cruising in after a long day of fishing.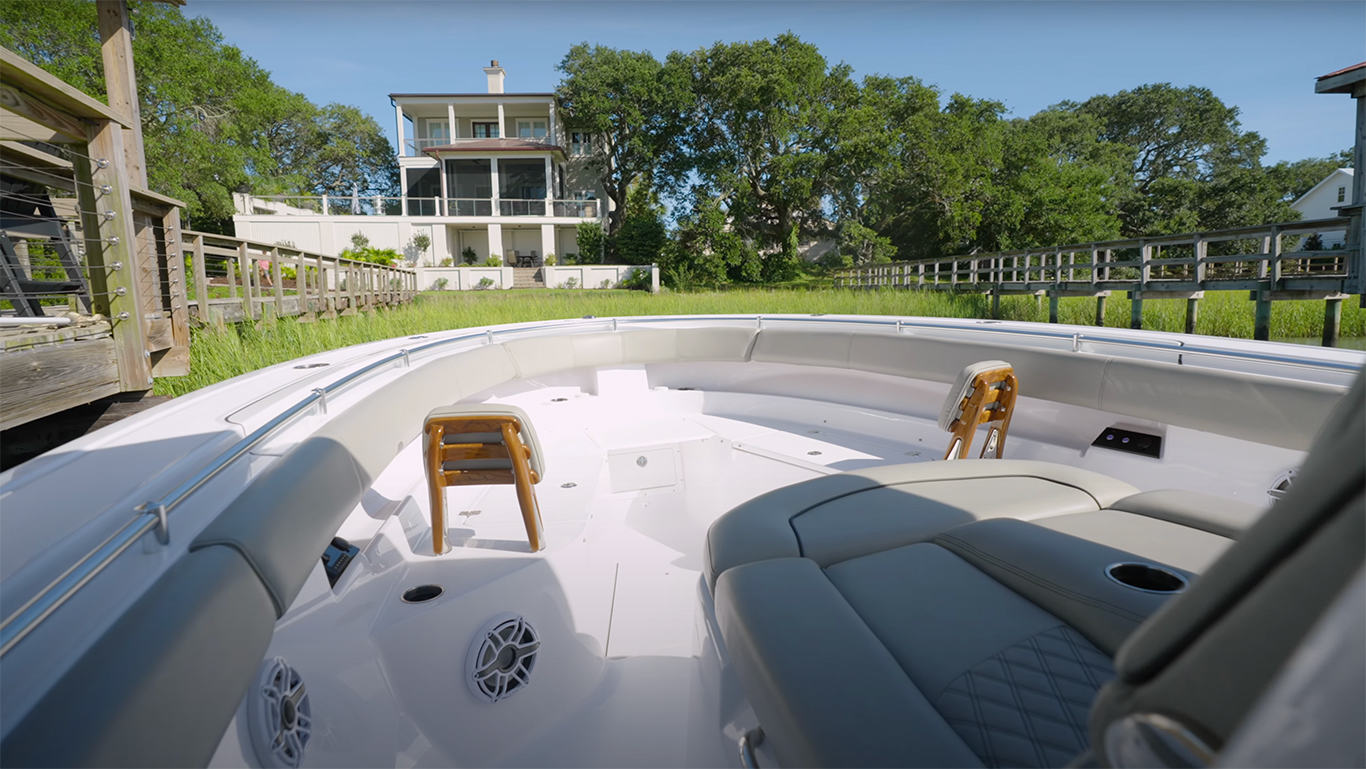 When we set out to film an episode of "The Sportsman Experience." there's a lot of preparation that goes into it. From prepping camera gear to fishing gear and getting each boat ready to go. The goal of our show is to produce a high end fishing show that everyone will love while also highlighting the amazing features designed into each model. Covering these features in a way that's not distracting to the viewer in each episode is key to getting the most out of our time on the water. The Open 352 is such a well designed boat, like every boat we build, that it's hard to not chose this one for our show. It's a top-notch fishing boat that offers a range of impressive features. With its spacious cockpit area, twin live wells, Seakeeper 3, and large open bow layout, this boat is designed to provide the ultimate fishing experience and in our case it also provides the ultimate TV production experience as well.
Click HERE if you're interested in watching "The Sportsman Experience." If there's a boat you want to see or features you want to cover on an episode, send us a message on our Instagram @sportsmanboats. We love hearing your feed back!