Sportsman Boats proudly announces this year's top dealers for sales, service and CSI.
Summerville, SC: Each year Sportsman Boats celebrates the top selling dealers across the dealer network. The awards are broken down into three categories, Top 10 dealers, highest market share and highest customer satisfaction rating. The announcement for the 2021 Model Year winners took place on July 26, 2021, in Key Largo, Florida during the company's dealer meeting. Sportsman Boats is proud to release the following results.
---
Top Ten Elite Dealers
The Top Ten Elite Dealers are awarded based on the dealership's total wholesale capital contribution.
"Our customers deserve the best dealers in the country. Each year we partner up with top-quality and reputable dealers that elevate our customer experience." -Richie Rodgers, Director of Sales
In alphabetical order:
Erickson Marine-Sarasota, FL

Visit the Erickson Marine Website
Gulf Coast Boating Centers-Fort Walton Beach, FL

Visit the Gulf Coast Boating Centers Website
LMC Marine-Houston, TX

Oyster Cove Boatworks-Gloucester, VA

Visit the Oyster Cove Boatworks Website
Thunder Marine-St. Petersburg, FL

Visit the Thunder Marine Website
---
Top Five Elite Dealers
In alphabetical order:
Backwater 2 Bluewater - Jacksonville, FL

Visit the Backwater 2 Bluewater Website
Gulf Shores Power Sports and Marine - Gulf Shores, AL

Visit the Gulf Shores Power Sports and Marine Website
Hanckel Marine - Charleston, SC

Visit the Hanckel Marine Website
The Boat House - SW Florida

Visit the The Boat House Website
---
#1 Overall Dealer
Riverside Marine-Essex, MD

Visit the Riverside Marine Website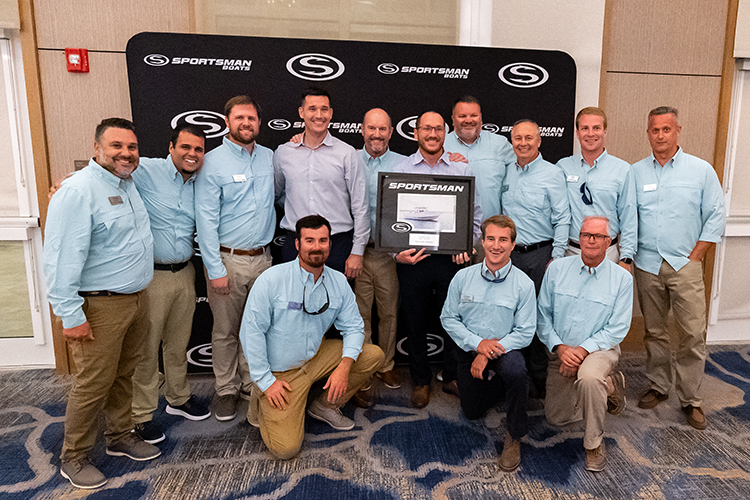 About Riverside Marine
"Welcome to Riverside Marine, where our mission is to educate everyone who enters our doors to the fun and experience of the boating lifestyle. We pride ourselves on being a no-pressure, relaxed shopping environment, where there is a boat for every budget!"
"Riverside has been a Sportsman dealer since the very beginning. We are proud of our partnership with them and we look forward to many years to come" -Richie Rodgers, Director of Sales
---
Customer Satisfaction Award
The Customer Satisfaction Award is granted to the dealership with the highest overall sales & service Customer Satisfaction Index (CSI) scores.
"Customer Service is a top priority here at Sportsman. We believe that by building a quality product and supporting our customers every step of the way, everyone will have the best experience possible." – Victor Gonzalez, Director of Marketing
The winner of the Model Year 2021 Customer Satisfaction Award is:
Sportsman's Choice-Myrtle Beach, SC

Visit the Sportsman's Choice Website
---
Market Share Achievements
Market Share Achievements are awarded to dealers that have attained the number one position in their prescribed area. This number is calculated based on registered units and accounts for the Center Console & Bay Boat market from 20-35ft.
"Our Dealers are the first line of communication with the Sportsman customer. We rely on this partnership to ensure we can maintain high customer satisfaction and our World-Class status." -Shaun Reale, Sportsman Regional Sales Manager - Gulf Coast
36% - Action Marine – Dothan, AL
Visit the Action Marine Website
21% - Sportsman's Choice – Myrtle Beach, SC
Visit the Sportsman's Choice Website
18% - Backwater 2 Bluewater – Jacksonville, FL
Visit the Backwater 2 Bluewater Website
11% - The Boat House – Naples, FL
Visit the The Boat House Website
10% - Erickson Marine – Sarasota/Bradenton, FL
Visit the Erickson Marine Website
8% - McDuffie Marine – Lake City, FL
Visit the McDuffie Marine Website