Redefining luxury and functionality with innovations in every corner. The Open 352 has become the centerpiece for the brand you know today as Sportsman Boats.
Redefining luxury and functionality with innovations in every corner. The Open 352 has become the pinnacle of our new design language. The innovation put into this boat has propelled our brand forward, and set a new standard for upcoming projects, both new models and redesigns of older models. The way to stay ahead and keep customers excited about the future is innovation and adapting to what the consumer wants; and we are listening!
We've invested a lot into these innovations and there are more than a handful of features that we love about these boats, but we can't list them all, so we are going to show you our Top 5 Favorite Features. Some of these may seem familiar if you've seen our Top 5 Favorite of The All New Open 302 blog post. This is because the 302 design trickled down from its big brother the Open 352. If you'd like to learn about all the standard features included in this boat, we recommend checking out our full-walkthrough video. Like our product we have set a new standard for walkthroughs and sharing our product with you, the consumer.
To Start Things Off!!!
1. One of the first things you'll notice when looking at the Open 352 is the very large and beautiful cockpit. Starting at the leaning post, the three large and very comfortable captain's chairs give you plenty of room while sitting or standing at the helm and allows for three adults to ride comfortably. Combined with the leaning post is our incredibly large helm featuring a Garmin GPSMAP 8622 MFD 22" standard with room for a second screen. Then, to complete this masterful centerpiece, is the oversize hard-top, which is built into the frame of the leaning post and console through our integrated D-tubing design, turning these three pieces into that beautiful and versatile cockpit.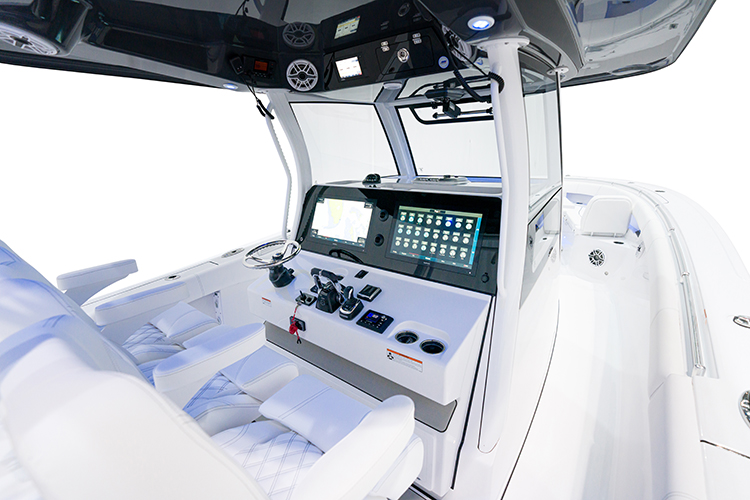 Helm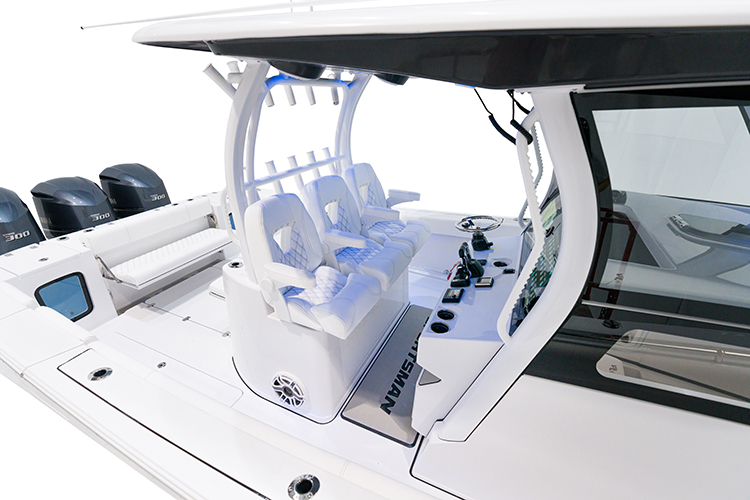 Leaning Post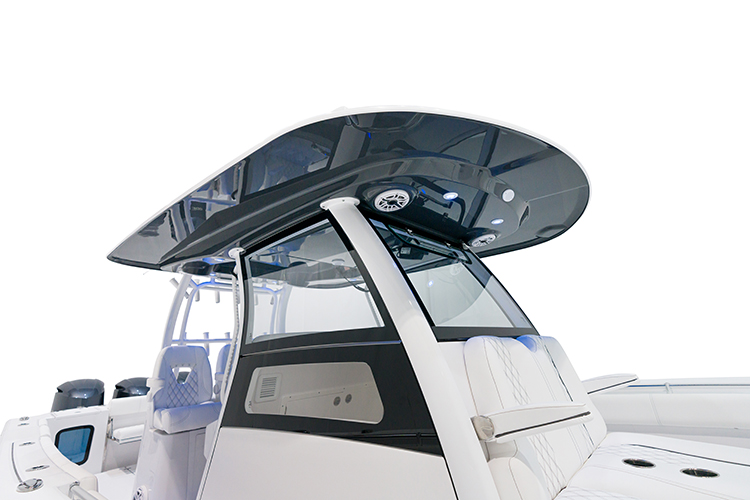 Hard-Top
2. With such a large exterior cockpit comes plenty of space beneath it as well. Stepping down into the console is how this boat goes from a day of fun on the water to a weekend away on the islands. The convertible double berth can sleep two adults and a child comfortably with several amenities including a porcelain head, sink and shower combo, storage for clothing and bath supplies, and let's not forget the 12V 3500BTU air conditioning unit which will also help cool you at the helm as well. If you've been wanting to vacation for the weekend at the Bahamas, you can easily do so with the Open 352. The ride quality will get you there with ease. No worries on needing fuel with the 355-gallon fuel tank, and when you arrive you wont even need a B&B because you have everything you need right on your brand new Open 352.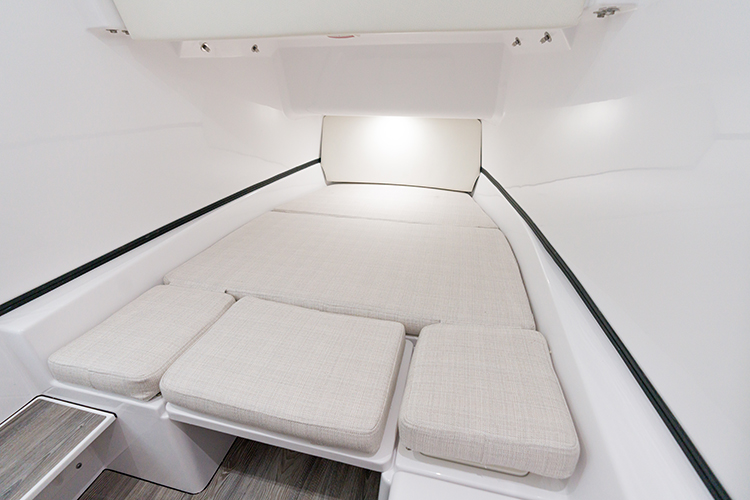 Berth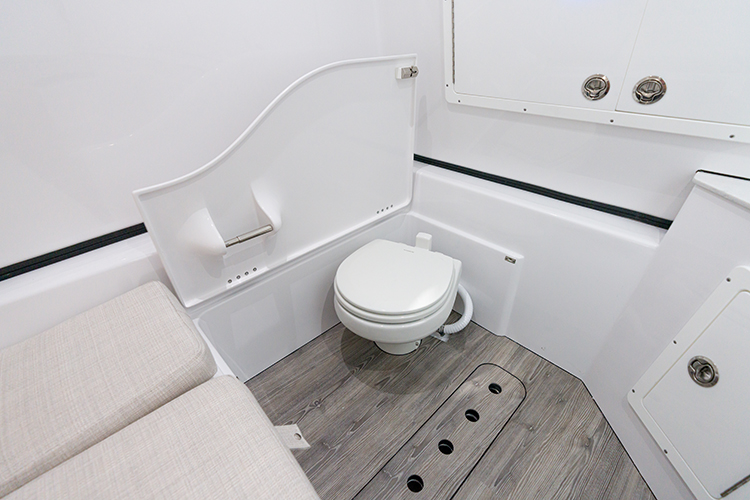 Head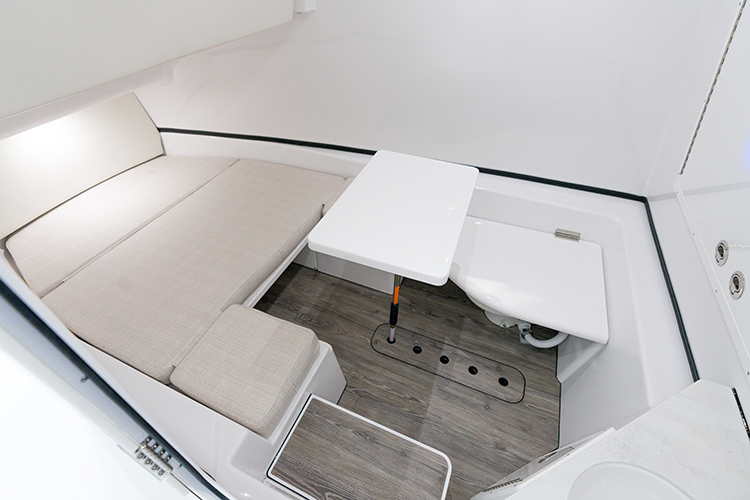 Table / Dining Area
3. When looking at a boat in the 35' range you're probably looking for ample room for cruising with your friends and family. On the Open 352 seating is not a concern, this yacht certified vessel can easily seat three at the helm, five on the rear deck, two at the chaise lounge, and two-to-four more at the bow, giving a comfortable fourteen adults an evening cruise.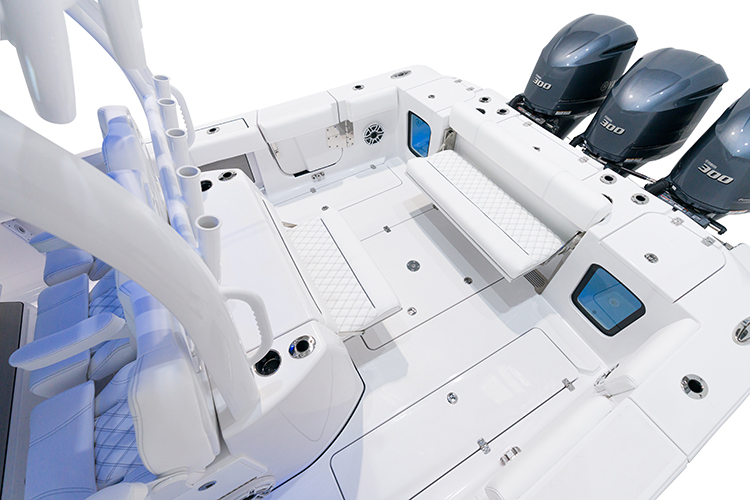 Rear Deck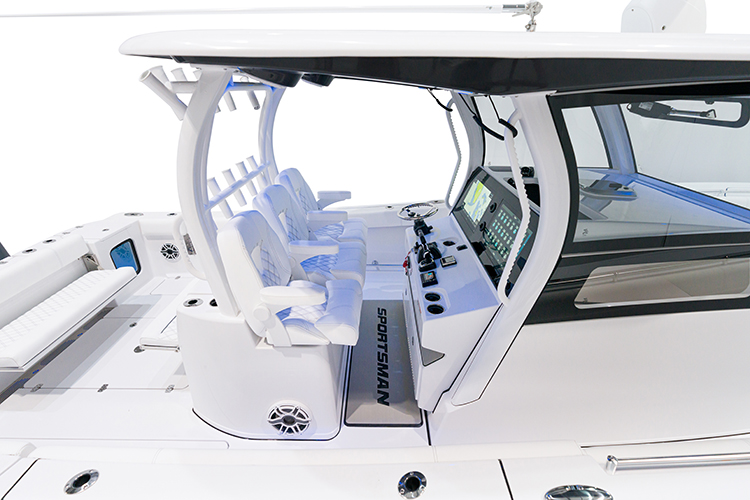 Leaning Post / Helm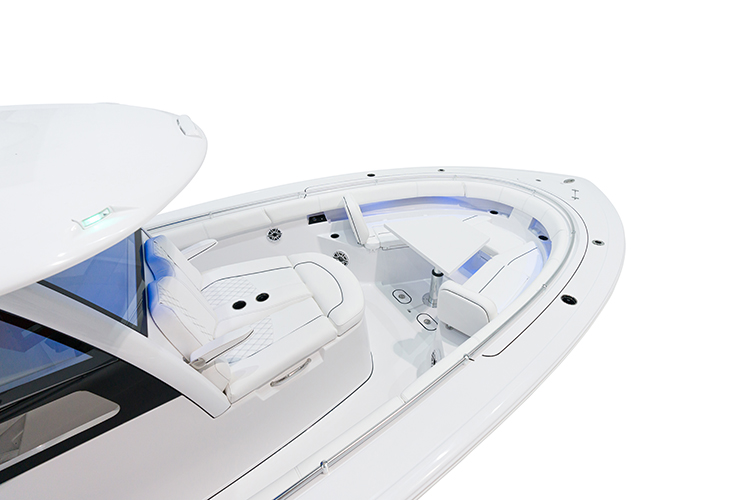 Bow
4. When it comes to fishing, the Open series is it. The 352's new innovations make fishing even more comfortable. Fold the rear bench seats to open up a very large rear deck, coupled with two built in aquarium 30-gallon livewells, two 234 quart in deck and macerated fish boxes, a sink, cutting board, and bait station on the rear of the leaning post, plus dual dive doors to make landing large fish even easier.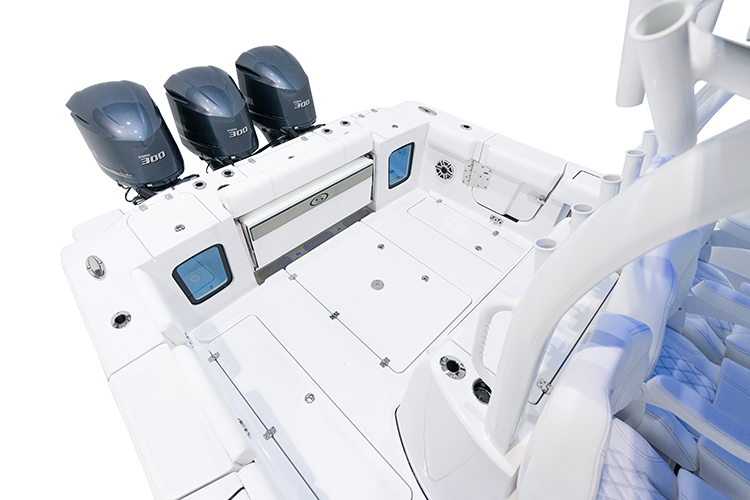 Spacious Rear Deck Area for Fishing
5. Our last feature is one of the most important if you plan to be offshore and want to stay comfortable. This feature has saved us from a very green day at sea, the Seakeeper Pod will make a rough day offshore much more enjoyable. We were not aware that hurricane Sally was building offshore of Florida this past September, forecasts showed calm seas and good fishing, so it was time for a quality endurance test and photo shoot of the Open 352, 322, and 302. We ran 50 miles offshore from Panama City Beach, Florida and by the time we made it to our destination things were beginning to not look so great. The forecasted 2ft seas were turning into 6-8ft seas. We gave fishing a shot but as the storm built, we decided to head back in. Had it not been for the Seakeeper 3 on the Open 352 and Seakeeper 2 in the Open 322 and 302, it would have been a very bad day. Having this system keeps the boat level all day long. Our design has a Seakeeper pod built into the stringer system which sets the Seakeeper centerline for best weight distribution and keeps it out of the way instead of taking up valuable space inside your leaning post. This design makes the Seakeeper the perfect option to add and allows for extreme comfort when on the water.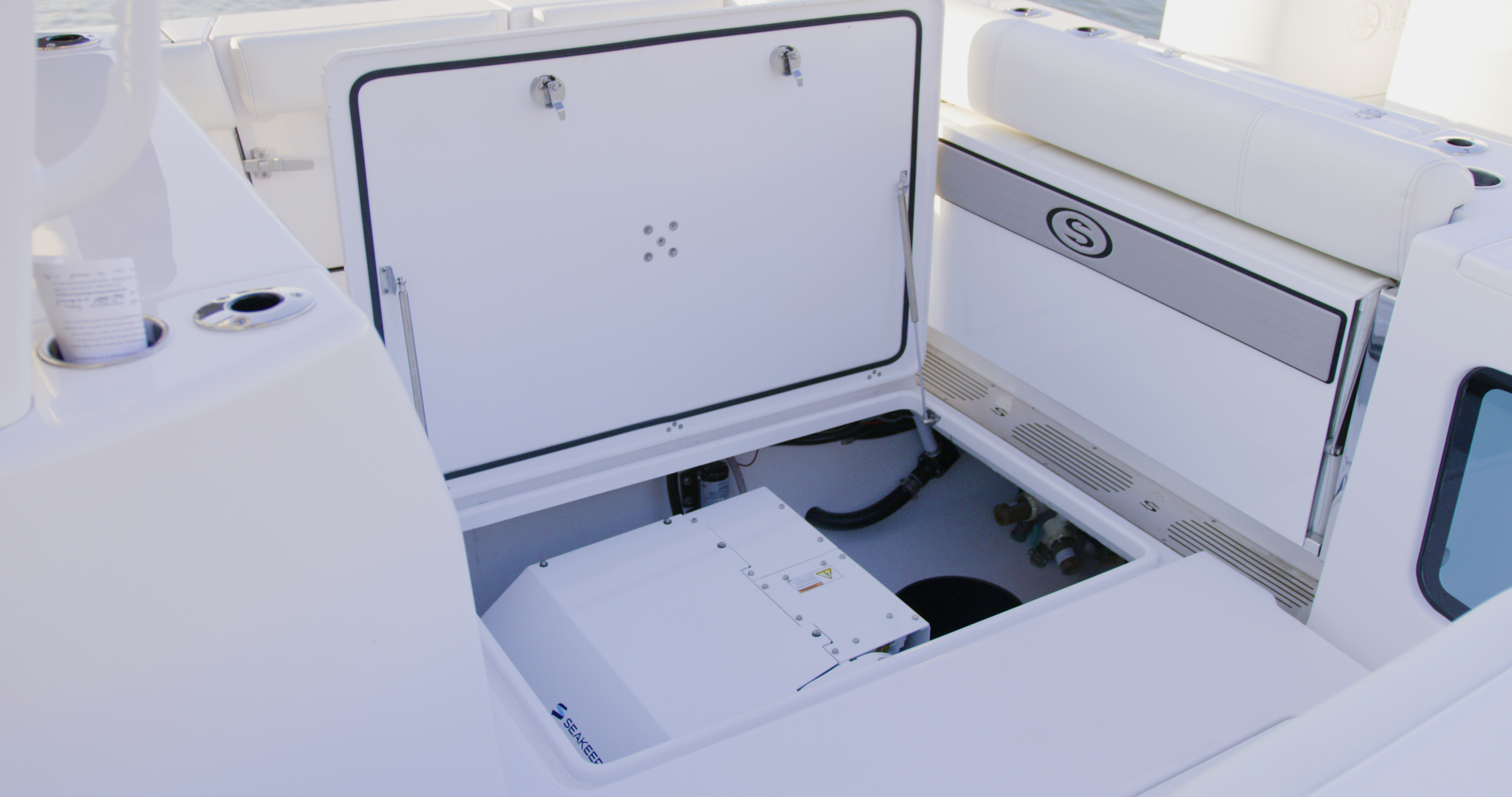 Built in Seakeeper 3 Pod
The Open 352 is the new standard for our design here at Sportsman Boats, as our flagship model we know you'll be impressed. When you see this beast of a boat your jaw will drop, and you won't be able to take your eyes off of it. The innovation in the 352 is just the beginning, we don't want to build a good boat that sells and never make it better, we are hearing your requests and designing industry first features daily. This boat shows what Sportsman is made of, that we are here to make the best boat for our customers, and we will never stop innovating.
We have a lot of great standard features onboard this beautiful new boat, these are just our few favorite features. If you would like to learn more about this boat check out our full walk-through below and visit https://www.sportsmanboatsmfg.com/open/352-center-console.