The All-New Open 302 Center Console is rolling out to dealers across the country and with customers excited to get their new boat we are release our Top 5 Favorite Features of this new model.
REDEFINING THE 30 FOOT CENTER CONSOLE SEGMENT. YOU HAVEN'T SEEN ANYTHING LIKE THIS BEFORE... UNTIL NOW.
The Open 302 has been designed from the ground up to be the complete boat package. Bringing you features and amenities never before seen; revolutionizing the segment. Starting with the extensive standard features list, versatile convertible seating, all of the fishing amenities you will need, and stunning looks, this model sets the new 30-foot standard.
With so many standard features it's difficult to choose only 5 favorites. At Sportsman we pride ourselves on knowing we are selling a boat full of standard features unlike any manufacturer in-class while still staying competitive on all fronts and even having some of the best selling boats in-class. With what we are calling our "New Family" we are proud to announce these boats will be jam-packed with amenities for the entire family from sunning, to cruising, and even hardcore offshore fishing.
Let's Get To The Features!!!
1. To kick this one off the number one feature is the ample room for seating on this boat. As boaters, we love to take our family and friends on the water whether it be for a day at the sandbar, an evening cruise, or a trip several miles offshore. When these occasions arise we need to have enough safe and comfortable seating for all of those joining us at sea. With the Open 302 you will find more than enough room and it will feel much larger than your typical 30 foot center console.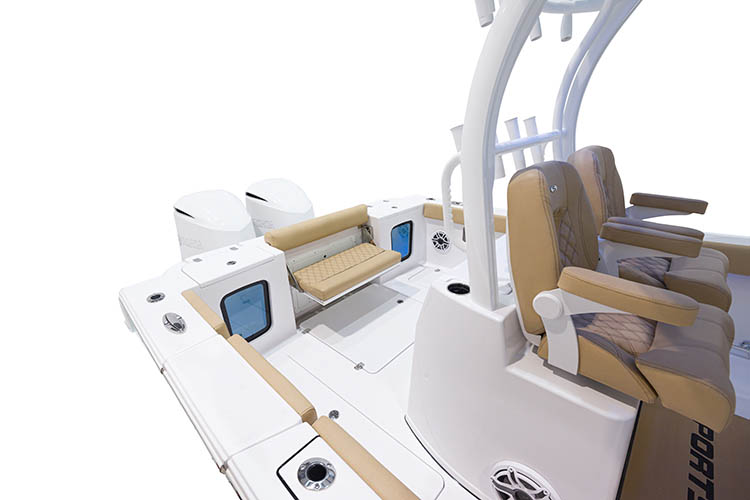 Rear Deck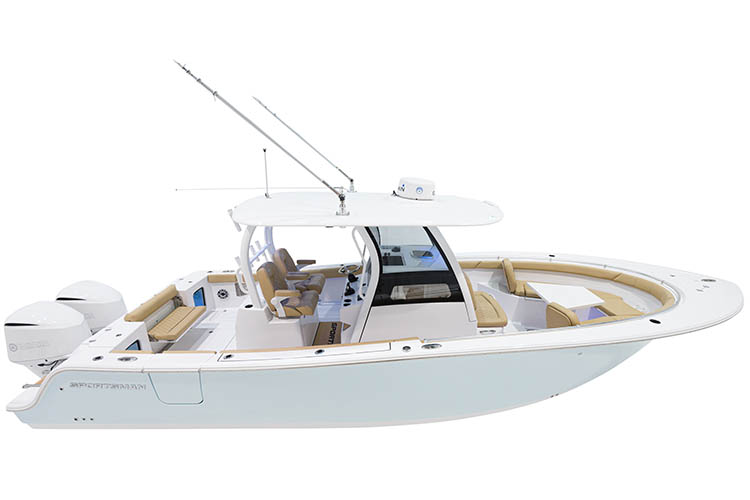 Leaning Post / Helm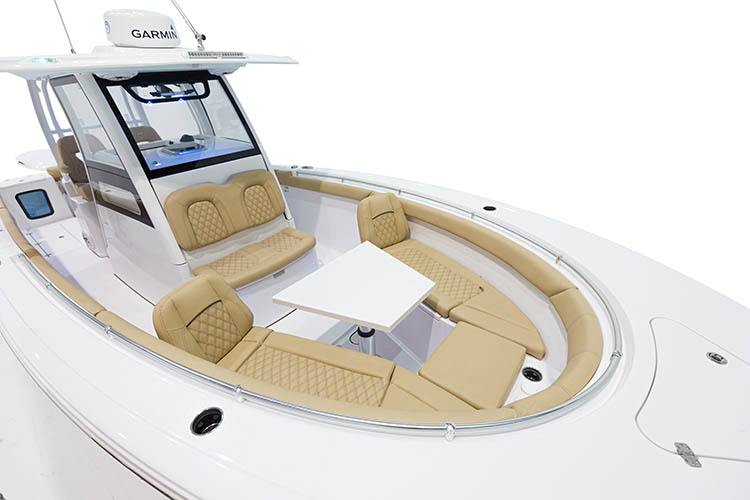 Bow
2 Next on the list is the spacious and practical bow entertainment zone. This area can be a number of different things, like feature number one, it holds a great deal of comfortable and safe seating for cruising or sunbathing. If you use the button controls on the starboard side of the bow you can raise the floor as it turns into a table where you can enjoy food and drinks or even a game while lounging at the sandbar. If you add the optional sunpad you can lower the table to be flush with the bow seats, secure the sunpad, and now you've got a spacious and comfy bow ideal for sunbathing or even taking a little nap.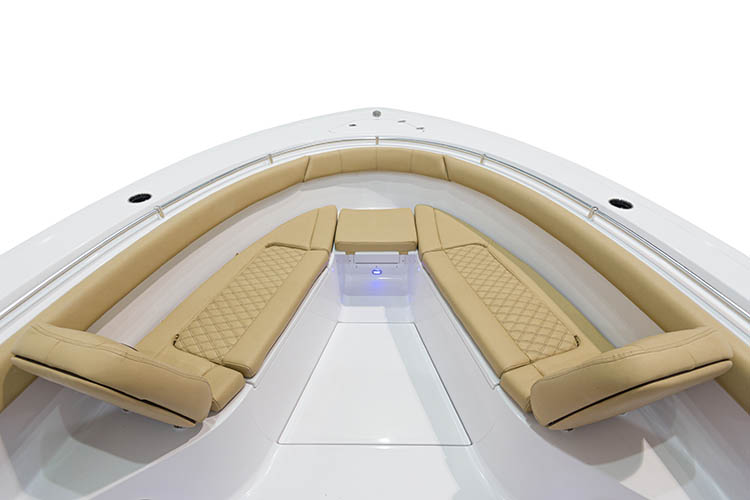 Open Floor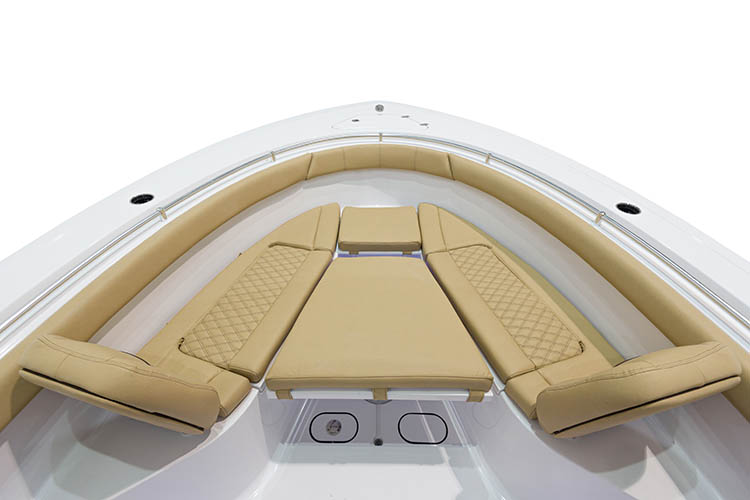 Sunpad Lounge Mode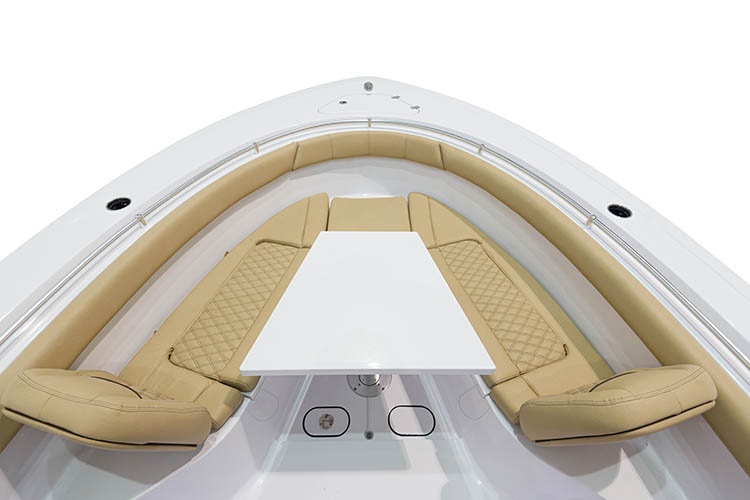 Dining Mode
3 If you're anything like us we like simple creature comforts that make boating easier. Waiting to pull into a specific side of the dock in order to use your side entry door can be aggravating. With the Open 302 you won't have to wait for one specific side to open up any longer thanks to our Dual Side Entry Doors. These doors open in and provide ample space to get on and off your boat while carrying coolers, bags, or even dive tanks. To top it off, these doors come standard with a ladder stored inside the lockable head for easy re-entry while out swimming. Then a bonus feature these two doors can be used for, while offshore fishing sometimes you may struggle to lift large fish over the gunwales. No longer do you have to heave your large fish up and over, just pull them through the door and save yourself the extra work.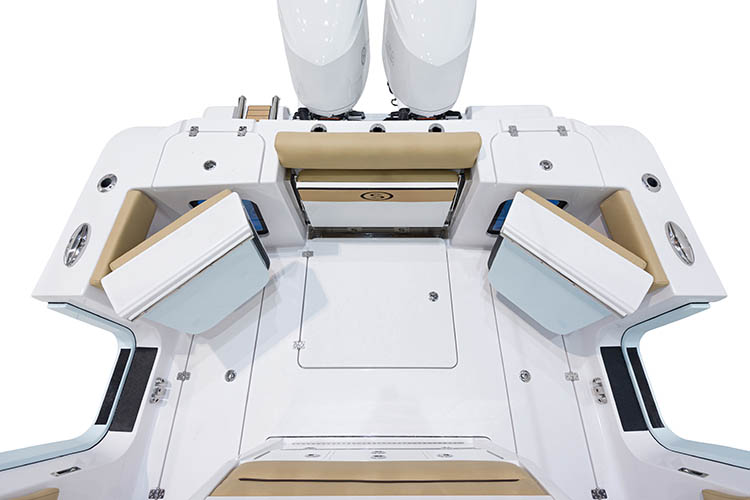 Dual Side Entry Doors
4 Keeping it clean and simple is a big priority here at Sportsman. A feature that no one else offers standard is our factory installed electronics package we call SportLink®. A part of this system is the Seastar Maximus Digital Switching System, this keeps your dash clean and free of switches. This design allows for full controls of the boat from the Garmin unit and for safety all switches can be operated by the fuse redundancy panel inside of the console. It's features like this that make Sportsman stand apart from the rest of the competition.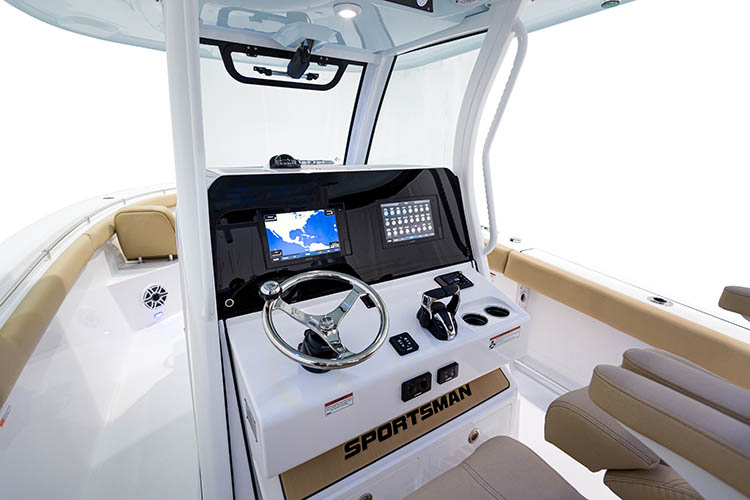 Seastar Maximus Digital Switching System
5 Sunbathing is always the key when out in the summertime, soak up the rays, get a nice tan, and enjoy the weather before summer is over and the cool weather settles in. However, we still want some shade when out on the water. Too much sun can leave us feeling a little crispy and tired at the end of the day, and we don't want to have that problem. So our 5th and final favorite feature of the All-New Open 302 is the oversized hard-top, coming standard and packed full of even more standard features. This top covers a portion of the rear deck area, the entire leaning post and helm, and the front console seat. Not only does it bring shade to 80% of the boat but it also has lots of built-in features like the Garmin VHF radio, front and rear wide spreader lights, built-in navigation lights that double as white docking lights, blue courtesy lights, red and white map reading lights, taco outrigger plates, and so much more.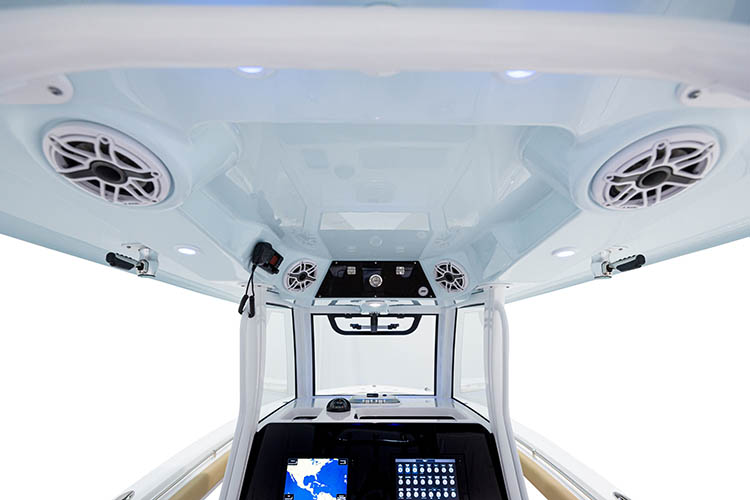 Open 302 Oversized Hard-Top
BONUS We'd be lying if we didn't add these to our top features list. The first would be the full-grid stringer system. This system gives you 360 degrees of support around the hull which will in turn offer a much more comfortable ride and improve the structure and rigidity of the vessel. The next is the build-in SeaKeeper pod. This is built directly into the stringer system so if you opt in for the optional SeaKeeper 2 it will be stored centerline for optimal weight distribution and won't take up space in the leaning post. Lastly is the ride quality, we at Sportsman have been in a lot of different boats and this is the most comfortable 30 foot center console we've been on period. It doesn't feel like a 30ft boat, it resembles the ride of a much larger boat and feels much larger. Running offshore in rough conditions is no problem for this boat. We tested the Open 302 alongside its two big brothers the Open 322 and Open 352 and it handled just as well as they did in 6-8 foot seas the day before a hurricane. We can say with experience this boat will offer you the very best ride quality of any other 30 foot center console all while keeping you dry.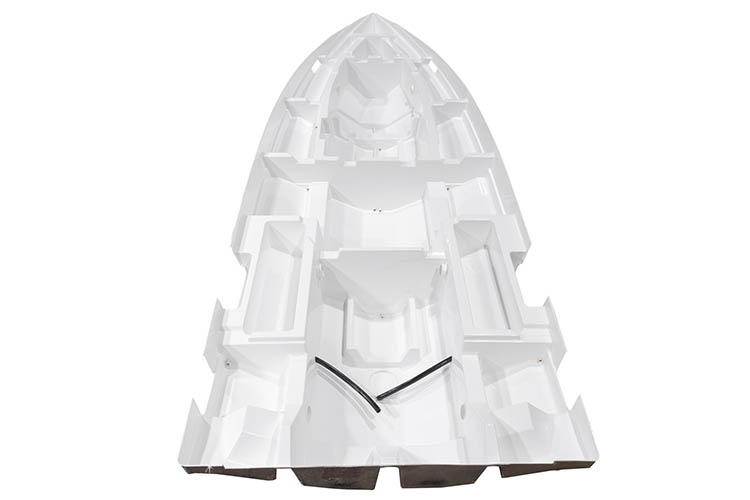 Full Grid Stringer System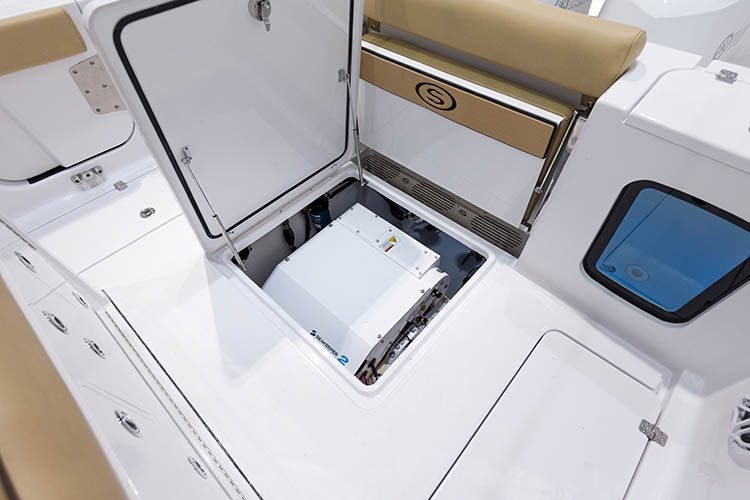 Built in Seakeeper Pod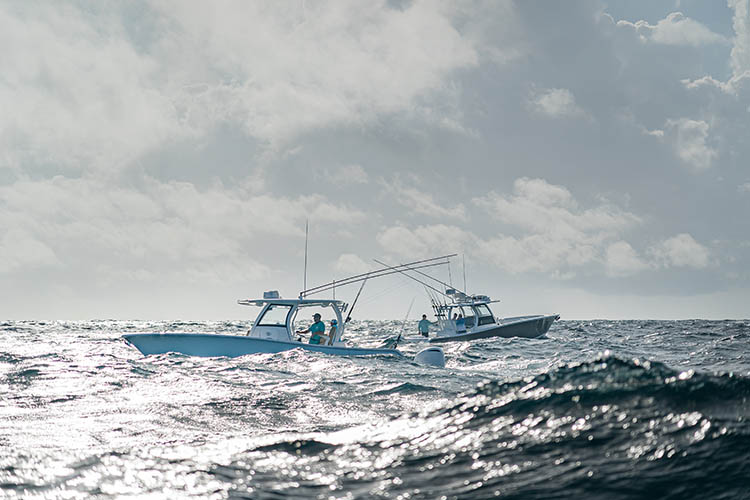 Open 302 and Open 322 Offshore
We have a lot of great standard features onboard this beautiful new boat, these are just our few favorite features. If you would like to learn more about this boat check out our full walk-through below and visit https://www.sportsmanboatsmfg.com/open/302-center-console.