Sportsman Boats unveils the company's all-new Open 352 Center Console at the 8th Annual Dealer Sales Training Event.
Summerville, SC: Sportsman Boats unveils the company's all-new Open 352 Center Console at the 8th Annual Dealer Sales Training Event. This new flagship builds on the company's innovative roots with design features never seen before.
Sportsman's Open series includes models starting at 21 feet and feature family-friendly open cockpit layouts with all of the amenities fishermen require. The series features flip-up rear seating, full access to the bow, enclosed heads and side entry doors starting at 25 feet and up.
The Open 352 represents the pinnacle of the SportTech® Advanced Fabrication System, a proprietary boat building process unique to Sportsman. The hull, stringer and deck are built using resin infusion technology to ensure a superior quality, fit and finish.
The hull design follows Sportsman's tried and true running surface with 0-degree strakes for a dry, safe and comfortable ride. It is 35' 2" long and 11' 2" wide with a fuel capacity of 330 gal. One unique design feature are the dual side entry doors that open inward and allows the boat to be easily boarded from either side. This is paired with dual fuel fills to accommodate easy refueling.
The stringer system is another area where great attention to detail is obvious and follows the company's "designed-in" engineering motto to perfection. It has an industry-first designed-in Seakeeper pod that allows the installation of the gyroscopic stabilizer at the optimum position. Unlike most stringer systems that just have fingers extending to the edges of the hull, the Open 352 stringer system is a complete part that touches every inch of the hull ensuring superior strength from bow to stern. This unique stringer is completely finished in gelcoat and foam filled for additional flotation.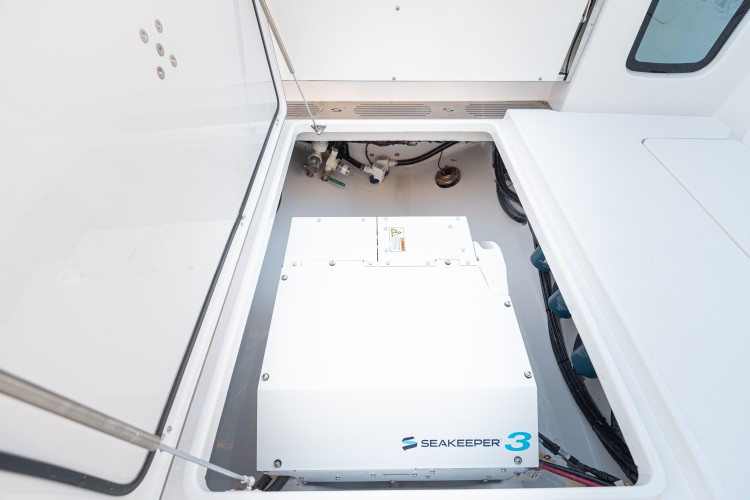 The deck layout features plenty of open cockpit space in all of the key areas that modern boaters crave. The bow is a tasteful entertainment zone featuring deep and comfortable wrap-around seating with plenty of insulated storage underneath. The center piece of the bow is an electronically actuated table that has 3 main functions which include bow table, filler board and completes the floor when all the way down. The Open 352 has a unique under gunwale storage tray that wraps around the entire bow and is a great place for storing small items. JL Audio remote control & USB charging plugs complete this tasteful bow. At the front of the console, a modern sculpted chaise lounge includes a built-in 65 qt. insulated cooler, armrests and cupholders. This comfortable seat for two makes this the ultimate sunset cruising spot on the boat.
At the helm, triple adjustable captain's chairs, dedicated battery compartment, ergonomically correct driving position and the most advanced glass-helm Sportsman has ever produced. The SportLink® Electronics Integration System on the Open 352 features space for dual 22" Garmin displays, SeaStar's Electronic Power Steering and JL Audio's brand new MVi amplification with built-in DSP. The team at JL Audio worked with the design team to achieve the ultimate listening experience and has hand-tuned this boat taking advantage of their new amps. You won't find any switches on this dash, that's because it takes advantage of SeaStar's Maximus Digital Switching System. This modern system integrates all of the 12v accessories into the Garmin display and it even comes with a wireless remote.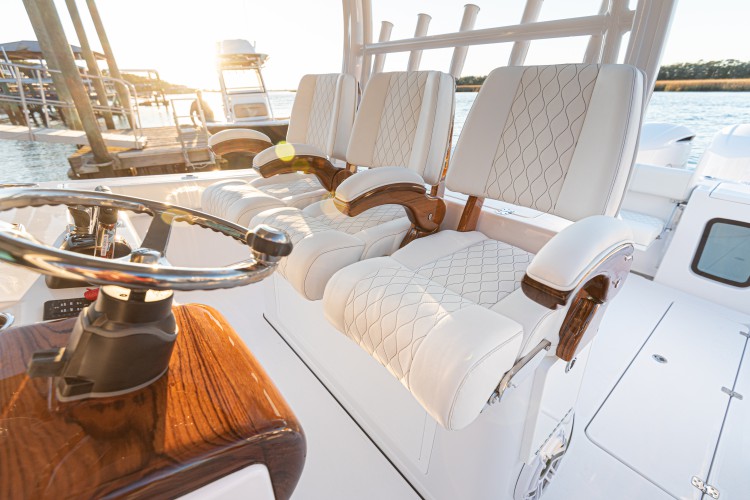 The console is designed with a wrap-around tempered glass windshield with actuated vent and a stylish bent D-Tubing structure that, asides from being a head-turner, is a class-first. Typically, D-Tube console structures are cut and welded due to the difficulty and specialized equipment required to bend such thick metal. Sportsman did not settle for this inferior construction process but invested heavily in the equipment necessary to fabricate the pieces in-house. The company's push towards vertical integration has never been stronger and this move pays off when you lay eyes on this beautifully crafted structure. The oversized fiberglass hard-top has two integrated Lumitec Razor lights and integrated navigation lights for the ultimate look and function.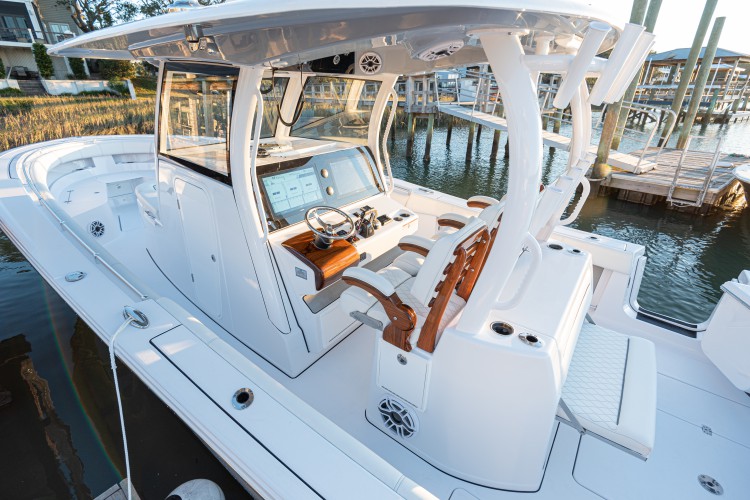 "Being at the helm of the Open 352, it feels like everything is at a perfect angle and distance. We have meticulously designed this console to fit the ergonomics of the human body and provide the captain plenty of comfort even when operated for extended periods of time." Said Jeff Hudson, Director of Product Development at Sportsman Boats. "Another key design area for us was visibility, we needed the headroom inside of the console but we didn't want the height of the console to impede with visibility, so we had to innovate using our unique stringer system to achieve the perfect console height while maintaining over 6 feet of headroom inside of the console. When it came to the top, we knew that cutting and welding was not going to achieve the modern, sleek look we were going for and it's in our company's DNA to innovate, so we made it happen. I think everyone that looks at this top will agree that it is stunning and one of my personal favorite design features of the boat."
Stepping into the console, the area features a berth for 2 adults with plenty of storage under the cushions. A beautiful dark gray floor pops against the white fiberglass and the color accent pieces sprinkled throughout make this area very cozy. The starboard side of the console has an edge to edge glass window that brings in all of the natural light you would need and has an optional Air Conditioning unit. Another unique feature of this boat are the integrated floor rod holders that allows storage of 5 rods of up to 6.5' in length, keeping them safe and out of the elements. The built-in sink and shower are definite must haves in a boat this size and the treatment for the porcelain toilet of covering it with a lid, shows the level of attention to detail the design team took to finish this area.
The rear area of the cockpit is function and form all the way around. For entertainment, two flip-down bench seats for up to 5 adults, a large removable fiberglass table, plenty of cupholders and strategically placed speakers will make any gathering a special one. But when it's time to drop the lines and start fishing, this area converts into a fishing machine. Twin 30-gallon pressurized aquarium livewells fed by a twin pump sea chest, twin 234 qt. in-floor insulated fish boxes, 88 qt. transom cooler and two side doors to drag in a big catch. All and all, over 50 sq. ft of open cockpit space will satisfy the needs of any fishing team. The center section of the floor opens up to reveal access to the Open 352's Total Access Compartment. This gives best-in-class access to the designed-in Seakeeper pod and makes it a breeze to service any component in the bilge.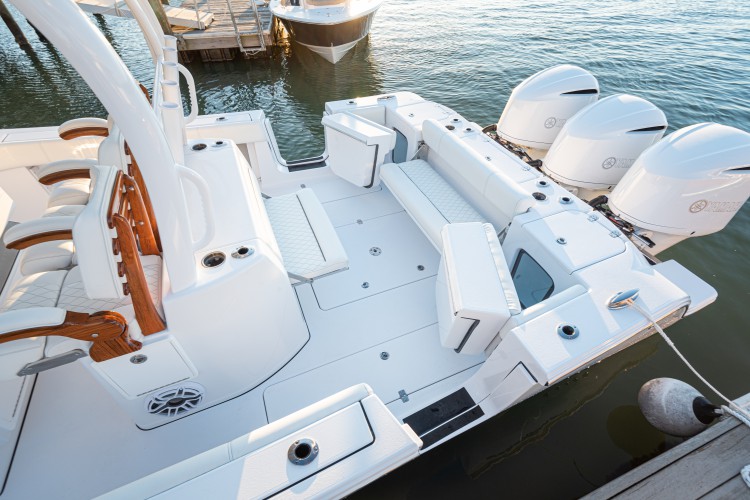 "It's one thing to conceptualize a new boat and imagine all of the intricacies and nuances on paper. But then that design comes to life and you get to be behind the wheel and it just exceeds anything you could have ever imagined." Said Tommy Hancock, President of Sportsman Boats. "The Open 352 delivers everything that we set out to do a year and a half ago when we started this project. We are so proud of the boat and even more proud of the amazing team of world-class boat builders that made this project possible. To see the team come together and deliver such an incredible boat makes me excited for the future of Sportsman Boats."
The Open 352 is now available for pre-order and will be on display during the Baltimore International Boat show in January 2020 and at the Miami International Boat Show in February 2020. There are two engine configurations available which includes triple Yamaha 300s or a pair of Yamaha's 425 horsepower XTO outboards. The boat is being offered extremely well-equipped with either engine configuration with a starting price of $295,905.
For more information regarding the Open 352 model,
navigate to here to see the full features of the Open 352