Just launched last season, Sportsman Boats is the new kid at the marina for coastal center console sportfishers, but it's the product of proud parents who have many years of boatbuilding experience.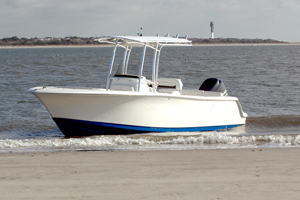 Just launched last season, Sportsman Boats is the new kid at the marina for coastal center console sportfishers, but it's the product of proud parents who have many years of boatbuilding experience.
Tommy Hancock and Dale Martin are back in the boat building business with their new company, Sportsman Boats. They have combined forces to create Sportsman Boats which manufactures an intelligently designed series of center console and bay boats. Hancock was one of the original founders of Sea Pro Boats and Martin was a co-founder of Key West Boats. They sold their businesses about eight years back, but both have kept a close eye on the marine industry.
The 229 Heritage Center Console is their initial offering, which first debuted at the 2012 Charleston Boat Show. This trailerable mid-sized sportfisher has been very well received since her grand opening and sales have exceeded expectations. Sportsman Boats are currently produced in their 40,000-square-foot manufacturing facility located in Summerville, SC and they employ the latest 3D computer technology to design and build their boats. Sportsman will have a total of six models ranging in size from 20 to 25 feet in 2013 and will continue to grow the product line from there. Combining their many years of boat building experience with various suppliers, vendors and dealers, Hancock and Martin feel confident in the future of their new company. If their Heritage 229 CC is any example of their new partnership, then they are well on their way to success.
I was able to jump aboard the Sportsman 229 CC at last October's Ft. Lauderdale Boat Show and it features a classic utility/fishing layout, but with a few unique twists. The "total access" hatch nestled into the transom is probably the #1 feature that separates the Heritage from her competitors. Although the downside of this design is that it puts a little more footspace between where anglers stand in the cockpit and the aft end of the boat, the plusses are many. First of all, it provides a triple-wide bench seat arrangement with standard cushion set that is the perfect spot for your crew to relax comfortably as you transit in between fishing holes. There's a recirculating eight-gallon livewell positioned under each of the outboard seats, fed by a built-in high-speed thru-hull pickup. The center seat is attached to a unique rear "total access" hatch that swings up on hinges to allow complete and unrestricted easy access to the vessel's critical pumps and filters, in addition to providing a convenient spare anchor locker. If you've ever had to hang upside down with someone holding you by your ankles while you stick your arm into a six-inch transom deck hatch to free a jammed bilge pump switch 20 miles offshore, you'll know just how cool this feature really is in everyday boating life.
The mid-sized console command station is large enough to offer a private head down below (accessed via a portside companionway) with room to flush mount a pair of ten-inch multi-function displays for your marine electronics needs, but small enough to allow smooth transit along the side decks to work a large gamefish fore'n'aft. There's a 12-gallon insulated cooler for your day's beverages positioned under the forward console bench seat. The bow area features split bench seating with two dry storage areas down under; optional removable back rests convert both of these into tanning platforms when it's family day at the beach. A flush anchor locker in the forepeak will hold your hook and rode until needed and a raised center hatch between the split benches stows a five-gallon bucket and a cast net. Other standard features include a trio of horizontal rod racks under each gunwale; a leaning post with backrest, four-rod rocket launcher and storage box; raw water washdown; Grip-Tex non-skid cockpit finish; recessed split stainless steel bow rails; and a Melennia Bluetooth ready four-speaker stereo with iPod jack.
The Heritage 229 CC is built for offshore work with generous freeboard, a 103-gallon fuel tank, a sharp 55-degree forward entry to tame an afternoon chop, which then transitions back to an 18-degree vee bottom at the transom, for relatively easy planing with V-6 four-stroke outboard powerplants. According to Yamaha factory tests, she'll hit a top speed of almost 48 mph powered by a 3.3-liter F200 V-6 four-stroke spinning a 19-inch pitch three-blade stainless steel prop. Going with the larger F250 will increase top speed to 53 mph swinging a 21-inch pitch wheel. If you are looking for optimum fuel efficiency, the F200 will provide an impressive 4.13 mpg at 3500 rpm, hitting 26 mph at only 6.3 gph. The F250 will get you 29.2 mph at the same 3500 revs, drinking 8 gph for a net of 3.65 mpg. This will take you a long way with the Heritage 229 CC's standard 103-gallon tank. Hole shots are lightning fast, with both Yamaha outboards jumping up on plane in less than four seconds, with 0 to 30 speeds clocking around six seconds.
Sportsman Boats feature all-composite/no-wood fiberglass construction and are backed by a ten-year hull warranty.