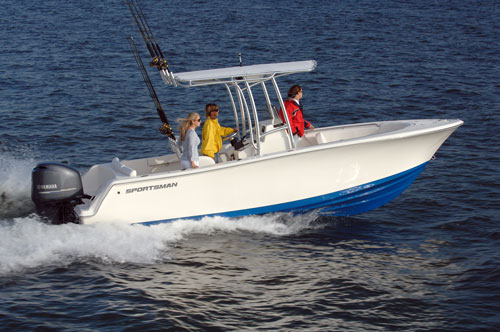 At a time when most boat manufacturers have hunkered down, slowing production and waiting for the economy to show better signs of recovery, Tommy Hancock and Dale Martin have taken a major leap of faith. The two boating industry veterans have started Sportsman Boats Manufacturing, building 20-24- foot saltwater fishing boats.
Boat building is a family tradition for Hancock, as is fishing. His father owned Citation Boats where Tommy worked and where he met Martin. When Hancock's father sold Citation in 1985, Martin went on to co-found Key West Boats in Ridgeville, SC, with Hutch Holseberg in 1986. The following year, Hancock, his father, brother and uncle founded Sea Pro Boats near Columbia, SC. As Sea Pro grew, the Hancock family moved to larger factories all in their home state, first in Chapin in 1991 then to Newberry in 1996. The family business prospered building their 17-25-foot saltwater sports boats.
The boats were so popular that the Brunswick Corporation, based in Lake Forest, IL, contacted Hancock in 2005 about buying Sea Pro. "We weren't looking to sell," recalls Hancock, but "Brunswick was a great company, probably the biggest in the industry, with a good growth and acquisition plan." Sea Pro joined the saltwater boat division that Brunswick was planning to expand.
"They had a great plan," Hancock said. "Unfortunately, the economy started downhill and hit Brunswick." The Sea Pro line was shut down, a blow to its home in Newberry.
After selling Sea Pro, Hancock decided "to enjoy myself, spending more time fishing" on the family's 65-foot Ricky Scarborough, Dem Boys, and travelling. He has several small businesses in North Carolina and a working farm in South America. Coincidentally, Holseberg had bought out Martin's share of Key West Boats in 2003. Martin was investing in timberlands but he kept in touch with Hancock, still interested in building boats.
The duo began looking at ways to reenter the marine industry. They conducted many market surveys to determine what was selling and why. "The economy was our biggest blockade," said Hancock. "I think we've seen the bottom and are slowly starting to come back."
They explored opportunities to buy an existing boat builder but ultimately decided that they didn't "want to buy problems" with old models and old tooling. "Technology has advanced so much," Hancock explained, "in design as well as in tooling like 5-axis CNC routers that just didn't exist when we were building boats before."
On September 19, 2011, they took the plunge, launching Sportsman Boats Manufacturing. Their first model, the Heritage 229, a 22 ½ -foot center console, deep-vee fishing boat, was extremely well received when it was introduced at the recent Charleston Boat Show in late January.
"We did a lot of preliminary work in that timeframe – opening the business, tooling up, producing designs. It was a lot of hard work but we're excited!" Hancock said. "We're receiving deposits so the problem now is not sales but in finishing up the factory."
The company leased 40,000 square feet of space in Zodiac of North America's facility in Summerville, SC. Hancock and Martin are optimistic, hoping to build 250 boats this year and a projected 500 in 2013. With 14 employees now, they plan to grow to a workforce of 30 by the third quarter of this year. That should enable them to produce their planned six new models, one every five to six weeks until October. Aiming at a March introduction, the next model will be the Masters 227, a 22 ½ -foot bay boat.
The plan is to have three deep-vee center console models, the Heritage 209, 229 and 249 in lengths of 20-, 22- and 24-feet, and the Masters 207, 227 and 247 in the bay boats.
Milo Hanckel, owner of Hanckel Marine in Charleston, was a Sea Pro dealer and is the first dealer for the Sportsman Boats line. When he first learned about the new company, his immediate reaction was "It's about time! Why did you wait this long?" He's enthusiastic, not only about the product but because he "admires Hancock and Martin's knowledge and integrity in boat building."
If the first Heritage is any indication, the owners will soon regain the popularity that their Citation, Key West and Sea Pro lines had. A promise of reliability for the Heritage 229 comes with a 10-year hull warranty. Comfort shows up with a bow cushion set with bolsters plus a rear cushioned bench seat, a Melennia Bluetooth ready stereo with four speakers and an iPod jack, a built-in swim platform, a leaning post with a backrest, a 12-gallon built-in console cooler and seat, a console footrest, and windscreen, all standard features For fishing, there are two aerated livewells and a high-speed livewell pick up. Also standard is a 103-gallon fuel tank.
Optional features include Taco outriggers; trim tabs; T-Top gull wings; a T-Top LED lighting package; a ski tow bar; and a porta-potty, among others.
Hanckel was the first to display the Heritage 229 and was pleased with its reception. He sees the Heritage as "a family boat because it's bigger with higher sides. The bay boats will be more for the inshore/near shore fishermen."
The first impressions at the Charleston Boat Show from boaters was that they recognized the model was brand new with "a completely different look." Hanckel stressed, "the design and build is completely new from the keel up." He reiterated Hancock's and Martin's search for a new look, no old ideas from anything they had built previously.
"Their goal was to make the boats user-friendly," continued Hanckel. "Once you get into it, you can see that it isn't cluttered and everything is easily accessible." Milo's brother Ryan Hanckel is working at the manufacturing plant. The builders' experience coupled with Ryan's service background produced a boat "where you can actually service everything in it – wiring, pumps, tanks. Plus, it's easy to keep clean and has good storage." Hanckel predicts that the boats will continue to grow in popularity as more owners extol their virtues.
A dealer network is being established, with ten already in place in South Carolina and Florida. Hancock said, "We will be adding an additional 20 to 25 dealers over the next 12 months. A lot of dealers are keenly interested."
Asked what he thought would make the difference for the new company, Hancock answered, "The way we're starting. First, there is the maturity of the founders. I'm 50, Dale is 56. Between the two of us, we have over 50 years experience in the boat-building industry." He continued, "We're very well capitalized and have very little debt." That's a good thing considering the two are committed to a $2 million investment.
He also praised the commitment to economic development by Dorchester County and the state's economic development board. "They understood the industry, having worked with other boat manufacturers." In fact, Sportsman's manufacturing neighbors include Key West Boats and Scout Boats.
Besides the knowledge, commitment and excitement, the company's founders have confidence. "We have a better idea and a better product," Hancock promised, adding "Time will prove whether we're right.
Suzi has been a cruising sailor, a charter yacht mate and chef on 60 to 70-foot sailboats, and delivery crew on one transatlantic aboard a 65' Swan from St. Thomas to Antibes, France. Now land-based, she and her husband own a propeller repair business. She writes for a number of marine publications.
Read the full article at allatsea.net.