We all use our boats for different activities, the majority of customers enjoy days at the sandbar or time spent with a rod and reel in hand. However, some have their own activities they enjoy; in this case it's Alligator Hunting.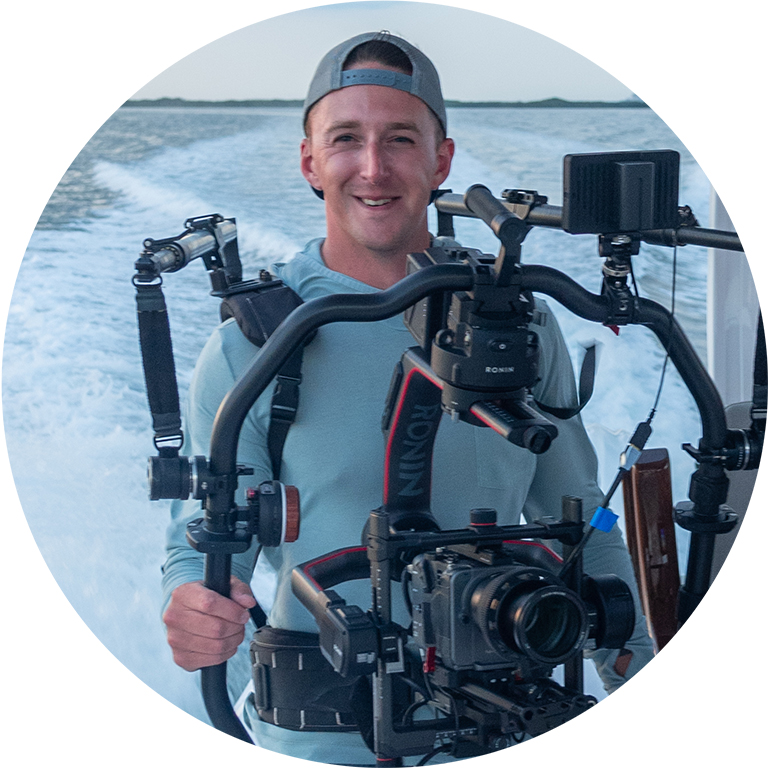 Michael Cheser
Video Producer / Content Creator
It's become a Monday routine for me: recap the previous week, review any work that needs reviewing, schedule out the week for the team, find topics for our Tech Talk series and blog posts and then send out ideas to the team to write about for said blog. One of the best ways to find topics for blogs and even Tech Talk videos is to look at questions our Sportsman Boat owners are asking. I take some time to glance through our owners' Facebook page and begin taking notes. However, it was today that something else caught my eye on the Sportsman Boat Owners (SBO) page.
I was scrolling through and had just sent a recently created Tech Talk video titled, "My Engine Won't Start," to a customer who was asking why his engine wouldn't start. The video goes over the top three reasons he may be having this issue. It's a common occurrence and an easy fix; generally, it's because the kill switch isn't locked in or the throttle is engaged. However, right after posting this video so this customer could hopefully resolve his issues, the next post I saw was unlike anything I had seen on the page before. It's normal to see images of big fish, picturesque places, families on the sandbar, and even man's best friend perched up on the bow, happy and smiling for a camera. It's not normal, though, to see a nearly 10-foot alligator laid across the gunwale of a Masters 247 with a 12-year-old boy smiling from ear to ear.
As alligator season here in South Carolina has just opened, this caught my attention in two ways: one being "I want to do that on a 247," and the other "This person hunted gators on their 247; I need to see more." I quickly clicked on the thumbnail for the YouTube video and proceeded to watch 11 minutes of alligator hunting with a family who, it turns out, recently purchased a Masters 247. After reaching out to Tyla, the mother of the boy Cam featured in the thumbnail, we hopped on a Zoom call and got to talking about their epic hunt.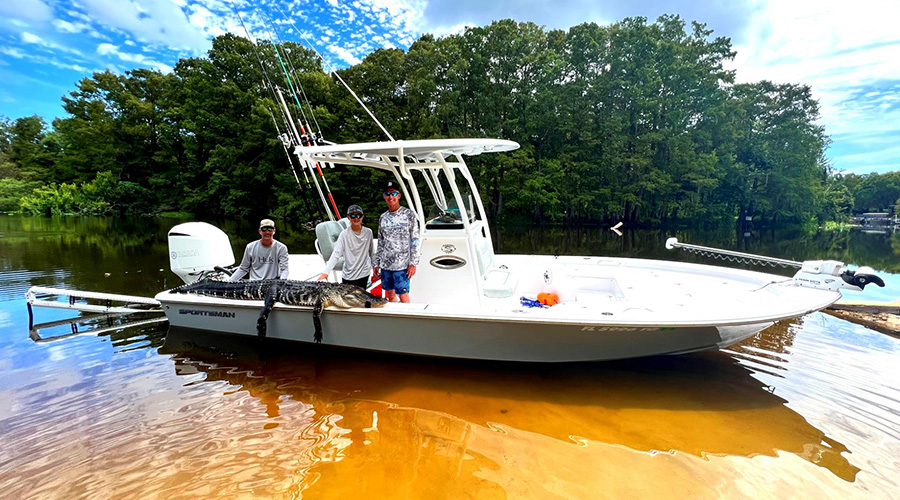 Before diving into what Tyla, her husband Chad, and son Cam had to say about the hunt, we talked about the boat. Chad had been researching for a while and doing some digging on what boat would be the best fit for their family. They're from Southwest Florida, and the three of them live and breathe time on the water and the outdoors, so this needed to be something that fit everything they did on the water.
This outdoor enthused family isn't focused on just one style of fishing either. As Chad said, "My biggest thing when looking for a boat was the layout. It had to serve everything we do, from offshore fishing to inshore fishing, crabbing, gator hunting, scalloping, and lobstering. We do everything Florida has to offer. So, I was looking for the best all-around boat, and the 247, to me, had the large bow casting deck, center console with lots of storage, an oversized hard-top for shade, and a large bilge access for any maintenance."
Ultimately, the Masters 247 checked all the boxes and was the best fit for their family. Some additional features mentioned were the wide beam, how stable the boat was when fishing and running and the ample rod storage, which was great for them while fishing and hunting. Chad came across a 2019 Sportsman 247 for sale just a few weeks prior to the hunt that took place in this video. In fact, they picked up the boat, and the first time putting it on the water was for this gator hunt. If you ask me, it's quite the shakedown test for a new boat, heading out into the swamp and hunting alligators on a boat you've never run. Their first impressions were that the boat was great for what they were doing, and they were able to quickly hop on and get going with the hunt, as everything was easy to figure out and use.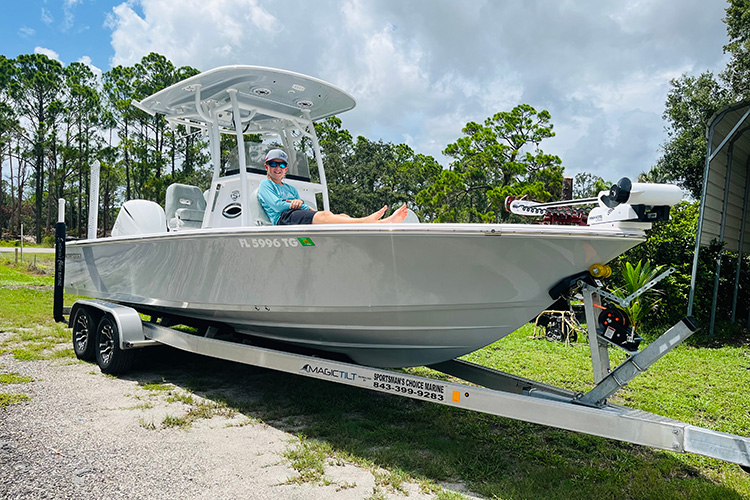 Seeing the alligator on the Masters 247 really opened my eyes to how versatile the boats we build can be for so many different activities. We discussed what made the boat so great for such an activity, and to them, it offered the same thing that the standard gator hunting boat would offer with more features. As owners of an airboat and a regular jon boat, they said that the 247 fit gator hunting better for them, as they like being in the bigger water where the bigger alligators live. The Masters 247 provided the comforts of a big boat while still maintaining the abilities of their other boats. Not only that, but they were able to have more people on board sharing the experience, and then transporting their harvest was much easier. Ultimately, they sold me, a Sportsman employee, on hunting with a Sportsman Boat. Chad told me that bay boats have become very popular for gator hunting in recent years due to all the reasons listed above. As the producer of "The Sportsman Experience," this has wheels turning for me.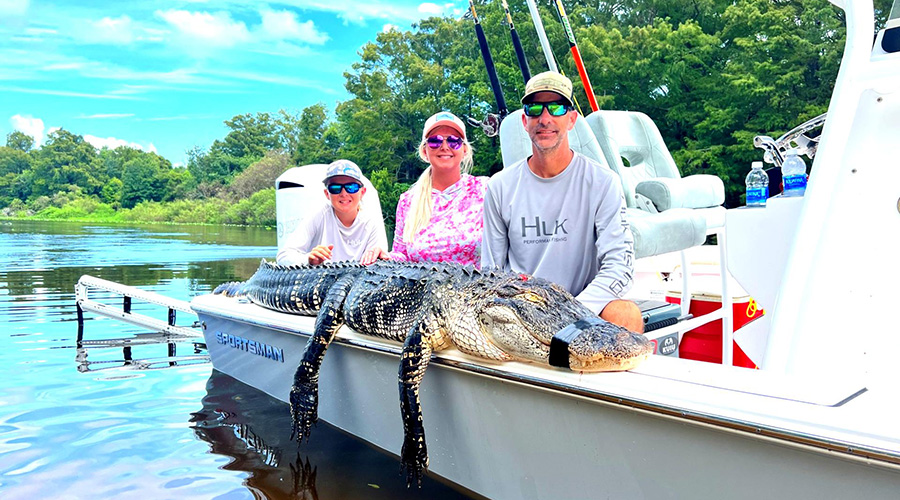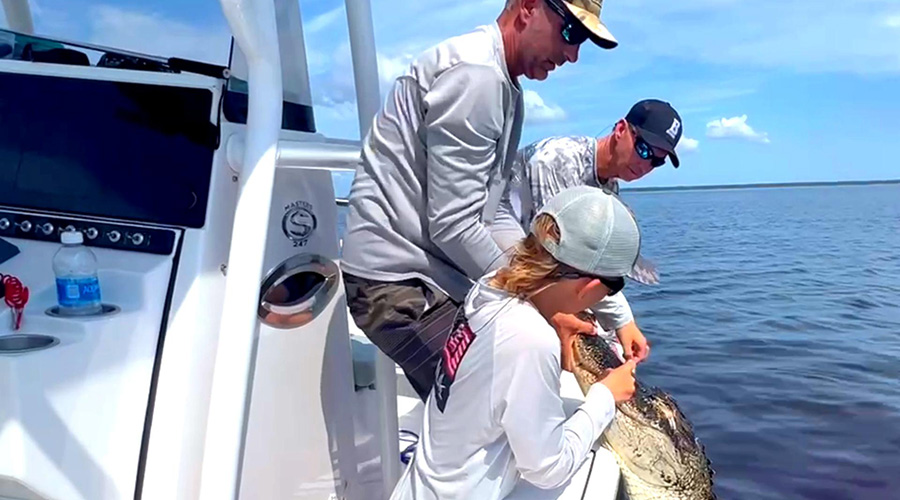 In an age of YouTube and videos being so easy to create and the idea of creating videos being so popular, I had to ask them about their YouTube channel, "Catching Up With Cam!" Their entire goal was to create a YouTube channel to document and share their family adventures. As they watch their son Cam grow up in the outdoors, they're able to capture those memories and have them for a lifetime, getting to see how he grows and loves the outdoors more and more. You'll notice how eager he is to learn in the video as you hear him asking questions about how to do things and how to be safe. He's quite the young outdoorsman and seems to be learning in each of their videos about how to be responsible on the water and become a great role model for his generation. It also turns out a lot of the stuff he's learning is mixed into his schooling. Tyla and Chad have chosen to homeschool Cam, as some of their friends do too. They're using the time they have on the water to go out and learn about the ecosystem and teach life skills along with the standard curriculum. Cam is well-versed in skills that most young kids don't get to learn these days, such as how to fully process an animal like the gator he was able to harvest. They're working on getting Cam scuba certified so he can dive for shark teeth with them and learn about sharks and fossils there in their home waters. Another skill I noticed that's being taught and may be something not even recognized by them is the skill of using video. As someone whose job revolves around a camera, I see the importance of this skill and how beneficial it can be to young kids for their future. As time goes on, the process of using video and photos evolves daily and becomes more and more pronounced in every business. What Cam may not even realize is that he's learning a skill that's going to be very valuable to him one day if he decides to pursue it.
It's funny how scrolling through Facebook led me to learn so much about how one family is using their Masters 247 and how it's a tool for their son's education. We are always promoting getting outdoors, especially with younger generations, and to see Cam learning so much and growing as an outdoorsman on a Sportsman is a very cool thing to see. It leaves me hoping to get the chance to take the crew down to Southwest Florida, film an episode of The Sportsman Experience, and have Cam show us a thing or two about fishing there.
If you're interested in learning more about alligator hunting, we recommend checking your local DNR website for full details, along with rules and regulations.