In the final episode of the season we are breaking down the Sportsman Design Language and how it originated and where it will be taking the brand in the future.
Welcome back to behind the glass. In this final episode for season two, we sat down with the team here at Sportsman to talk about the Sportsman design language.
Sportsman was established in 2011. Let's start with Tommy in the original vision for Sportsman boats. We started a company with just one goal to be a world-class boat manufacturer. We've gone from a single 23-foot center console to Building 21 different models today, and each carries a little of the traditional and new Sportsman design language.
Sportsman started with a 23-foot center console, a boat we still build today. It's an incredible seller for us. The boat had some refreshing over the past few years, but it's really at the core of Tommy's original concept. We took that original design and modified the overall look to come up with a more advanced look with somewhat of an iconic look on the water, and that's how the open 352 started. It's been a journey that stemmed from truly listening to the customer and expanding upon what the customer's needs and wants are, all while, you know, striving at the same goal of making a world-class center console fishing boat and bay boat and that's what it's you know led us to today to where we're at today.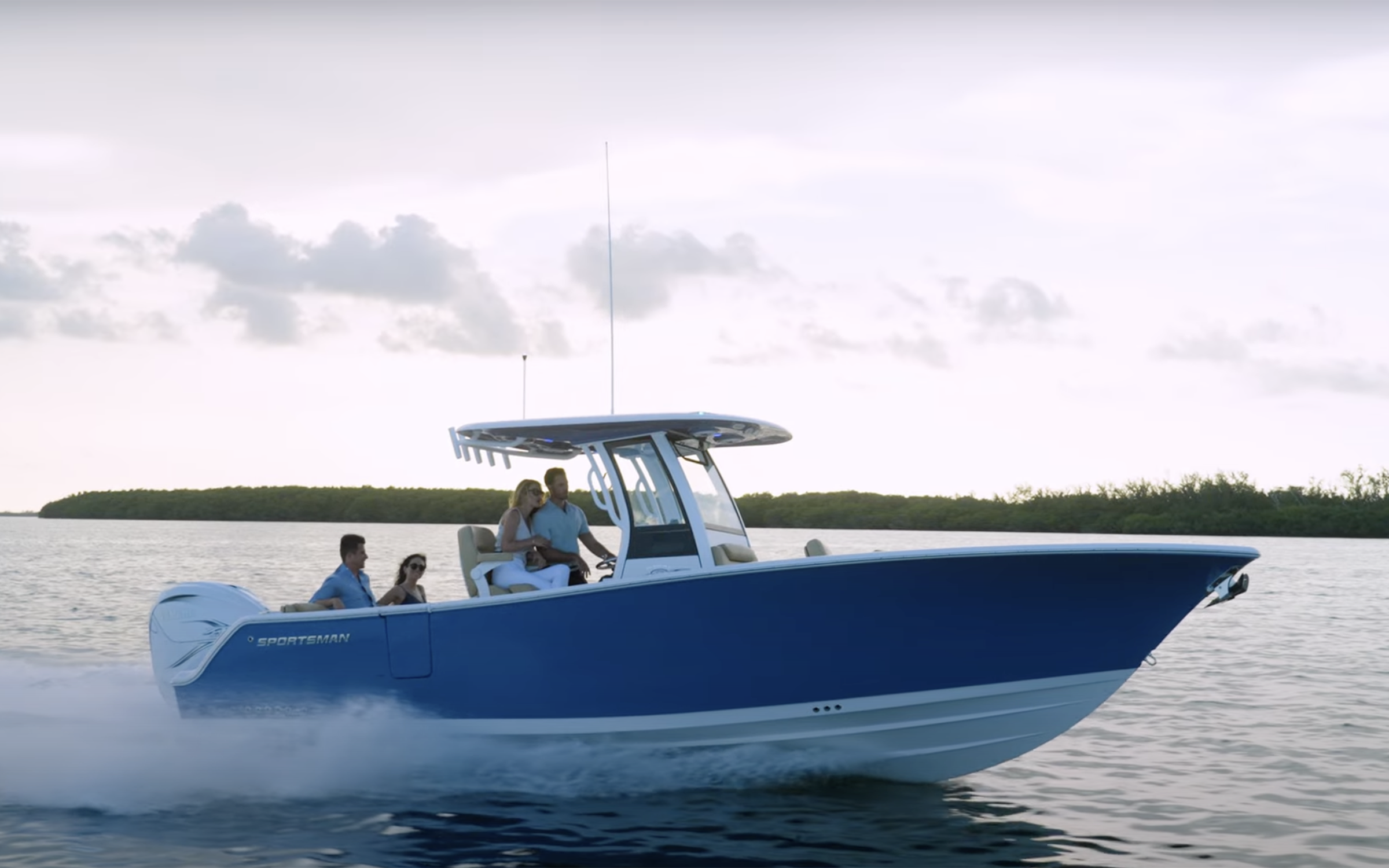 At this point, a change dictated the future of Sportsman boats. The customer drove the pivot point. We saw where the market was headed we wanted to lead through innovation. Most boat manufacturers routinely update to the newest Electronics upholstery materials, you name it, but very few can execute when it comes to new styling and incorporating new designs across their entire line of products, especially in a several-year timeline thanks to our team and our vertically integrated tooling Department. We knew we had the opportunity to do that and Lead through innovation. We felt the market needed a modern design in the 35-foot class at the price point that we came up with on our 35. That is when we decided we'd build the open 352, which had to be the framework for Sportsman as we advanced. Once this boat came to life, that was a silhouette you'd recognize as a Sportsman, whether it was a 35-foot or 23-foot boat. To do this, we had to have the right lines on the boat, you know, vertically and horizontally. We started with the hull, and you know, we had a wide beam and wanted a comfortable ride, but we had to maintain that performance, and like most of our boats, we started with the strikes. You know, in our strikes, we, just by our preference, have a zero or flat strike and chime, and what that gives you is a great ride but still gives you great performance. If you tilt the chine up, it can be a bit wetter boat but give you a better ride. If you tilt it down, it can be a harder ride, but you get better performance, so this is the best of everything.
Next came the console on top it needed to be seamless stylish and have a modern Flair we developed our very own style of d-tubing and even Incorporated neural grab handles to increase customer satisfaction we wanted a new consistent look something that when you saw it you'd know this was a Sportsman a Sleek clean modern look was key for us on our 35 for example we took the detubing and had it integrated into the console into the floor for that really clean modern look one of the tremendous benefits of the D2 design is it gives you more room inside the console and around the outside the console to get around the boat it also gives you tremendous strength the hard top is huge it is huge and the cool thing about that is that you know you get to maximize your shade and it also allows us to add some cool features to the top as well and you know whether you're offshore fishing or you know you're at The Sandbar if you or don't have any shade in the summertime it's hot it's bad High we decided to go with d tubing and due tubing allowed us to do a lot of cool things it allowed us to get the shape that we wanted to while bringing the legs of the typical you know hard top off of the floor and integrate those right into the console because that just provides a nice Sleek design and it's very smooth if you look at the D tubing it's got a lot of rake to it so it just sitting still it looks like you're in motion and it just adds a whole lot of style to the boat the hard top with this d-tubing design was a huge part of the design language for our new 352 and other models going forward with Sportsman the incredible vertical lines of the D2 I mean leading your eye that was the design language we were looking for the iconic look that we've all grown to love is what we refer to as the Sportsman design language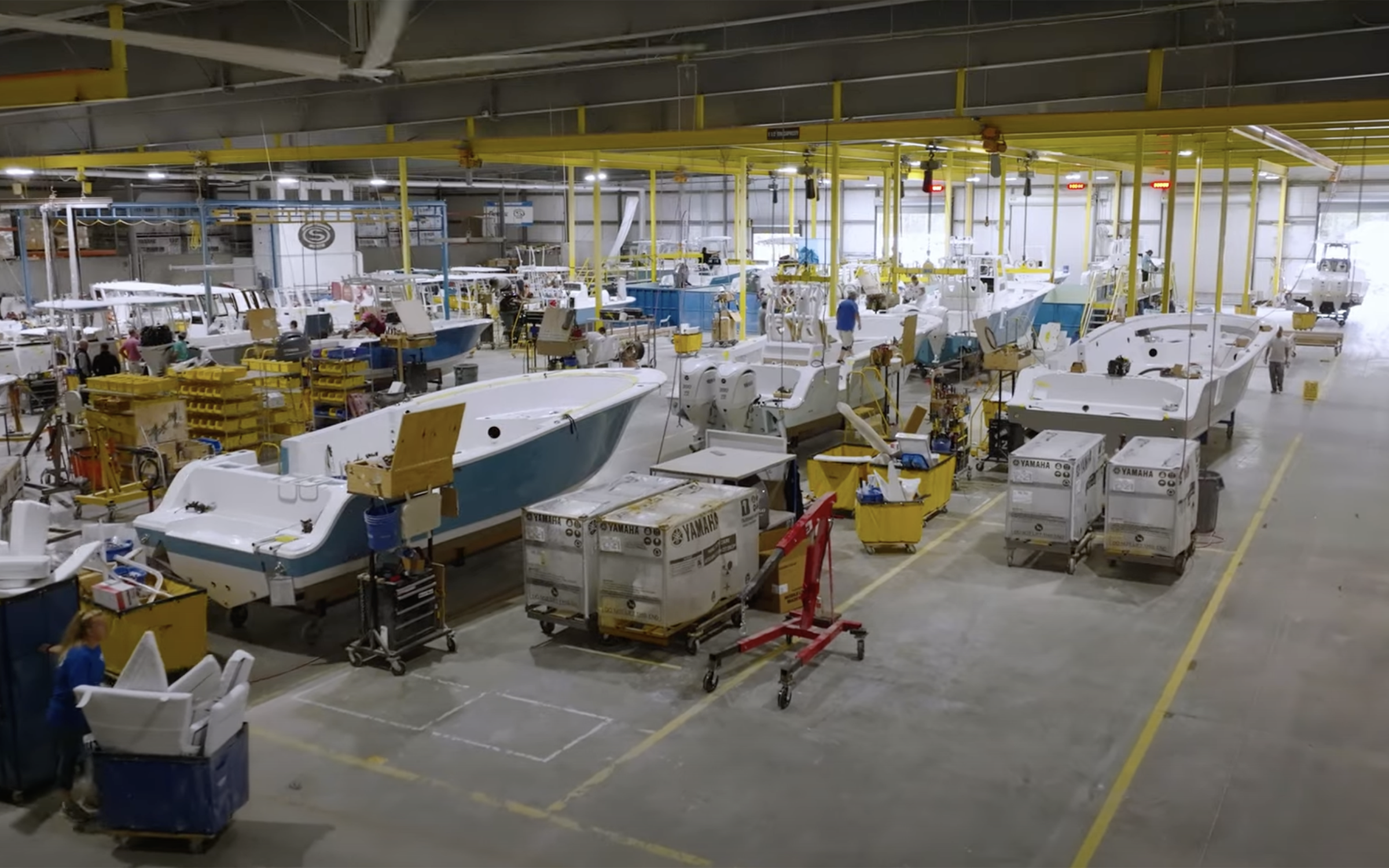 The Sportsman brand is immediately identified through elegant styling, open layouts, and luxurious amenities. Our design speaks directly to customers looking to enjoy quality time at The Sandbar or catch the fish of a lifetime. Our boats have seating and tables to create the perfect social zones for a cruise. The whole side doors entry ladders and JL audio system make the day at The Sandbar or Gulf Stream a breeze. So looking around the boat, you're just stunned by the Elegance and features that a new design can bring to life. All the little pieces come together and flow to create a masterpiece. It just puts a smile on your face being out in the water, seeing the boat, and knowing automatically what it is from. With the smooth, sleek lines and then walking up to it and seeing the fishing amenities and the family features of a Sportsman, you can tell that it was all designed and thought of well ahead of time. But that overall look became the design language we transferred down the line of our center consoles down to 26 feet; You can see that Sportsman sheer line and look from a distance when you're out on the water, and that's what we wanted you to know when.
To stay competitive, we knew we had to take it to the next level and Beyond to achieve that. We needed some special engineering design. Engineering boats of this magnitude is a very challenging task. We couldn't do it without 3D modeling design tools and simulations to test structure and evaluate the whole design. Every piece of this boat was made with 3D modeling or CAD design. Everything was adjusted like the pump location moved a half inch here and there to the console, the hard top even down to the millimeter accuracy of screw placements. One area that had attention to detail was the shear line of the hull. Transitioning from CAD to the production floor is a very difficult step in introducing any new model. When a design hits, the floor is when we see how modern tools create more efficient and precise processes like we have today. Ensuring a smooth transition from design to production is always key to properly model all the components in a virtual model and knowing how and where they will fit during the design. It is incredibly important. It allows the transition from design to production to go smoothly. The open 352 center console revolutionized our growth.
During the design phase of the 352, we had zero hesitation. We knew the design would change Sportsman forever, and that was a pivot point that has inspired ten all-new models for Sportsman. With plenty more coming each year, one of our core values in our company is innovation. We always strive to provide our customers with the best possible product at that time. When we launched the 352, that design language ultimately changed the trajectory of our company in terms of consumer demand and the ability to partner with world-class dealers. The key is understanding that Innovation and Continuous Improvement never stop. That mindset it's woven into the fabric of our company. The 352 changed our design philosophy and how Sportsman will grow its set to standard. The Benchmark for all the following models that are coming after that, we're redesigning all of our models and bringing this design language down through all of our model lines. So as stated, innovation is a core value here at Sportsman, and the market never dictates what we do from a product development standpoint. Whether the market is phenomenal whether the market is struggling, innovation is a core value, and you can expect to see us year in and year out come out with the most Cutting Edge product with the highest level of technology to provide you with the best ultimate family fishing boat that you can find on the market. Keeping up with new technology allows us to design for the future here at Sportsman. There's new technology hitting our market every single year. The digital side, which we changed over several years ago, has increased speed, processors, and geofencing ability. We have to stay on top of that so we can design the plan for the future because our goal is always to design it and be ready for it. This year we were super excited to be one of the few companies we had the opportunity to partner with. Seakeeper on a game-changing product. The Seakeeper ride system is a perfect example of why we're always redesigning to improve our product. The ride system is, without a doubt, the future of our strategic work with Seakeeper on the project, allowing us once again to lead through innovation. Our ability to react and make changes to our design allows us to quickly incorporate the system into our product and give the customer The Experience they demand Seakeeper ride is just one of those many revolutions in the industry that we have jumped on board with early on and are allowing our customers to receive. The latest and greatest in technology and overall performance, and what it boils down to is just ease of use. It's new technological advances like that, a lot of times. The vendors come to us because they know our reputation is about innovation. They're looking for us to help them launch their product into the market, and then we look at everything very closely, and those things that we feel strongly about, such a Seakeeper ride, we jump on that quickly. So we're the exclusive partner for Seakeeper Ride for their introduction of this new product. We have a robust new product schedule that includes annual releases.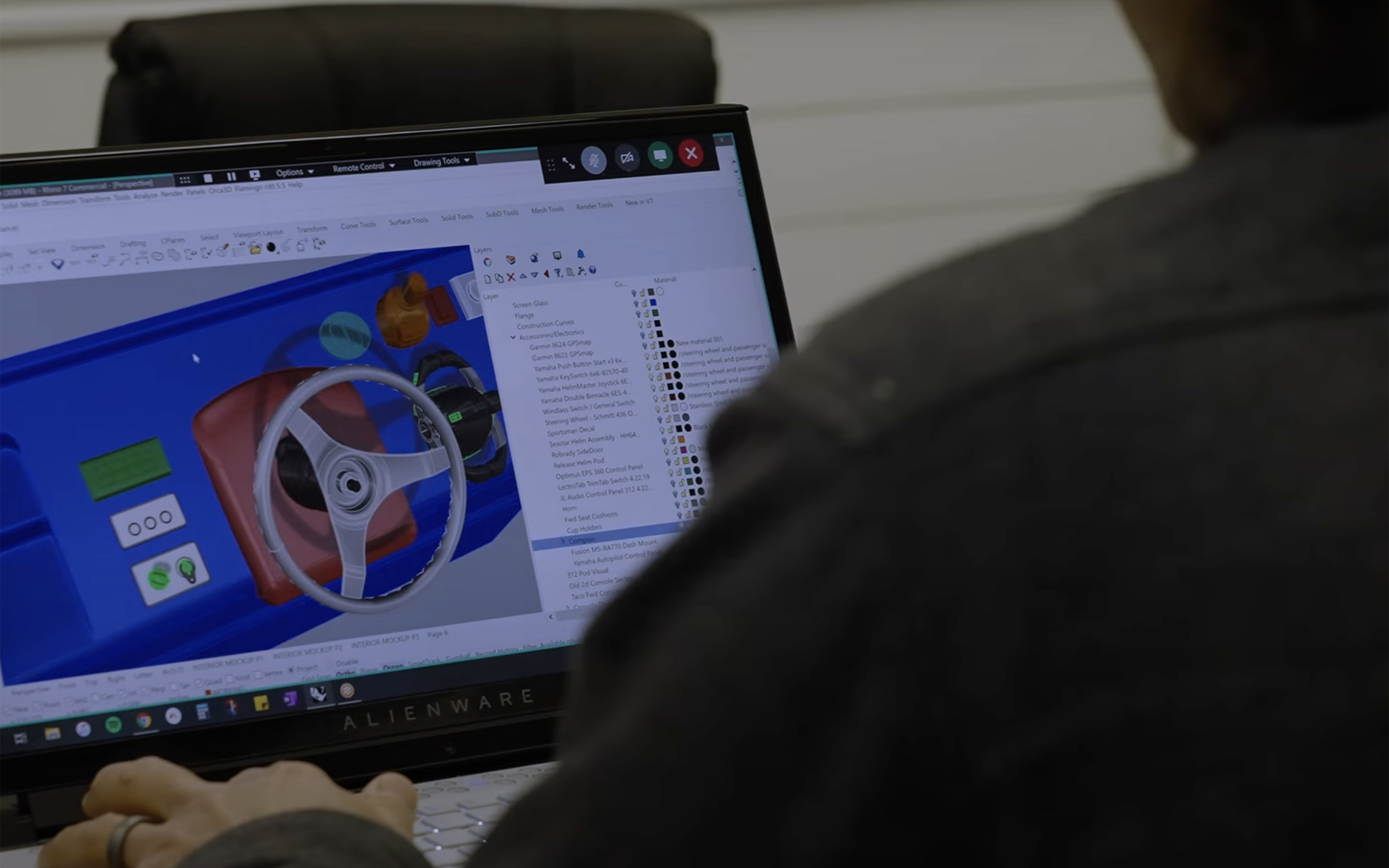 The goal of Sportsman was to design and manufacture a world-class family fishing center console, a boat that families could buy, Enjoy on the water together, and create lifelong lasting memories that they would never forget. That constant product development cycle that's just never satisfied; it's always hungry. We're always having to feed that machine. That's the exciting part for us. That's the part of the business we all love and are very passionate about. All of our customers will be excited as well. Working for a company that allows, especially from a product development standpoint, to take a new idea and run with it, gather Market data, look at the trends, and come up with something cool is incredible. We built a world-class product built by a world-class team. It just continues to get better and better.
So that's going to wrap it up for season two of Behind the Glass. We want to take the time to thank everyone involved in making this show possible.