Sportsman Boats answers the frequently asked questions including what the function of a stringer is and where boats get their strength.
The stringer is the spine of the boat. It sits between the deck and the hull providing the necessary support while housing all the important components built into modern boats. Each Sportsman model has a designated stringer engineered to be an exact match and provide the necessary support. All of our stringers are fully structural fiberglass parts that require no foam for rigidity.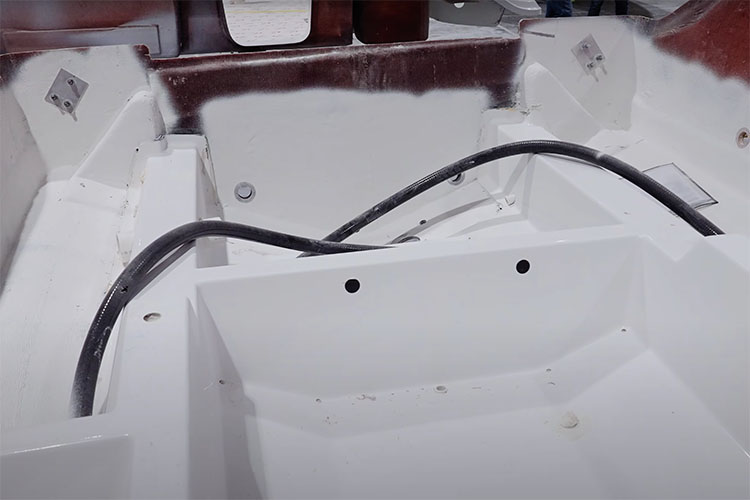 As far as design goes, both our traditional stringers as well as our new full grid stringers are designed very similarly. What you will find in them are different cavities designed for different things. For example, the back area (pictured above) shows the bilge area. The smooth gelcoat surface makes it really easy to clean and it looks nice whenever it is open. The next cavity will hold the fuel tank. Forward of that, there is additional storage as well as space for the anchor rope. Some of the model's stringers contain built in-floor boxes who's cavities are foam filled. This not only assists with floatation but offers insulation to those fish boxes to keep them cold.
The new full grid stringers also offer a class leading, designed in, SeaKeeper pod for any boaters who wish to include the Seakeeper on their boat. The built-in space keeps the Seakeeper centered for even weight distribution and low in the hull for the strongest stabilization effect.
For more information on How Sportsman Boats are made, check out our "Behind the Glass" series: https://www.sportsmanboatsmfg.com/series/1-behind-the-glass-season-1
Information pulled from Building The Boat's Backbone - Sportsman's "Behind The Glass" (Season 1 - Episode 2) and the Sportsman Boats website.