Side Entry Door
Yacht Certified
Hard-Top Standard
10-Year Hull Warranty
Offshore Hull Design
NMMA Certified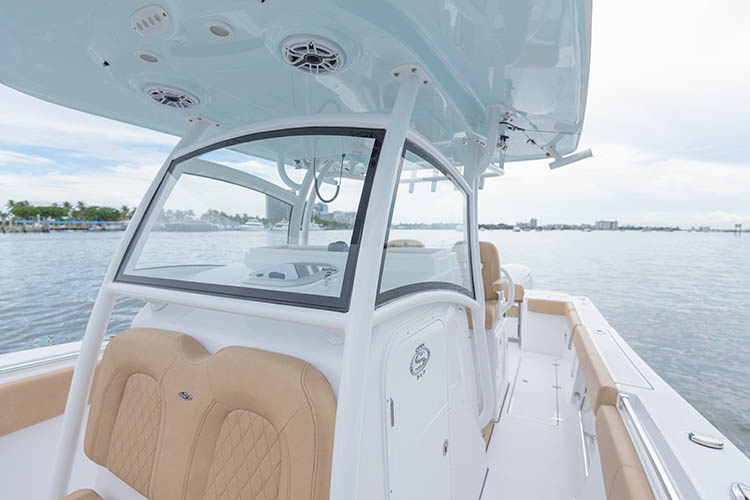 Integrated Tempered Glass Windshield
Made out of high-quality tempered glass, the integrated windshield protects the helm while maintaining excellent air flow thanks to the gaps at the top and sides. For the cooler days, fit the top openings with the optional close-out canvas to block off any wind. The glass is extremely easy to clean and will never fade, yellow or deteriorate.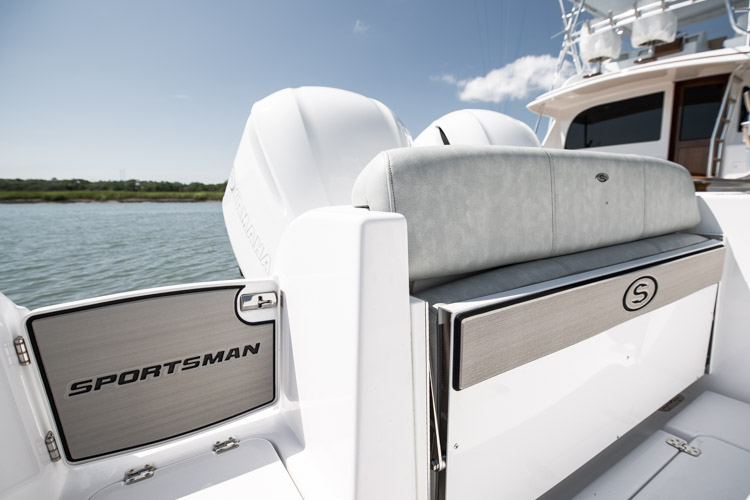 Premium SoftTouch Textured Vinyl
High performance marine vinyl fabric designed to pass the test of time with a soft yet durable feel and Sportsman's exclusive textured look. The vinyl is coated in Nano-Block Technology™, a next generation nanotechnology coating designed to provide ease of cleaning, protection from mildew and tough UV protection against discoloration. This layer of protection creates a tough barrier against abrasions, grease, grime, oils and even gasoline.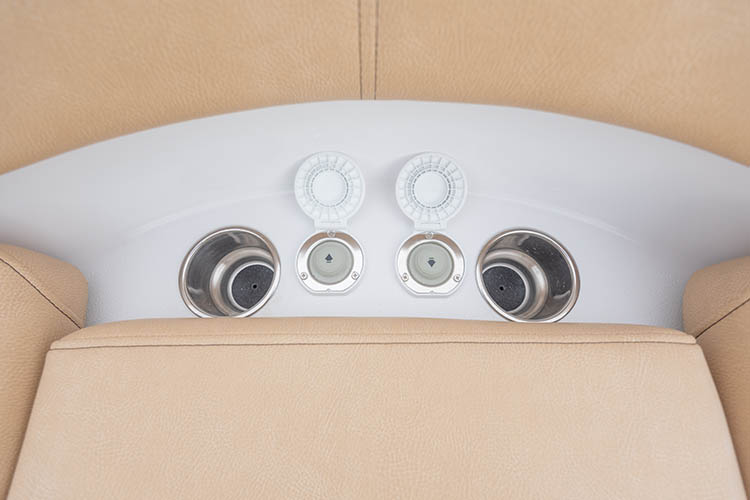 Bow Controls for Anchor
For ease of use and safety, we include foot controls at the bow for launching and retrieving your anchor, making the operation a one-man job. It also makes it very easy to see your anchor, rope and chain as it is getting reeled in. The controls have a plastic cover to prevent any unintentional button presses.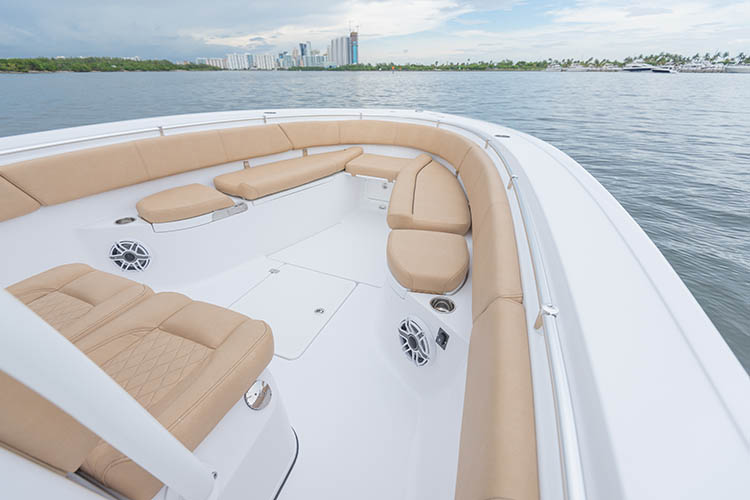 Bow Layout
The bow of this boat is designed with entertainment and versatility in mind. Features wrap around seating with adjustable bow backrests, 2 easily accessible large insulated fish boxes, drink holders and speakers to play your favorite tunes.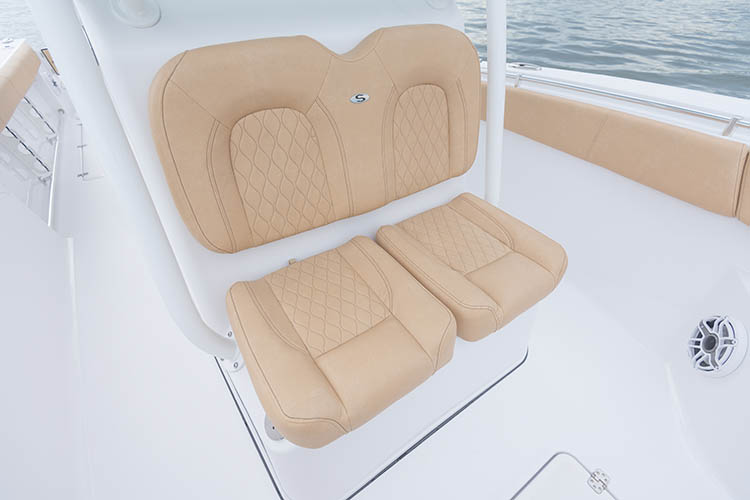 Console Front Seat
Comfortable console-front seat with backrest.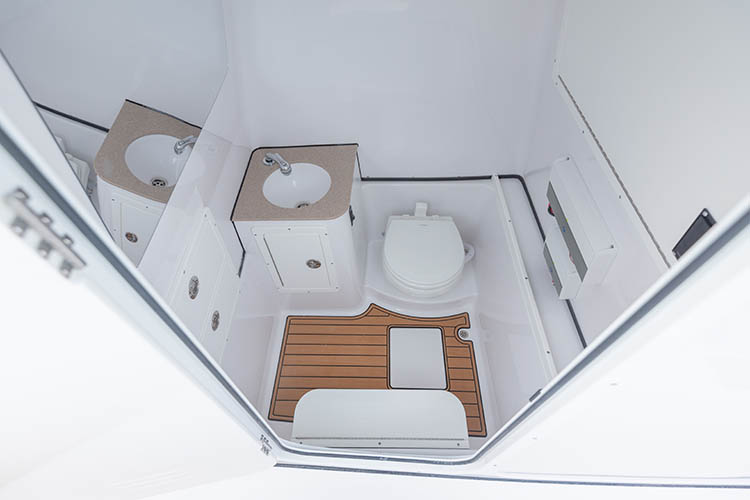 Enclosed Head w/ Shower
Standard feature on this boat is a freshwater electric porcelain toilet with overboard discharge along with an on-board holding tank, sink and a shower head. Once the toilet flushes, it gets piped into the holding tank. From there, where legally allowed, a push of a button discharges the tank. Making this a very easy and convenient way of having a fully functional toilet on your boat.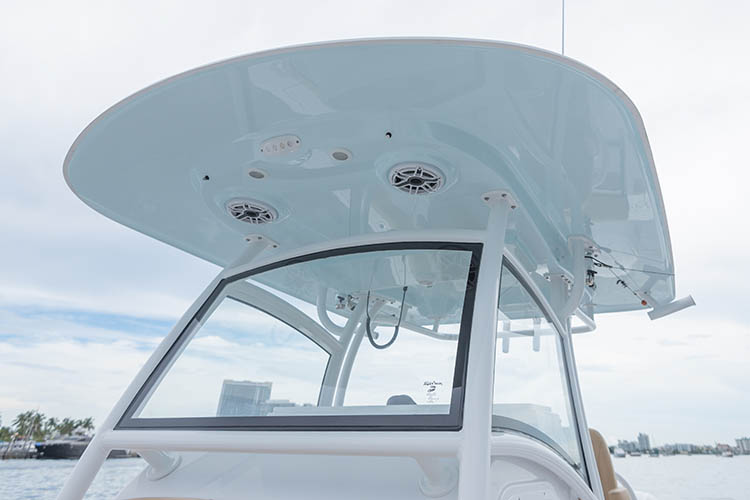 Fiberglass Hard-Top w/ Accessories
This beautiful over-sized hard-top is the center piece of this boat and is packed with convenience features. Equipped with JL Audio speakers, LED anchor light, map reading light, spreader light, misters, rocket launchers, kingfish rod holders and Taco outrigger plates.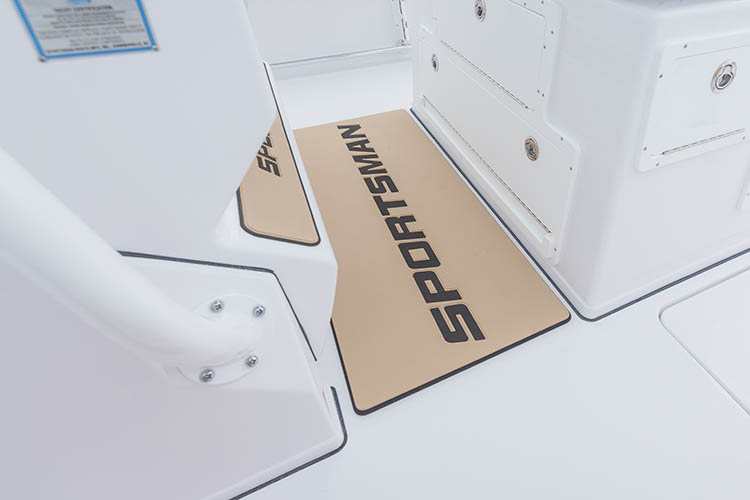 Anti-Fatigue Helm Pads
Feel all-day comfort with our custom anti-fatigue helm pads. You will notice a difference at the end of the day, your feet will thank you for it. Custom engraved with the Sportsman logo for that extra touch.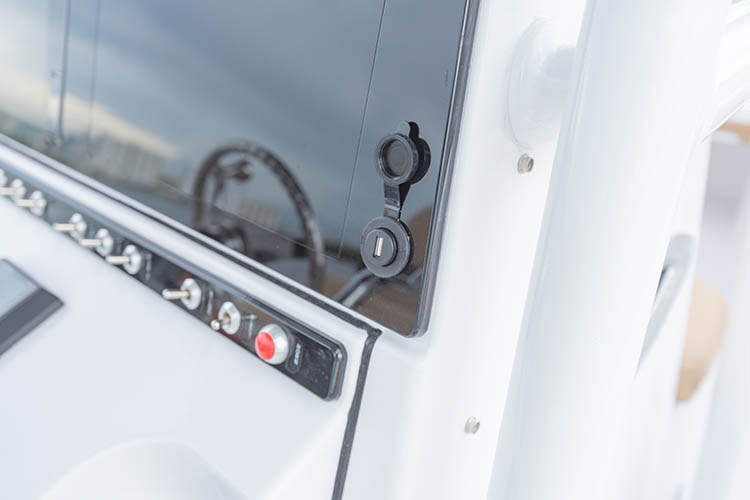 USB Plug In-Dash & 12V Receptacle
With the ever-growing demand to keep your devices charged, we include two USB plugs at the helm. The 2 included USB plugs are for charging and will keep your devices charged without interfacing with any other device. It also includes a 12 receptacle where you can plug in any cigarette-lighter style plug.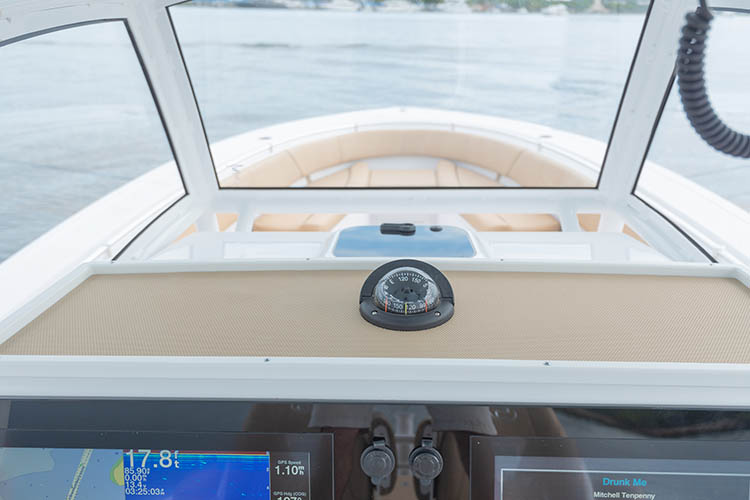 Compass
Considered one of the Four Great Inventions, the compass remains the cornerstone of any navigation system despite our advanced digital displays. Regardless of condition, your compass provides real-time heading and when used in combination with your GPS data, it allows you to optimize performance, fuel efficiency & improve safety. When it gets dark, there's a built-in light inside the compass for night use.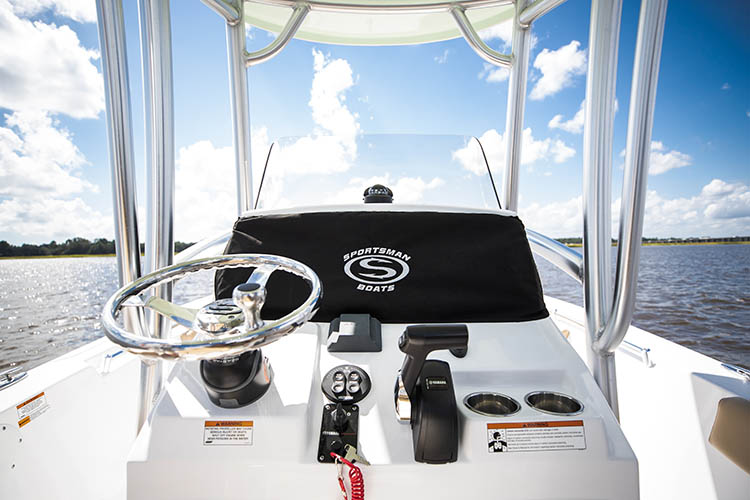 Dash Panel Cover
Protecting your electronics from the blaring sun is a breeze with the included dash panel cover. This custom made cover features the Sportsman logo embroidered and is made out of a tough outdoor fabric that will last for years.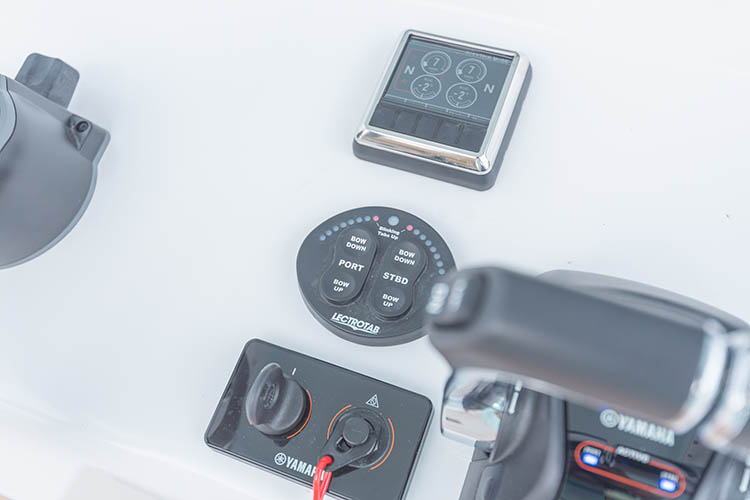 Trim Tabs w/ LED Indicator
The electromechanical trim tab systems included with the boat features a recessed installation that keeps your trim tabs tucked inside the hull for easier boarding from the rear and self retracting capabilities. When the key switch is turned off, the tabs will automatically retract completely. The LED Indicator feature shows you exactly where the tabs are positioned at the helm control.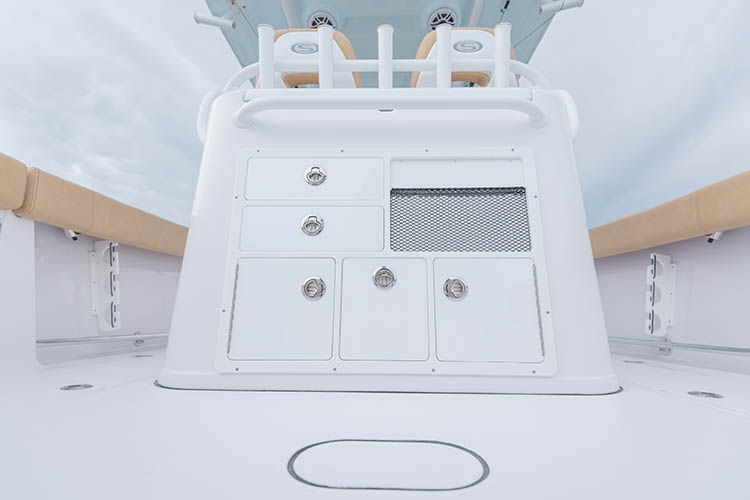 Leaning Post Tackle Center
Under the captain's chairs, you will find your batteries, storage bin and a large tackle center with drawers. For your convenience, the drawers have dividers inside to keep your items organized.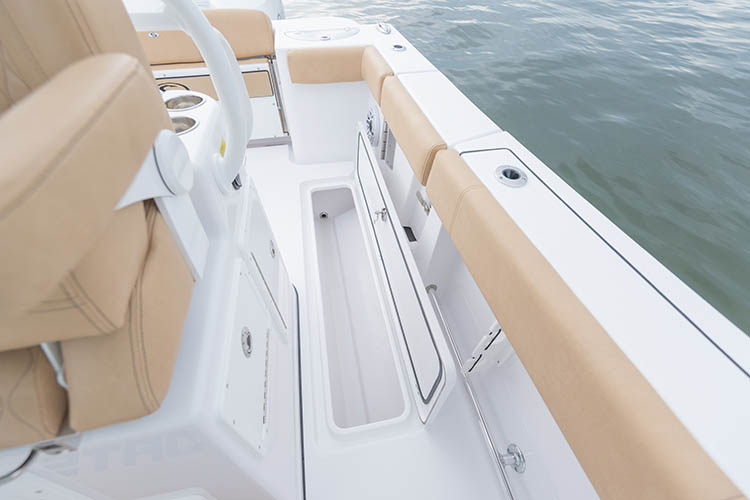 In-Deck Macerated Fish Boxes
On either side of the leaning post, there are insulated and macerated in-deck fish boxes.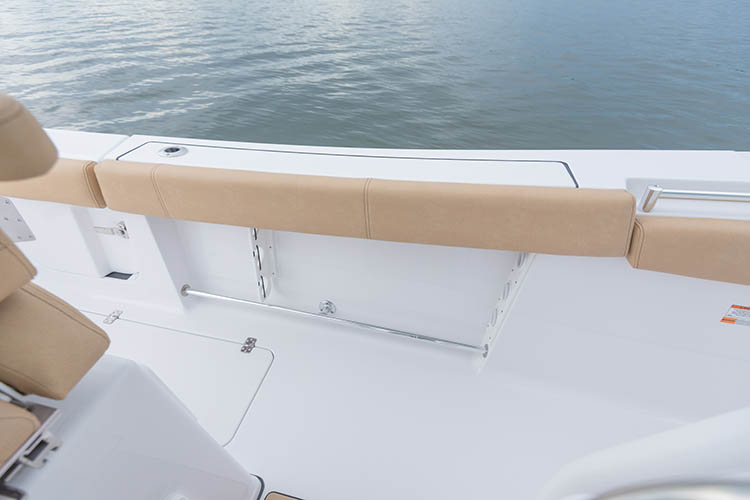 Under Gunwale Rod Racks
Storage for 6 rods is possible with the under gunwale rod racks. Each can accommodate a full length rod and doubles as a great place to store a gaff or net.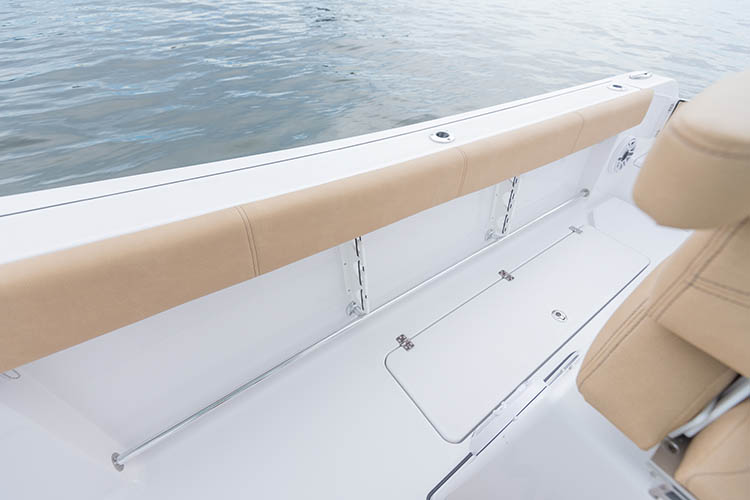 Port & Starboard Toe Rail
Located under the gunwale rod racks, the toe rail is designed as a brace point when heeling over the side of the boat to gaff or bring in a fish. You slide your toes under the bar and in conjunction with the bolster cushion, it provides a sturdy brace for your legs, even if the deck is wet or slippery.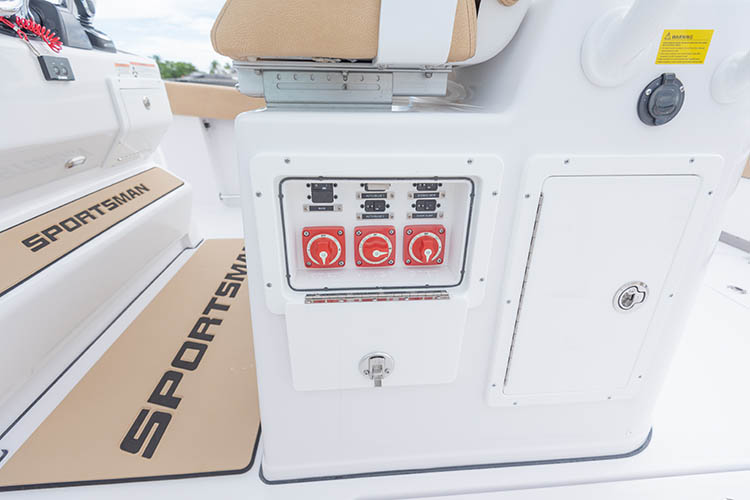 Battery Switches
Access to the battery switches has never been easier. There is a switch for each engine and one for the house. The house isolates all of your electronics, lights, amps and pumps from your engine batteries. All batteries charge simultaneously when the motors are running.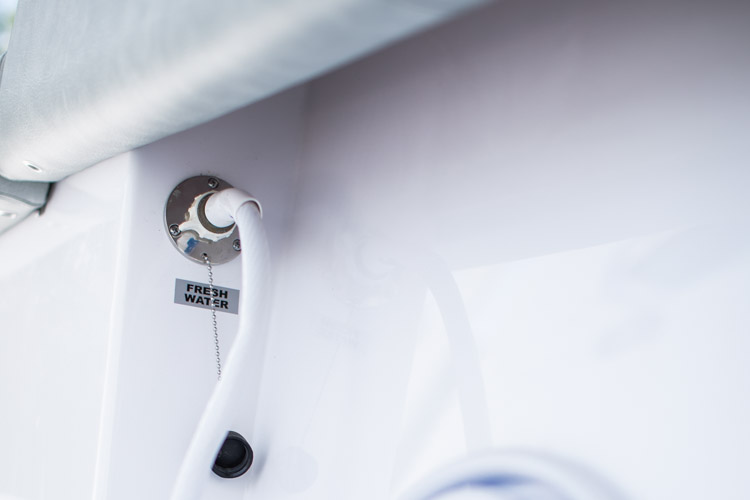 Freshwater Washdown w/ Tank
Standard with a freshwater washdown with a 33-gallon tank. Common uses include hosing down the deck, cleaning up the floor after you reel in a big fish or rinsing off yourself after a day at the sandbar. It's a great creature comfort you will quickly get accustomed to.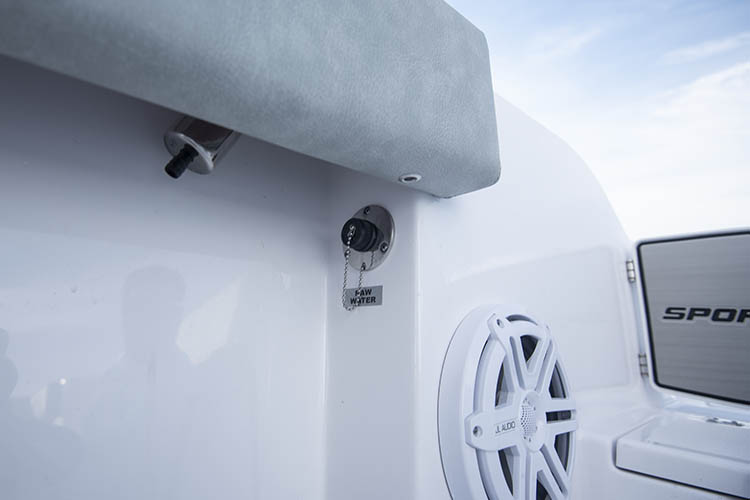 Raw Water Washdown
With its unlimited supply, it is the perfect companion for the freshwater washdown. This system pumps outside water to a water outlet where you can screw in a regular hose.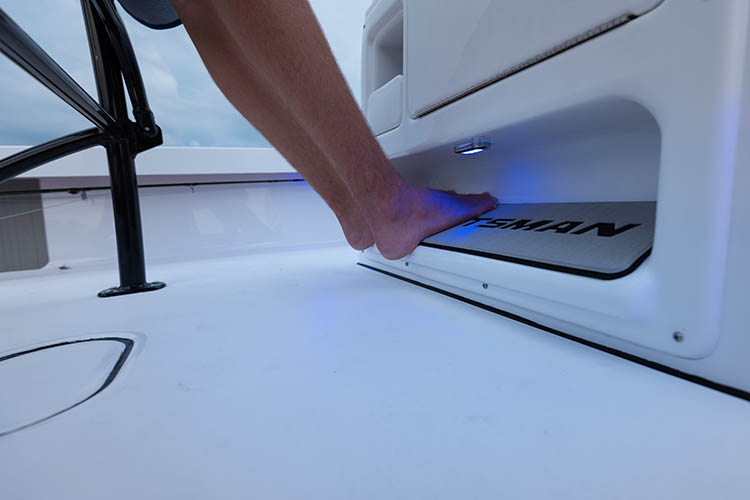 Interior LED Lighting Package
When the sun goes down, the cockpit comes to life. The included lighting package is as beautiful as it is functional, a blue glow covers every inch of the cockpit for safety and aesthetics.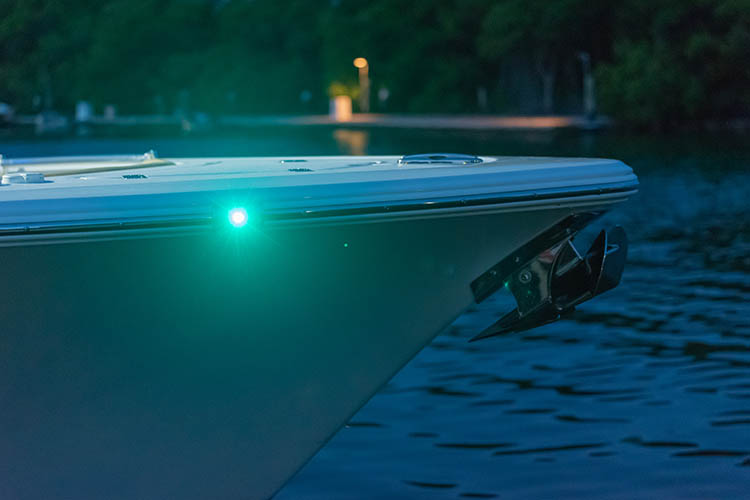 Rub Rail Navigation Lights
Traditionally, navigation lights are mounted somewhere on the bow in the form of a top mount or pop-up light but this exposes them as an easy damageable target. Our rub rail navigation lights are LED, super bright and barely noticeable. The lights are integrated into the rub rail on either side of the bow and provide the ultimate obstruction free installation.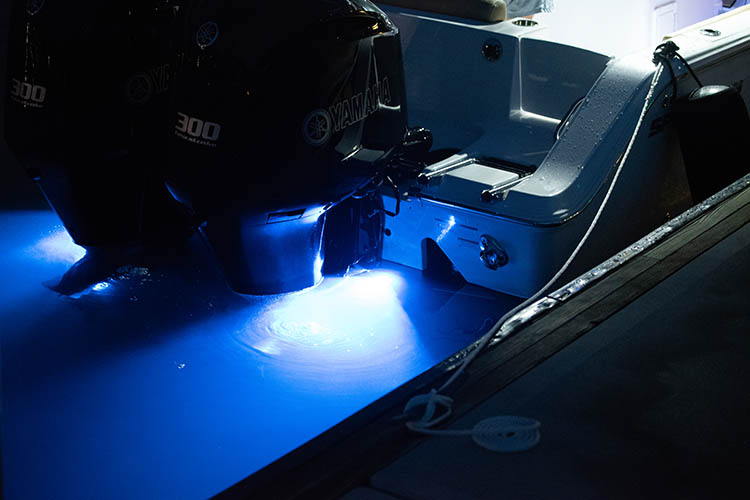 Underwater Lights
Built out of an anodized aluminum housing, these high quality LED underwater lights are a great feature for this model. The Lumitec underwater lights have a measured output of nearly 900 lumens, giving you plenty of blue glow behind your Sportsman. This boat comes equipped with 2 of them at the transom.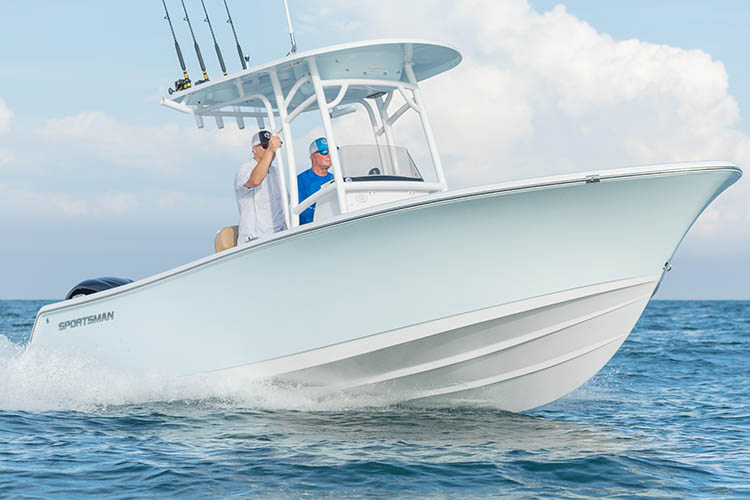 Light Hull Color
We have two groups of colors, light and dark. A light color is included standard on this boat. You have the choice of one solid full hull color or a side and bottom color. View All Color Options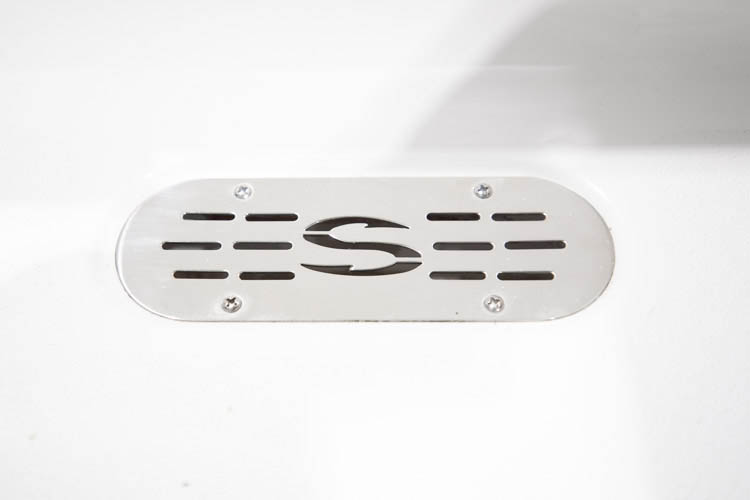 Self Bailing Cockpit
This important safety feature allows any water on the deck to drain overboard and not into the bilge area. Any water that seeps into the bilge, can only be pumped out by the bilge pump, which is slow at draining large amounts of water. All Sportsman Boats have a collector box drainage system that ties in all drains from the deck and redirects the water directly overboard without mechanical assistance.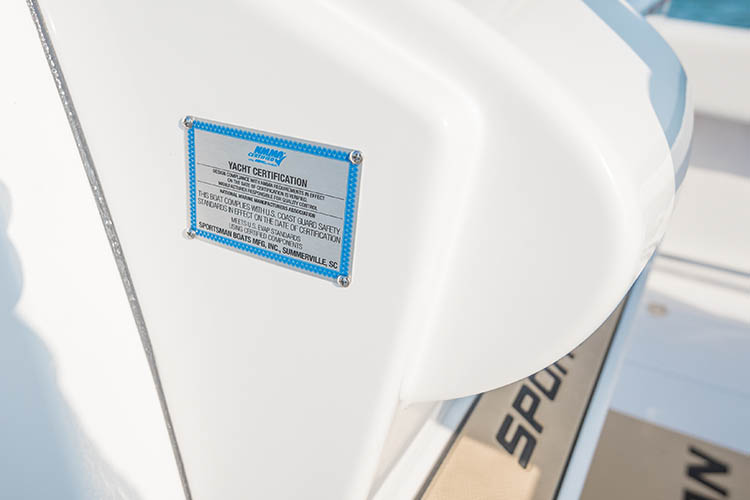 Yacht & NMMA Certified
Yacht Certification means that our boats are built to the highest standards set by the American Boats & Yacht Council (ABYC) in all areas of construction. This means a safer and higher quality vessel for you and your family. This certification also means that there is no written person capacity for this boat.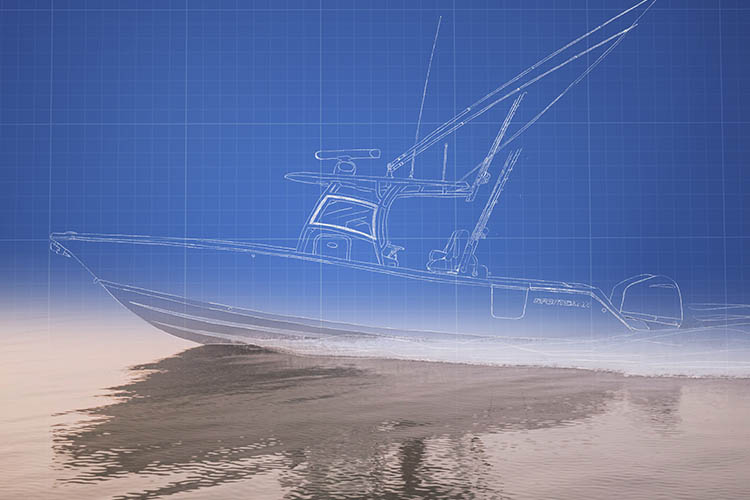 SportTech® Advanced Fabrication Process
Our SportTech® hulls feature a no wood, all fiberglass construction, meticulously engineered to withstand the test of time and built using advanced composite materials, resins and bonding agents. The hulls are crafted with vinyl ester resin for its ultimate weatherability and resistance to water intrusion, a 10-Year Limited Hull Warranty is standard on all Sportsman Boats.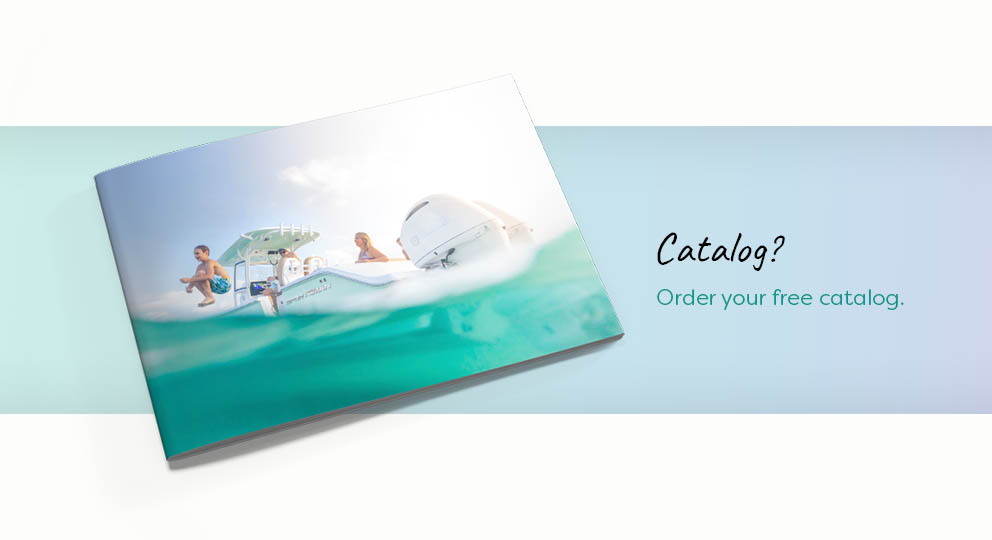 Choosing the engine for your Sportsman Boat doesn't have to be a daunting task. We have tested power options for each model for adequate performance and efficient. Yamaha offers a wide array of engines and propellers and they have worked with us closely to choose configurations that are going to meet your needs, regardless of your boating style or demands. For more detailed performance information, visit the performance section for this model.
---
Twin 300HP
Twin F300XCA Four Stroke
Twin 350HP
Twin F350NCC Four Stroke
LOVING OUR NEW 312 OPEN. EXCELLENT RIDE AND LOADED WITH ALL THE GOODIES
- James & Beverly
SPORTLINK®
Electronics Integration System
Take control of your electronics with SportLink® Electronics Integration System, equipped standard on every Sportsman Boat. The Garmin & JL Audio powered electronics packages have been carefully designed around each model to meet and exceed your needs out on the water.
Click here to learn more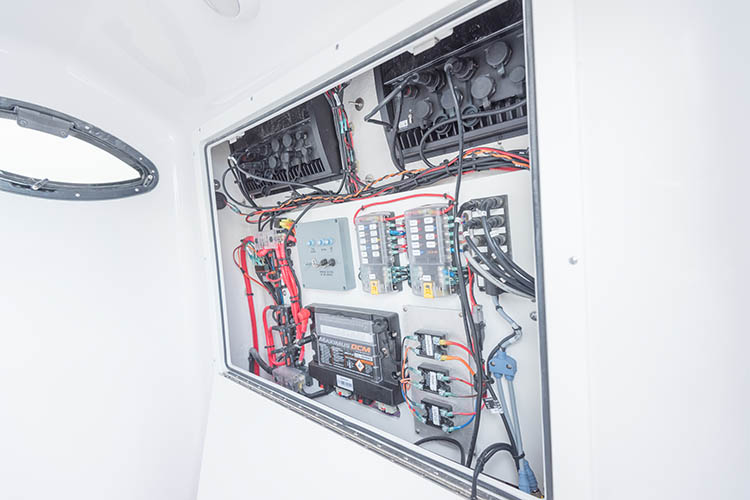 SeaStar Maximus Digital Switching System
The SeaStar Maximus Digital Switching System provides control of all of your accessories through the display. This does away with individual physical switches on the dash that can get damaged over time and provides a cleaner "glass cockpit" look. This digital switching system simplifies the operation of your lights, pumps and batteries on your boat and can be accessed from any MFD on-board. The operator can program different presets where multiple lights or other loads can be grouped into modes. Modes can always be displayed on the MFD ribbon for quick access and convenience. The system includes a keyless FOB that allows you to operate your boat modes or switch your batteries on or off.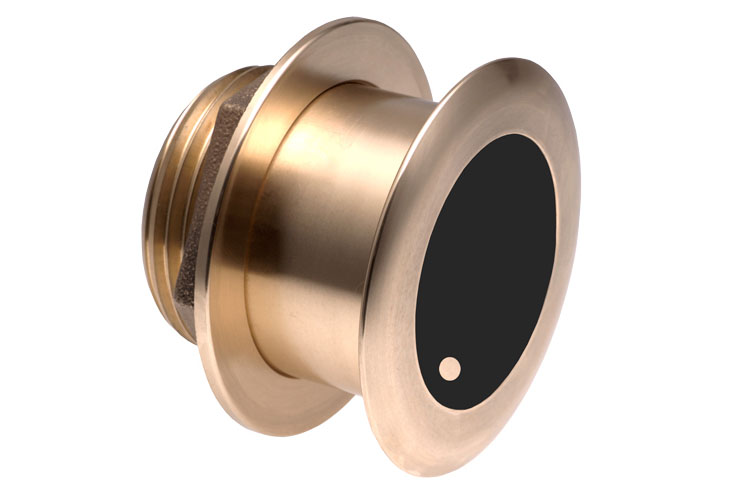 Airmar B175M CHIRP 1kW Transducer
With a range of up to 1500 ft, it is ideal for sportfishing. CHIRP technology delivers target resolution and depth penetration superior to traditional single-frequency sonar. This transducer is able to measure both depth and temperature in a single package, with a simple installation that requires just one connection to your Garmin multifunction display.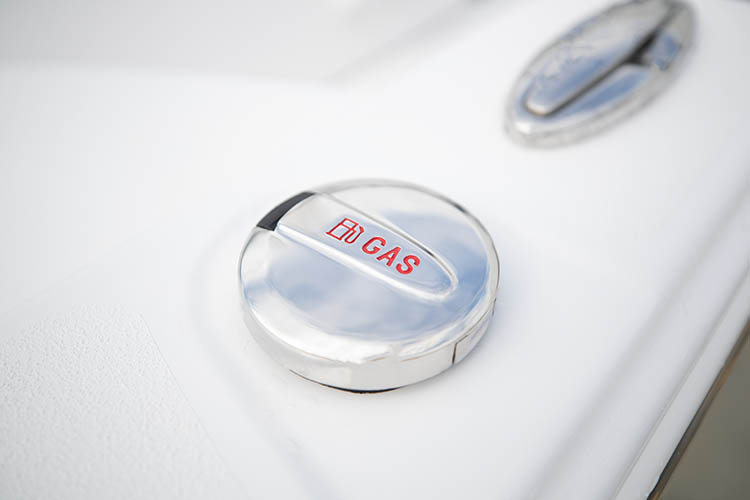 Fuel Level Sensor
Fully integrated into the SportLink system, this sensor reads the fuel tank level digitally and is able to relay this information to your Garmin screen. Using this information it is able to make accurate calculations on fuel range.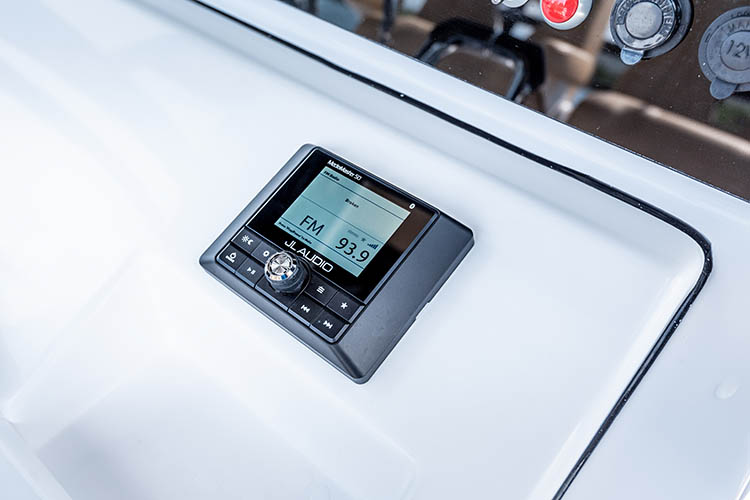 JL Audio MediaMaster® MM50 Premium Marine Stereo
The MediaMaster® MM50 source unit has smart features like Day/Night display themes and lighting, plus large user controls making it easy to use while in motion. The built-in BlueTooth antenna will keep playing your favorite music while the built-in amplification will deliver crisp high quality sound to your ears. A truly unique marine enclosure, completes this premium marine unit.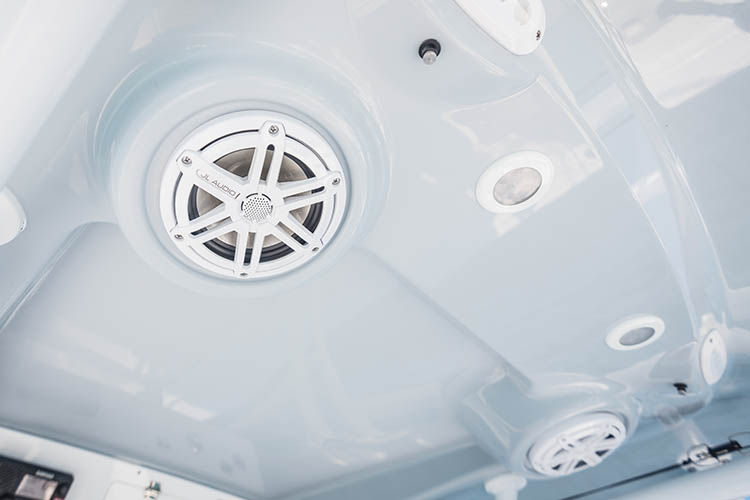 JL Audio MX650 White Sport Grille Speakers
Utilizing true marine-grade construction, the MX-Series speakers are engineered to deliver high-performance sound. The MX-Series is optimized for infinite-baffle operation and employ JL Audio's long excursion woofer designs for solid mid-bass output and pure silk dome tweeters for smooth highs.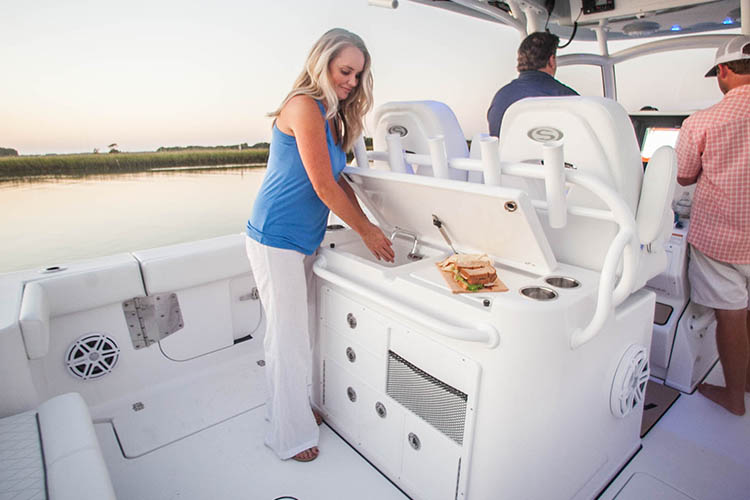 Water Level Sensor
Fully integrated into the SportLink system, this sensor inside the water tank digitally reads how much water is left in your fresh water tank.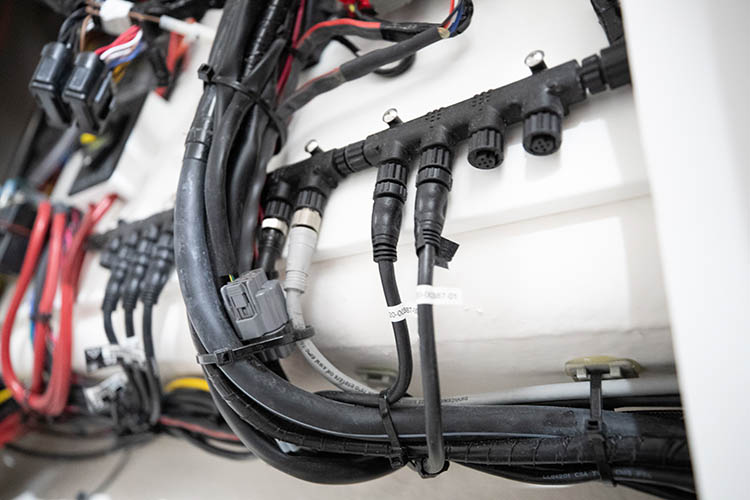 NMEA 2000 Backbone
Starting with a great foundation is essential. All SportLink® packages are connected using NMEA 2000 communications standard backbone to allow them to communicate with each other flawlessly. This communications standard system is highly extensible and with hundreds of NMEA 2000 compatible devices, you can expand and customize your electronics endlessly.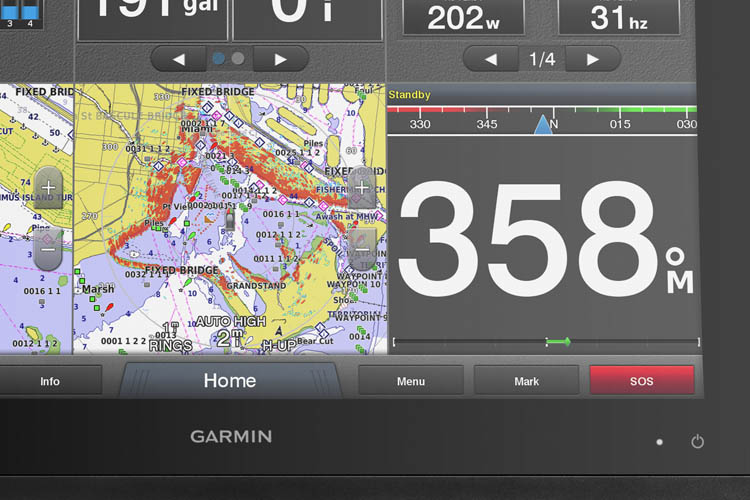 Garmin Reactor™ 40 Autopilot
Reactor 40 autopilot provides relief from manually holding the wheel to maintain course, especially when cruising at moderate to high speeds. Sit back at the helm and enjoy your time on the water as the solid-state 9-axis AHRS technology delivers a comfortable ride.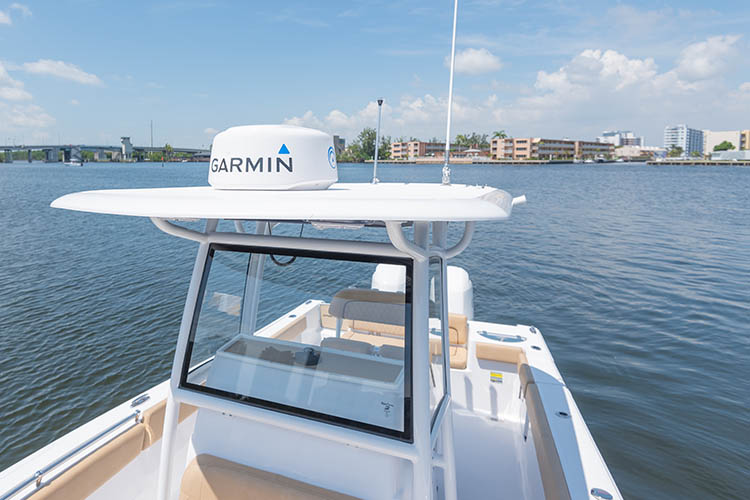 Garmin GMR™ Fantom 18 Radome
The 18-inch, 40 W solid-state Garmin GMR Fantom 18 dome radar features MotionScope technology, which uses the Doppler effect to detect and highlight moving targets to help you avoid potential collisions. Fully integrated with the Garmin chartplotter.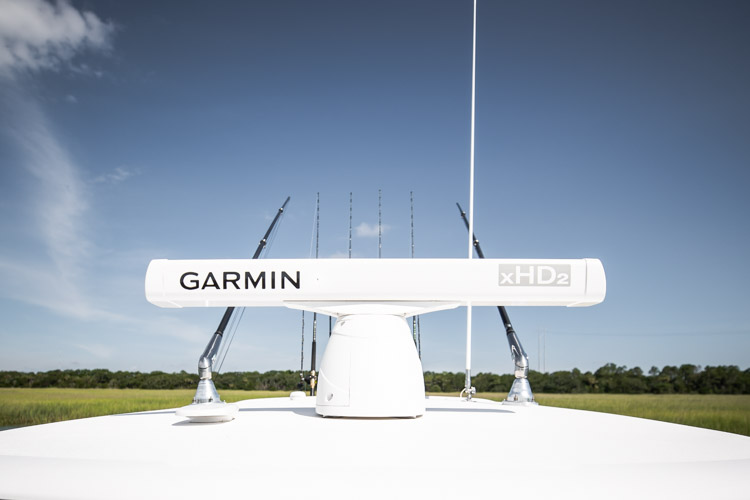 Garmin GMR™ 424 xHD2 Open Array
This radar provides advanced features, including beam sharpening for target separation control and increased target detection capabilities. A great addition to any SportLink® package.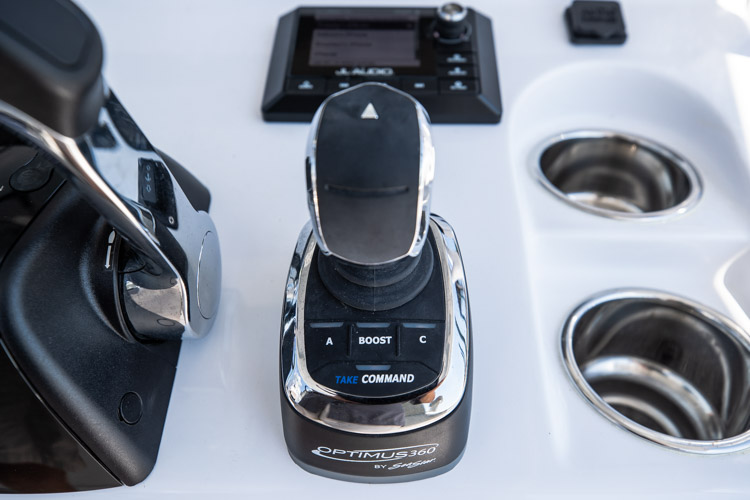 Optimus 360 Joystick
For ultimate control of your boat, add the SeaStar Optimus 360 joystick. Optimus 360 allows you to move your boat not only forward and back, but also sideways, by pushing the joystick to the left, or to the right, and even, rotate on a dime, all with a simple twist of the joystick. Requires Twin engines.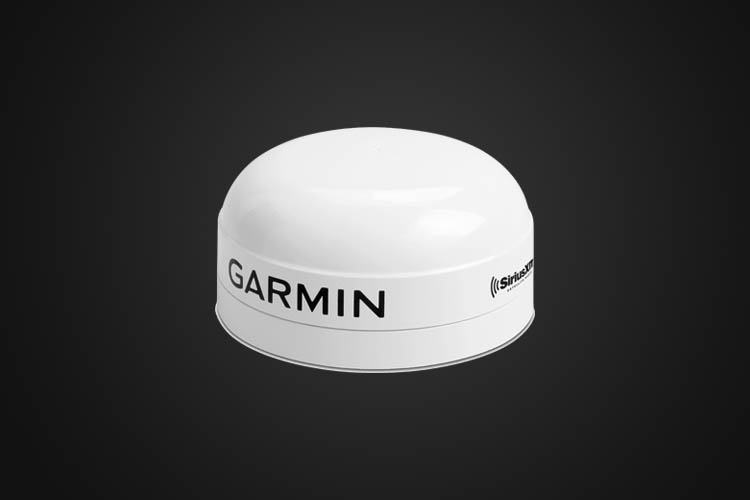 Garmin GXM™ 53 SiriusXM® Weather Antenna
The GXM 53 SiriusXM® weather antenna lets you enjoy added confidence and peace of mind on the water by always having access to the most current weather conditions and forecasts. The antenna adds highly detailed weather information directly to the screen including current weather information, NEXRAD, lightning, water temperatures, wind and wave current conditions and forecast data.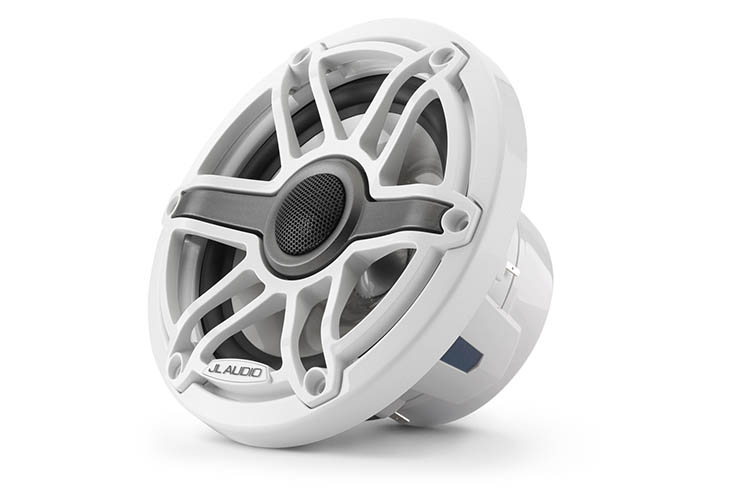 JL Audio Ultra Premium M6 Upgrade
The JL Audio Ultra Premium M6 upgrade features the all-new M6 marine loudspeakers, the benchmark for high-performance marine audio. The M6 speaker' low-distortion woofers and silk dome tweeters with tuned rear chambers spread audio energy evenly in every direction. This results in smooth, clean sound from a wide range of mounting locations. This package also adds M-Series amps and the MediaMaster MM100 source unit.
Included in upgrade
MediaMaster® MM100 Source Unit with Full-Color LCD Display
(4) JL Audio M6 8.8" Speakers
(4) JL Audio M6 6.5" Speakers
M6 10" Subwoofer
JL Audio M800x8 Class D Full-Range Marine Amplifier, 800 W
JL M200x2 Class D Full-Range Marine Amplifier, 200 W
As part of the SportLink® package equipped on every Sportsman boat, all of the Gamin & JL Audio components receive 3 years of product warranty. This added value is exclusive to Sportsman Boats only.
"Just another reason to buy a Sportsman Boat."