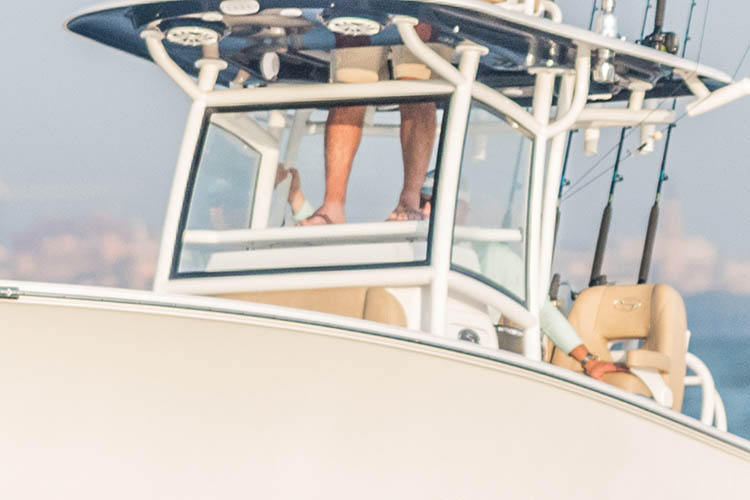 Integrated Tempered Glass Windshield
Made out of high-quality tempered glass, the integrated windshield protects the helm while maintaining excellent air flow thanks to the gaps at the top and sides. For the cooler days, fit the top openings with the optional close-out canvas to block off any wind. The glass is extremely easy to clean and will never fade, yellow or deteriorate.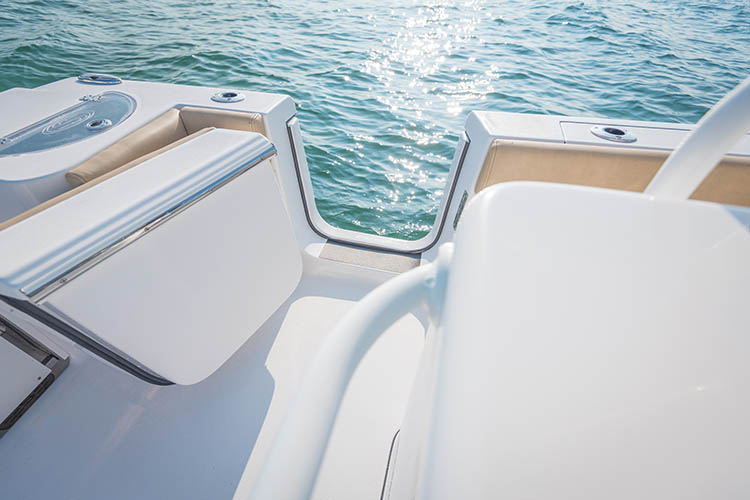 Side Entry Door
The side entry door is a very versatile feature that will quickly become one of your favorites. The door is part of the hull and deck mold and is one of the key features of this model. We build it this way so we can guarantees that it has necessary structural reinforcements needed. Our stringer system supports the door and a large heavy duty hinge hangs the door.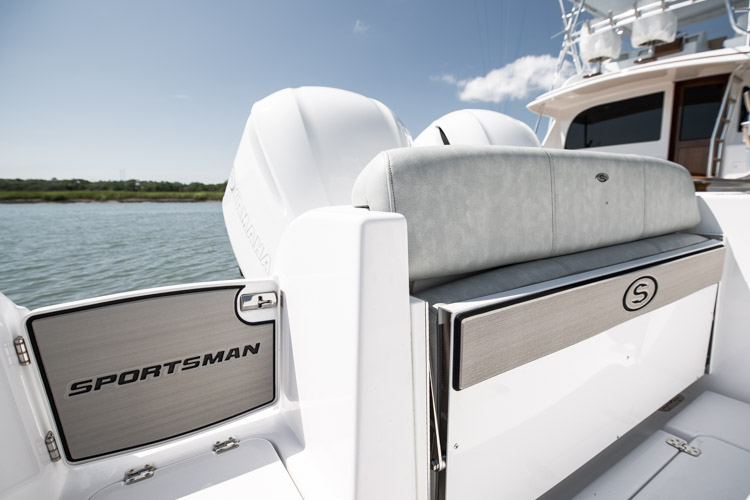 Premium SoftTouch Textured Vinyl
High performance marine vinyl fabric designed to pass the test of time with a soft yet durable feel and Sportsman's exclusive textured look. The vinyl is coated in Nano-Block Technology™, a next generation nanotechnology coating designed to provide ease of cleaning, protection from mildew and tough UV protection against discoloration. This layer of protection creates a tough barrier against abrasions, grease, grime, oils and even gasoline.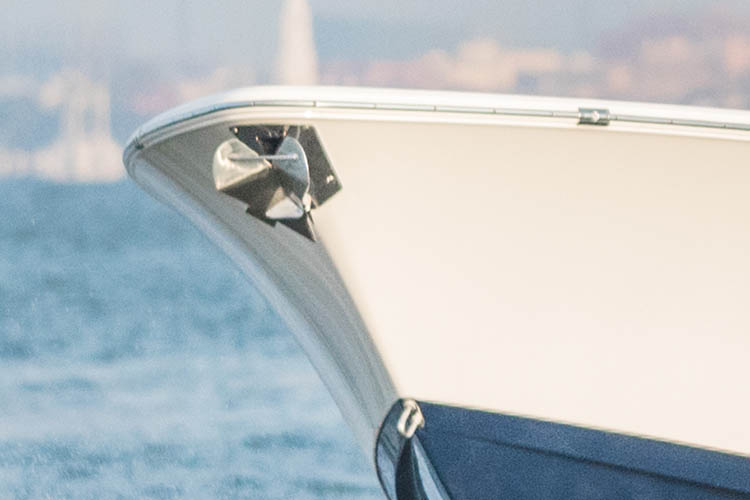 Windlass Anchor
Just push a button to retrieve your anchor in immense comfort from the helm making dropping anchor a breeze and saves your arms when it's time to move. This top-quality windlass system is installed thru-hull giving it a great clean look and comes standard with a high-grade stainless steel anchor.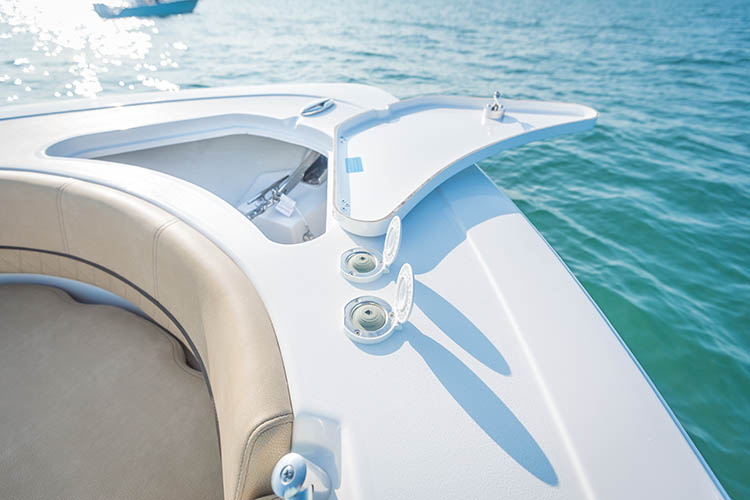 Bow Controls for Anchor
For ease of use and safety, we include foot controls at the bow for launching and retrieving your anchor, making the operation a one-man job. It also makes it very easy to see your anchor, rope and chain as it is getting reeled in. The controls have a plastic cover to prevent any unintentional button presses.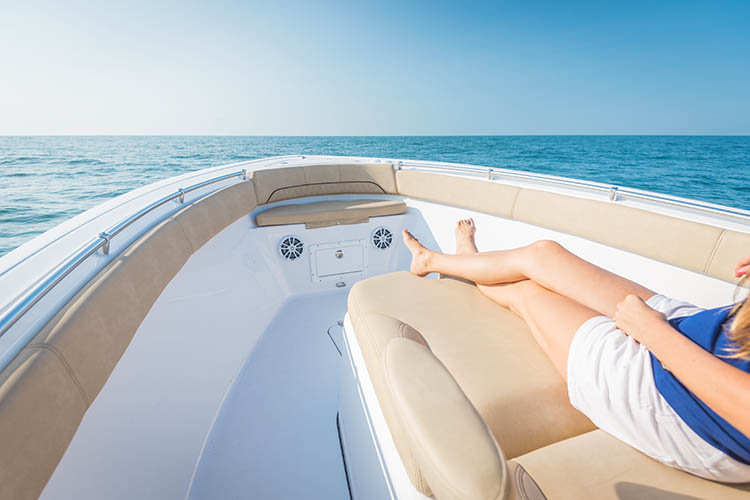 Bow Layout
It's all business at the bow of the Tournament Edition. This bow layout is what gives the name to this model. Purpose built for 360 degree fishability in mind. This setup allows you to fish this boat from every angle. But keeping the family in mind, the very comfortable console front lounge will sure please when it's time to entertain.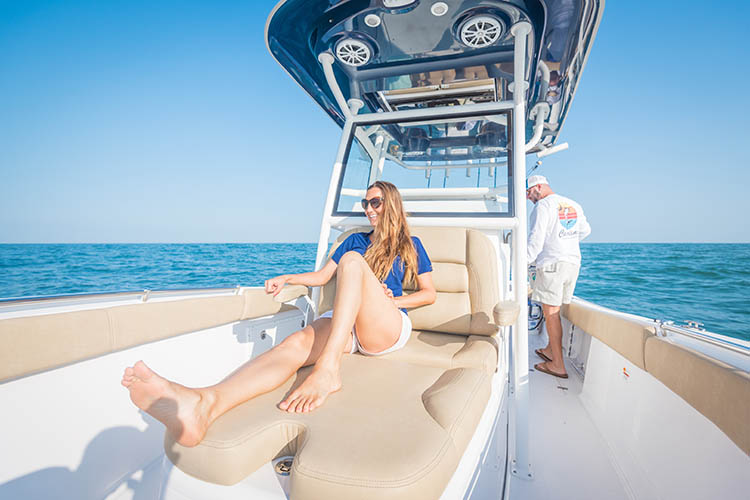 Console Chaise Lounge
This console front lounge is comfortable and spacious. It does includes armrests on both sides for that extra added touch.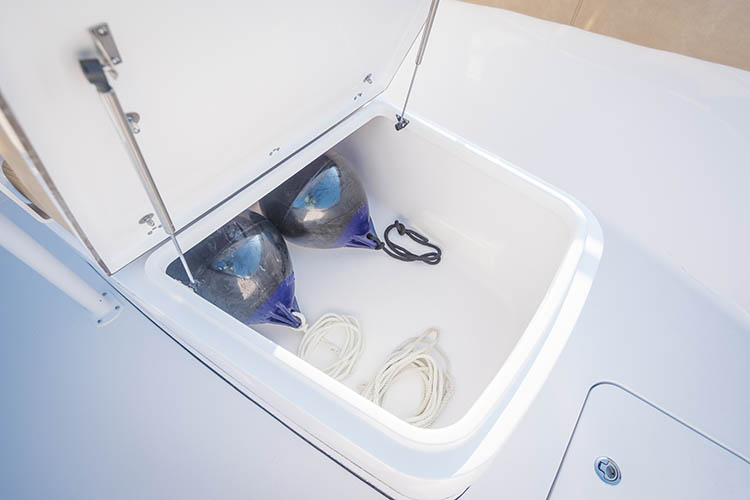 Coffin Box Storage
Flipping up the lid on the coffin box, reveals a very large 104-gallon insulated and macerated fish box. When not filled with your catch of the day, it serves as a large storage. The lid is held upright with the assistance of gas struts making it a breeze to load.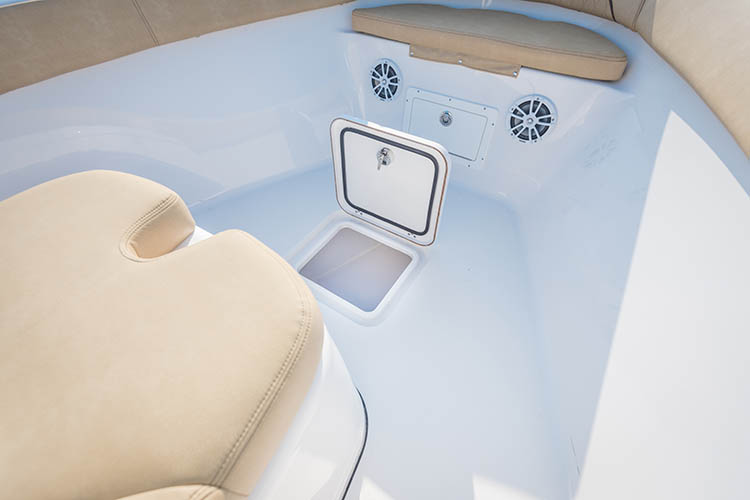 Bow In-Deck Storage
Additional bow storage can be found below deck just forward of the lounge.
Anti-Fatigue Helm Pads
Feel all-day comfort with our custom anti-fatigue helm pads. You will notice a difference at the end of the day, your feet will thank you for it. Custom engraved with the Sportsman logo for that extra touch.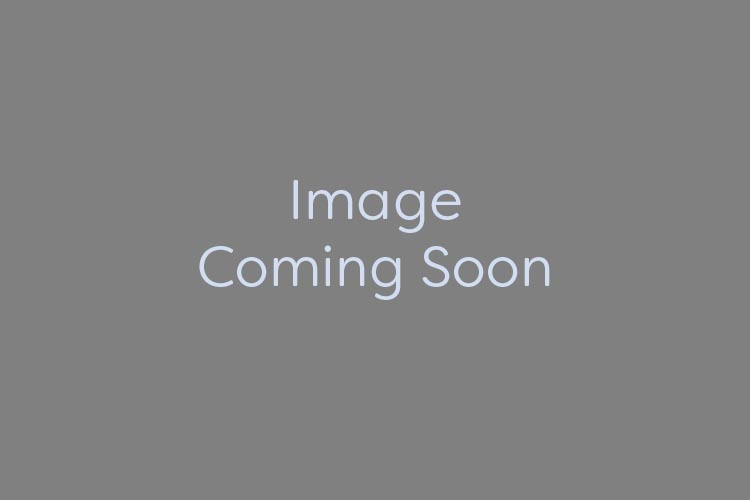 12V Toggle Switches & Horn
Easily toggle all of your 12V accessories with these labeled and backlit switches, day or night. The angle of the switches allows water to easily flow out when they get wet. A large red horn button is also located in-dash for easy operation.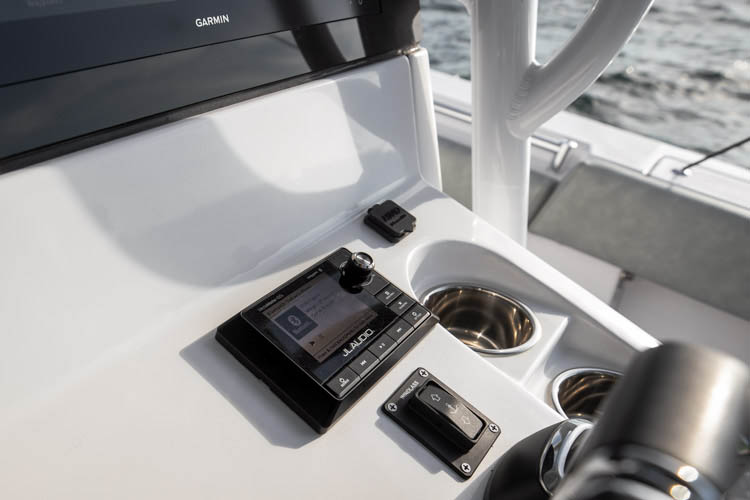 USB Audio Plug In-Dash & 12V Receptacle
With the ever-growing demand to keep your devices charged, we include two USB plugs at the helm. One is connected to your audio head unit and is compatible with any phone or music player. Perfect setup to play your music while charging your device. The other plug, is a USB charging plug and will keep your devices charged without interfacing with any other device.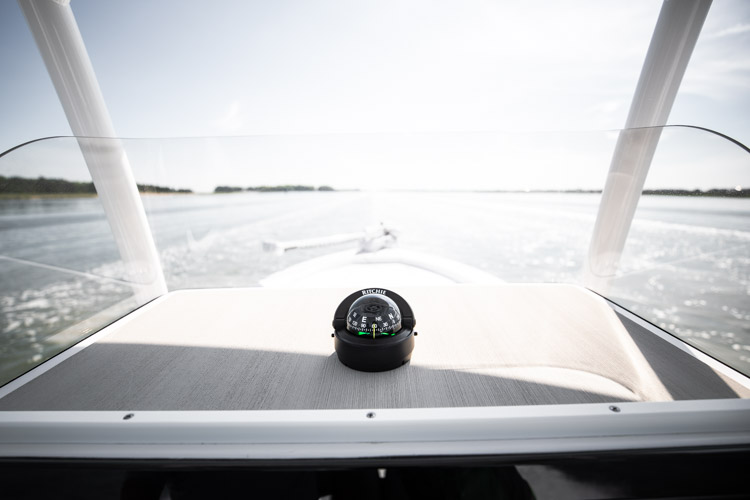 Compass
Considered one of the Four Great Inventions, the compass remains the cornerstone of any navigation system despite our advanced digital displays. Regardless of condition, your compass provides real-time heading and when used in combination with your GPS data, it allows you to optimize performance, fuel efficiency & improve safety. When it gets dark, there's a built-in light inside the compass for night use.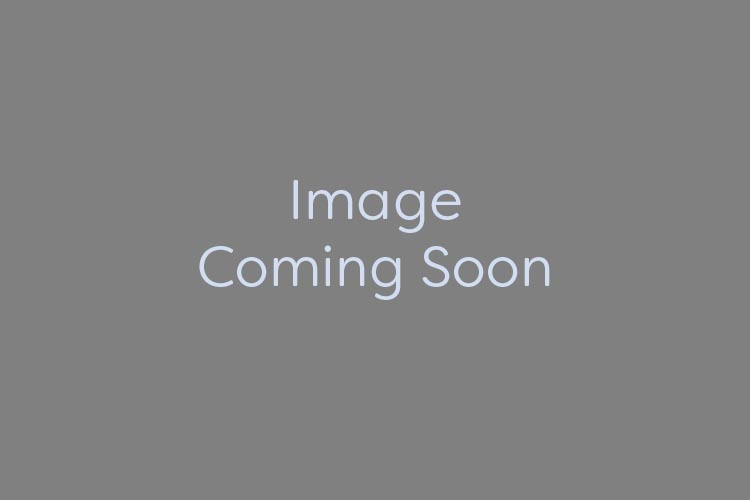 Dash Panel Cover
Protecting your electronics from the blaring sun is a breeze with the included dash panel cover. This custom made cover features the Sportsman logo embroidered and is made out of a tough outdoor fabric that will last for years.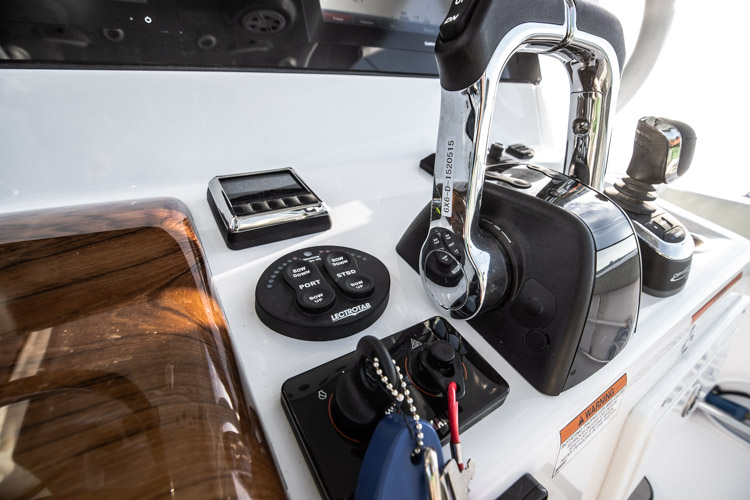 Trim Tabs w/ LED Indicator
The electromechanical trim tab systems included with the boat features a recessed installation that keeps your trim tabs tucked inside the hull for easier boarding from the rear and self retracting capabilities. When the key switch is turned off, the tabs will automatically retract completely. The LED Indicator feature shows you exactly where the tabs are positioned at the helm control.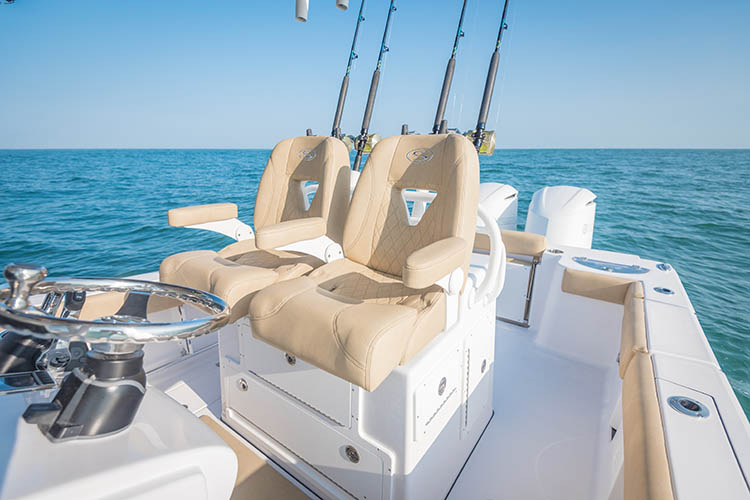 Premium Adjustable Captain's Chairs
Comfort and function meet when it comes to these premium captain's chairs. Designed with versatility in mind, it can accommodate two adults comfortably. The individually adjustable flip-up bolsters offers the convenience to allow you to stand or sit and the armrests add that extra comfort touch. Wrapped in our SoftTouch Textured fabric, this is a very luxurious helm chair, that feels as good as it looks.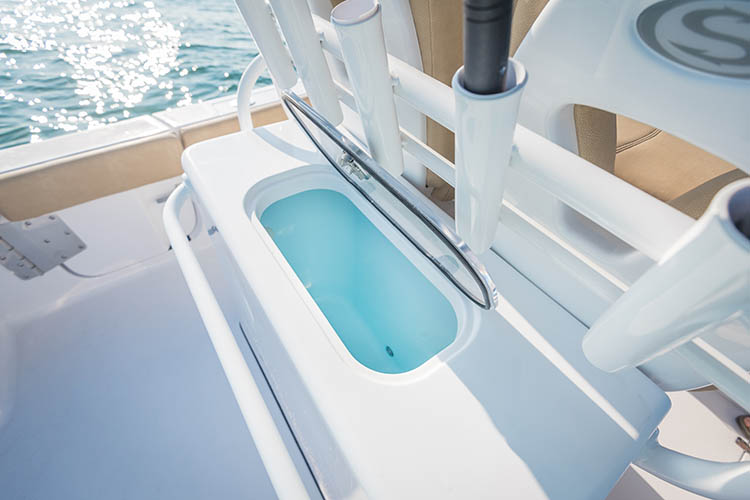 Leaning Post Livewell
Deep 30-gallon insulated livewell with a recirculating pump and additional storage on either side.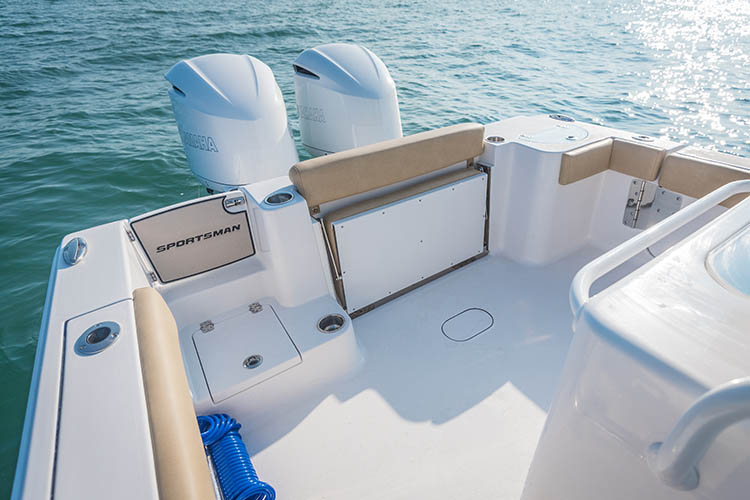 Rear Seating
When it's time to fish, the rear bench conveniently stows away to open up cockpit space and make it easier to walk around the leaning post. The seat bottom completely removes to reveal best-in-class access to the bilge. It seats 2-3 comfortably and has a deep design for comfort.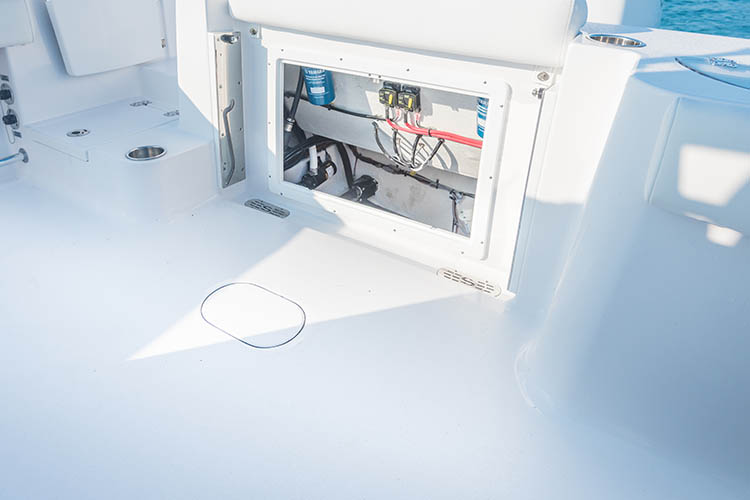 Rear Total Access Hatch
The rear Total Access Hatch gives you the ability to have large storage that's still incredibly easy to access. it's the perfect place for your life jackets, extra anchor, safety equipment, scuba gear and anything else you may need. When empty, it offers best-in-class access to your essential pumps and seacocks.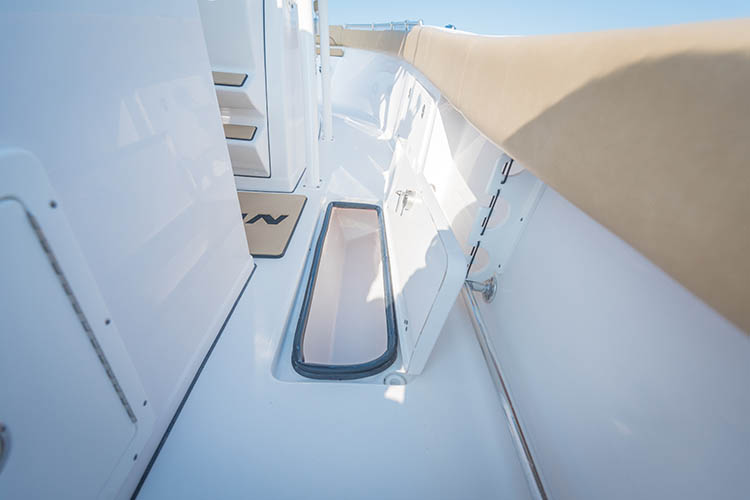 In-Deck Macerated Fish Boxes
On either side of the leaning post, there are insulated and macerated in-deck fish boxes.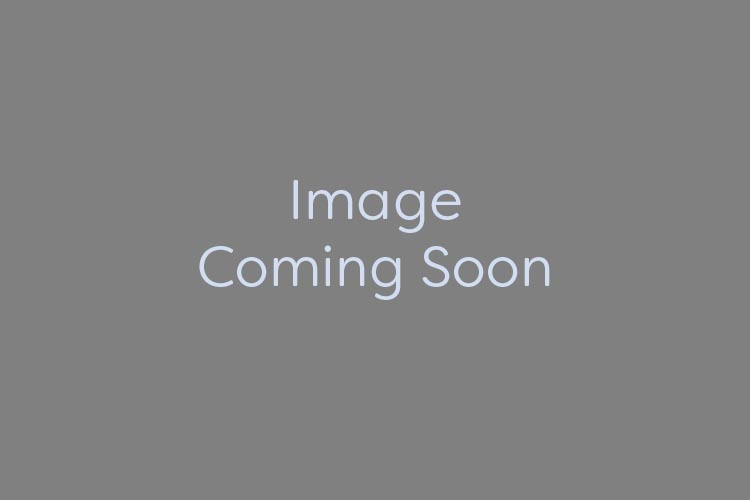 Under Gunwale Rod Racks
Storage for 6 rods is possible with the under gunwale rod racks. Each can accommodate a full length rod and doubles as a great place to store a gaff or net.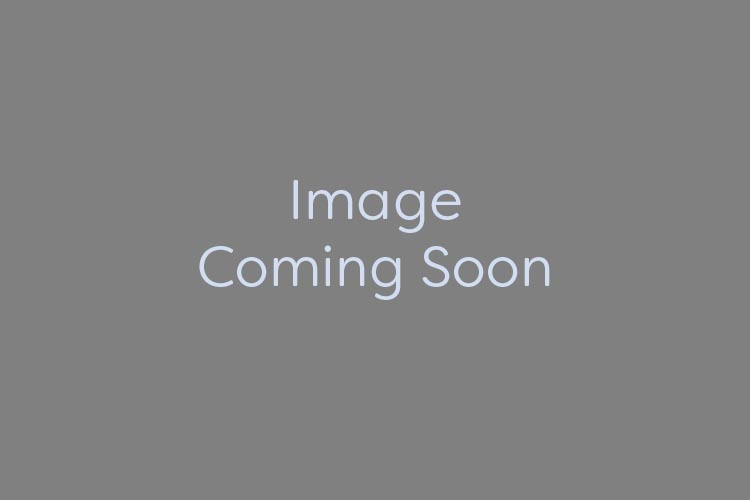 Port & Starboard Toe Rail
Located under the gunwale rod racks, the toe rail is designed as a brace point when heeling over the side of the boat to gaff or bring in a fish. You slide your toes under the bar and in conjunction with the bolster cushion, it provides a sturdy brace for your legs, even if the deck is wet or slippery.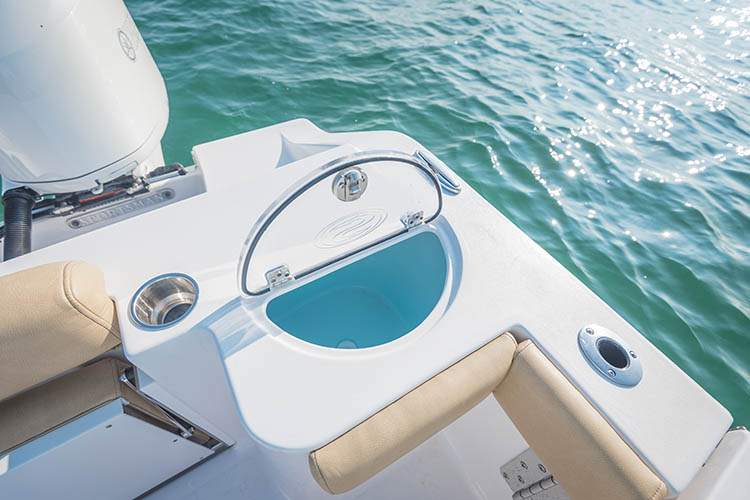 Transom Livewell
Deep 30-gallon transom insulated livewell at gunwale height for ease of use. It can also double as a cooler for drinks and food.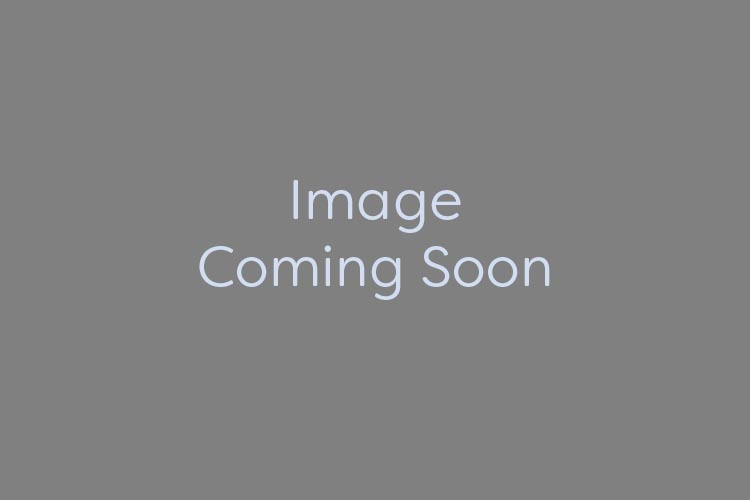 Transom Door
The transom door has a latch to secure it and it offers the convenience of not having to step over anything to enter the boat.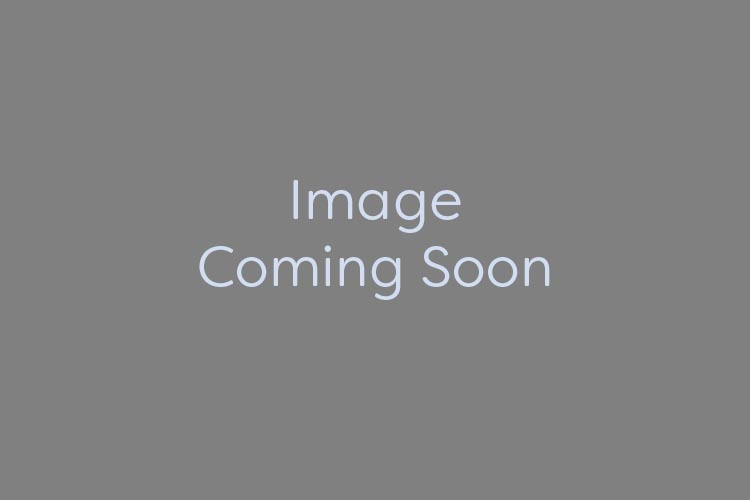 Transom Entry Storage
The step up for the door houses a small storage compartment ideal for docking lines and other small items that typically lay around the cockpit. The compartment does drain to keep your items dry.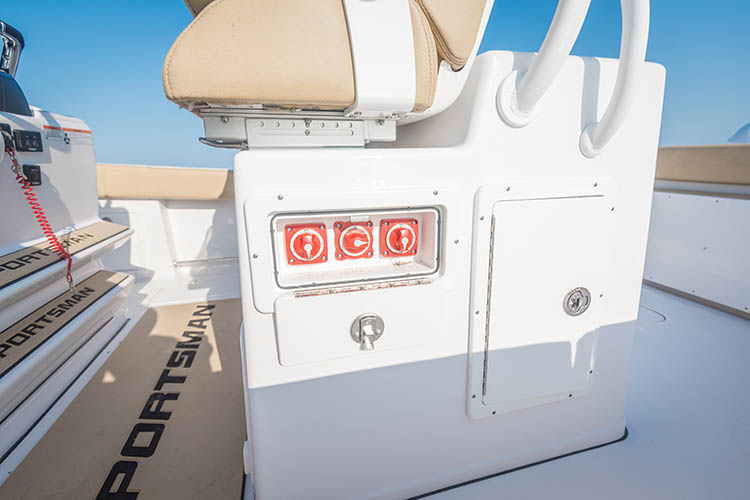 Battery Switches
Access to the battery switches has never been easier. Port side of the leaning post you will find all of the battery switches for the boat. There is a switch for each engine and one for the house. The house isolates all of your electronics, lights, amps and pumps from your engine batteries. All batteries charge simultaneously when the motors are running.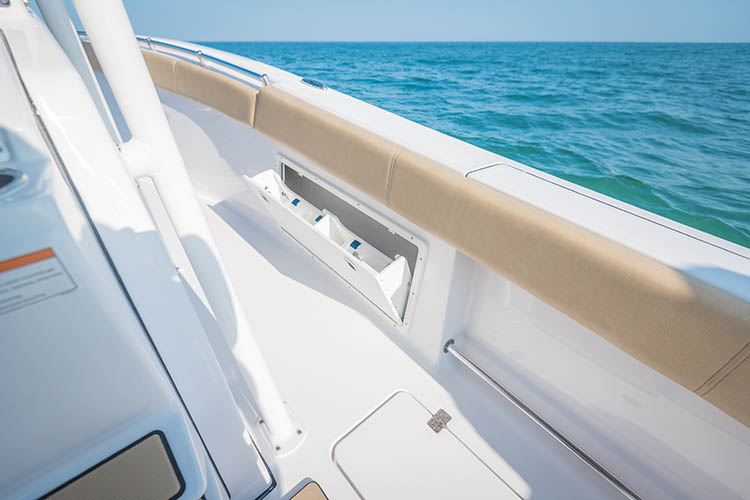 Under Gunwale Tackle Storage
Starboard side, we included a tackle tray holder that closes flush under the gunwale.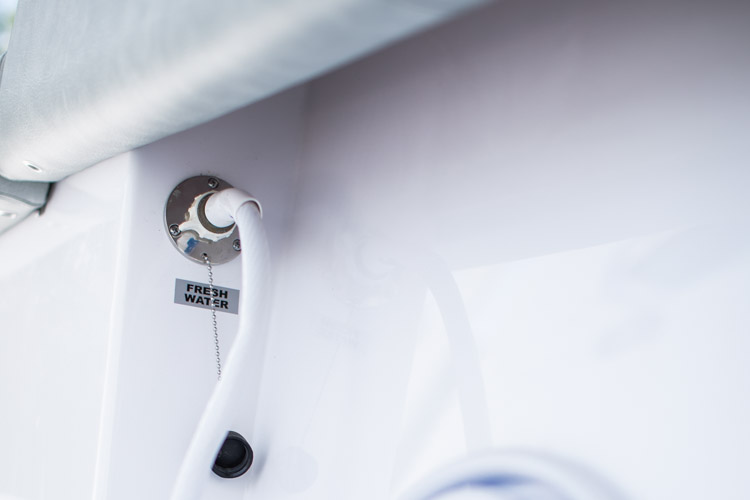 Freshwater Washdown w/ Tank
Standard with a freshwater washdown with a 13-gallon tank. Common uses include hosing down the deck, cleaning up the floor after you reel in a big fish or rinsing off yourself after a day at the sandbar. It's a great creature comfort you will quickly get accustomed to.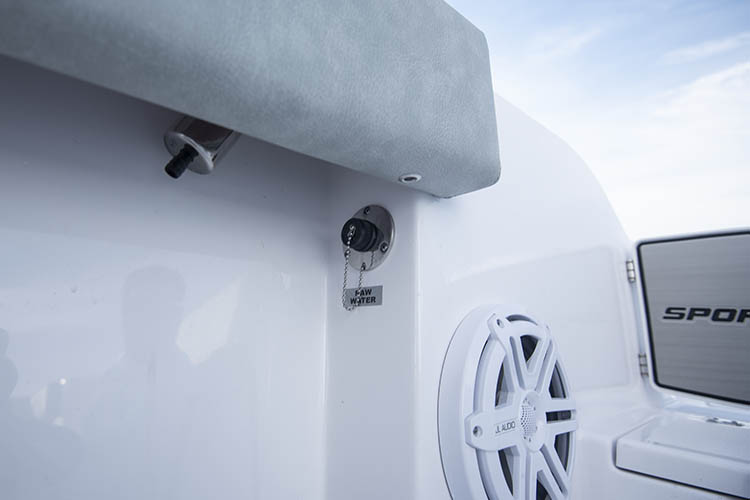 Raw Water Washdown
With its unlimited supply, it is the perfect companion for the freshwater washdown. This system pumps outside water to a water outlet where you can screw in a regular hose.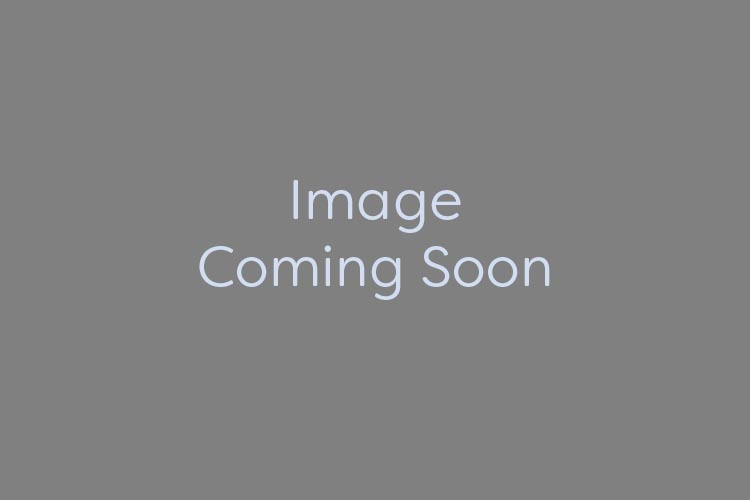 Interior LED Lighting Package
When the sun goes down, the cockpit comes to life. The included lighting package is as beautiful as it is functional, a blue glow covers every inch of the cockpit for safety and aesthetics.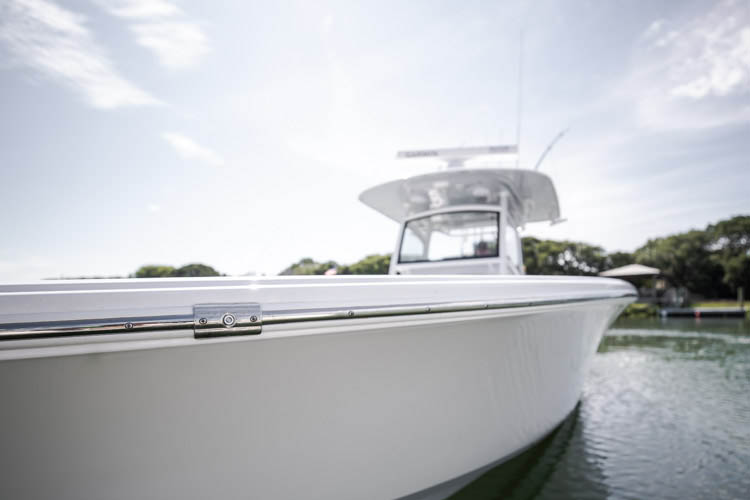 Rub Rail Navigation Lights
Traditionally, navigation lights are mounted somewhere on the bow in the form of a top mount or pop-up light but this exposes them as an easy damageable target. Our rub rail navigation lights are LED, super bright and barely noticeable. The lights are integrated into the rub rail on either side of the bow and provide the ultimate obstruction free installation.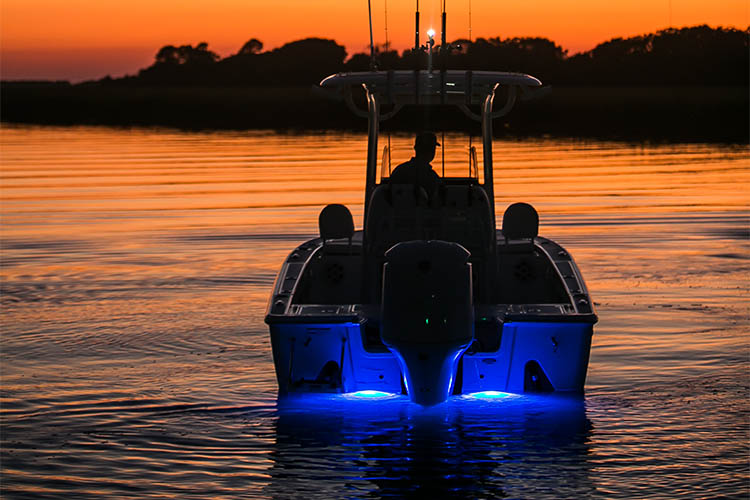 Underwater Lights
Built out of an anodized aluminum housing, these high quality LED underwater lights are a great feature for this model. The Lumitec underwater lights have a measured output of nearly 900 lumens, giving you plenty of blue glow behind your Sportsman. This boat comes equipped with 2 of them at the transom.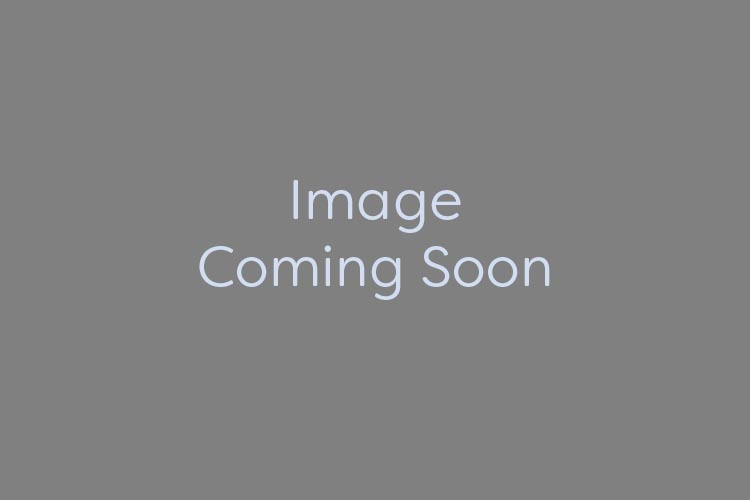 Light Hull Color
We have two groups of colors, light and dark. A light color is included standard on this boat. You have the choice of one solid full hull color or a side and bottom color. View All Color Options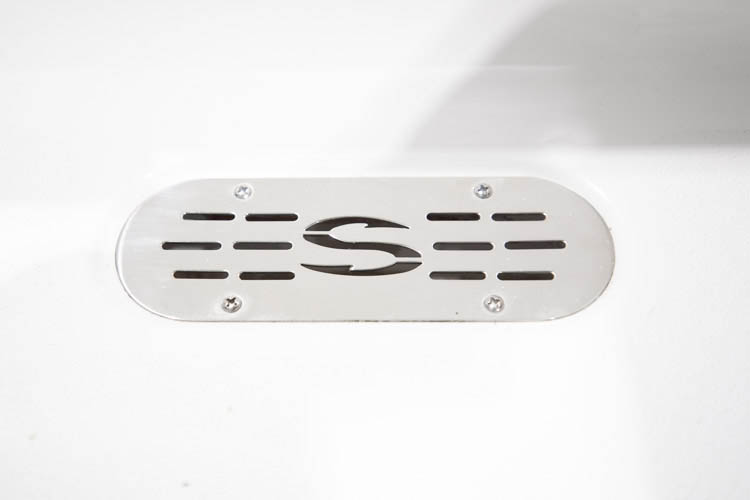 Self Bailing Cockpit
This important safety feature allows any water on the deck to drain overboard and not into the bilge area. Any water that seeps into the bilge, can only be pumped out by the bilge pump, which is slow at draining large amounts of water. All Sportsman Boats have a collector box drainage system that ties in all drains from the deck and redirects the water directly overboard without mechanical assistance.