Fishing in the northeast throws a lot of different fishing situations at anglers, in waters that are not necessarily forgiving.
In today's post, we open up the floor to one of our customers and his journey that led to purchasing a Tournament 214.
Fishing in the northeast throws a lot of different fishing situations at anglers, in waters that are not necessarily forgiving. My name is Jeff Lomonaco, the waters that I call home are those surrounding the east end of Long Island, NY. About 100 miles or so east of the big city. This past summer, I began (and completed) my search for a boat. After what turned out to be a relatively fast search, I became the proud owner of a Sportsman 214 Tournament with a Yamaha 150 for the last several months!
In buying a boat, there are some things that I had to take into consideration regarding my fishing. Fly fishing is my primary, most desired way to catch fish. Where I live is an interesting place, during the spring/summer months, you can sight fish the flats in a less than two feet of water for stripers and bluefish, run out into the ocean to jig for fluke, or figuring the summer, all in a day's fishing. After all that, you'll probably also find yourself swinging flies in bay channels for big stripers after dark.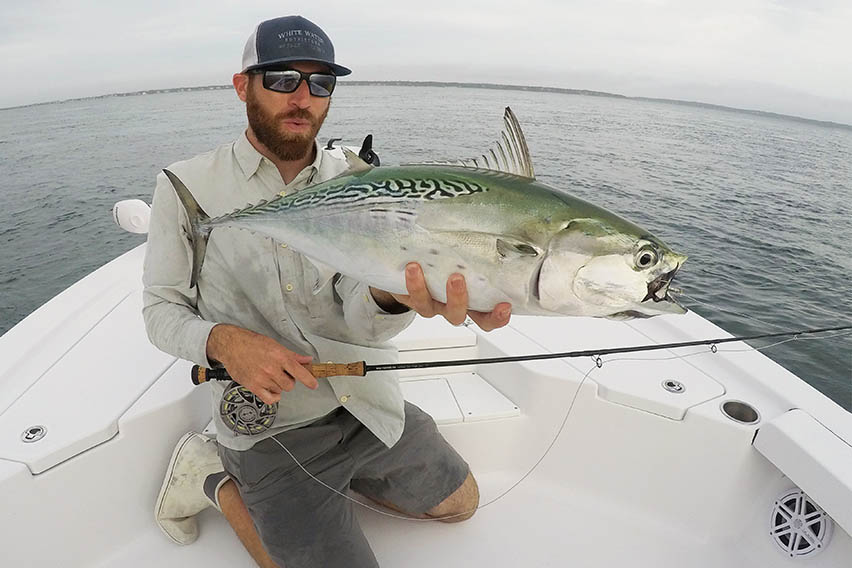 Come fall, our waters really start to light up. Blitzes of false albacore and striped bass feeding in a frenzy in the ocean, and in the waters surrounding Montauk Point makes for some of the most intense, action packed fishing of the year. Unfortunately, where I call home, glass calm days are a rarity (especially so in the fall). We are usually always dealing with a constant mix of wind, chop, and oceanic swells. The weather can often change quickly too, without much warning. It can go from a slight breeze, to blowing 20+ mph in less than an hour. If you're far from the launch in a boat that can't run in a little bit of a sea, you can get into serious trouble.
When I first started looking for a boat, I had thought about the idea of buying a technical flats skiff. The more I thought about it, the less that seemed to make sense for me. I love flats fishing for stripers, but in order to get to that skinny water, I usually always have to run across open, choppy bay systems. I would be taking a pounding on most days and be extremely limited in the days that I could actually go. Forget about chasing Albies in an open ocean during the fall, I'd be lucky to get a few days in a year to realistically do that. For me, a technical skiff was just not an option.
Having kyboshed that idea, I started looking into more practical options. I needed something that could fish the flats, with a draft less than 12 inches to be safe, but still able to run smoothly in chop when the wind kicks up. A clean, fly fishing friendly layout with a poling and casting platform was a must, and a stand-up console for running was something that I preferred.
After some searching, I came across the Sportsman Tournament 214. From what I could tell, this boat seemed to fit the bill for all of my desired specifications. This style of boat is rare in the Northeast, since there aren't a huge number of flats fishermen, and it's just not a typical style that people think about here. After taking to somebody else that owns one, it seemed that I had found the perfect boat to suit my needs. I went ahead and ordered one, with the Pro Guide Package from the guys at White Water Marine!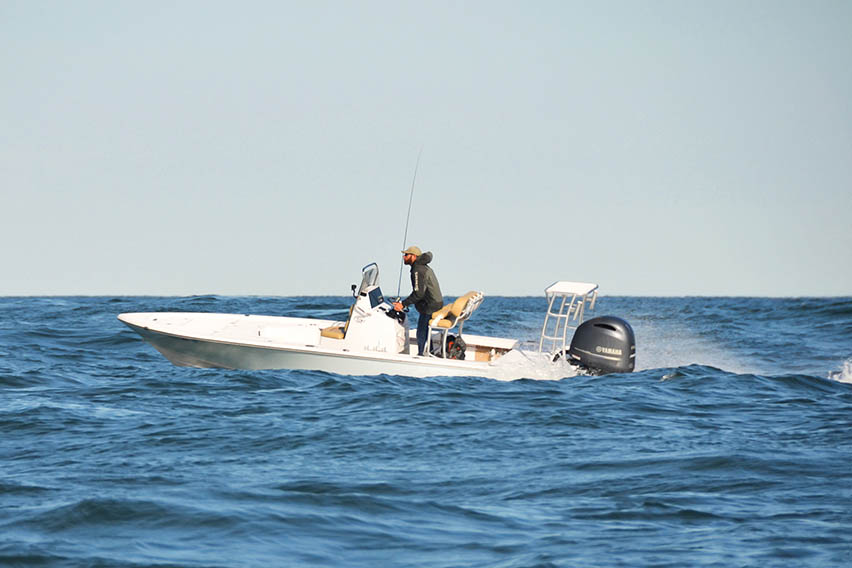 When the boat arrived, it was love at first sight. In person, I could see that this thing was truly going to be a light tackle fishing machine. I loaded my fly rods and put it in the water to hit the flats as soon as the registration was squared away. As expected, the first time out in the boat, I had to run across the bay into the teeth of a 15-20 mph wind to get to the flats. I was floored by how well this flats capable boat, with a draft of 10" could eat up the chop and run comfortably at speeds in excess of 35mph. I am always limited in time with my fishing, so getting where I need to go in a timely manner is always appreciated. It's amazing how smooth this boat rides. Making use of the trim tabs, even close to two feet of bay chop was comfortable for me to ride in. On the flats, the boat completely exceeded my expectations. It drifts quietly, and the large casting platform in the front gives plenty of room to move while presenting flies to stripers. Even in the shallower ~1-foot sections of the flats, I was still able to slide through without any issues. Looks like I had found the all-purpose boat for my fishing after all. I've even went out 5 miles in it and casted flies to mahi-mahi!
Now that it's falls, I have put this boat up to the task of chasing blitzes of Albies and stripers in the open ocean. While I can't go out when it's too rough because I don't have much freeboard, I am fully comfortable taking the boat out in swells up to three feet or so, and chop is a non-issue. The comfortable seating options for passengers comes in handy too. Being able to run at a good speed is a huge advantage for me at this time of year. It's impressive how fast (and fuel efficient) this boat is with a 150 on the back. I have to cover a lot of ground sometimes to find fish, and this boat makes that process much less time consuming.
Overall, I've concluded that this boat is as good as it gets for a fly/light tackle angler in the Northeast that wants to cover all of the bases. Every day, I'm more and more impressed by this boat. If you're like me, and you need a boat that can fish in many different situations, then the Tournament 214 might just be the perfect boat for you.
Jeff Lomonaco
IG: @JeffLomonaco