A comprehensive electronics package is equipped standard on every Sportsman Boat. Find out more.
SportLink® refers to the packaged electronics installed at the factory. Every Sportsman Boats comes equipped with electronics as a standard feature. The electronics packages are designed around each model to highlight the typical use of that model.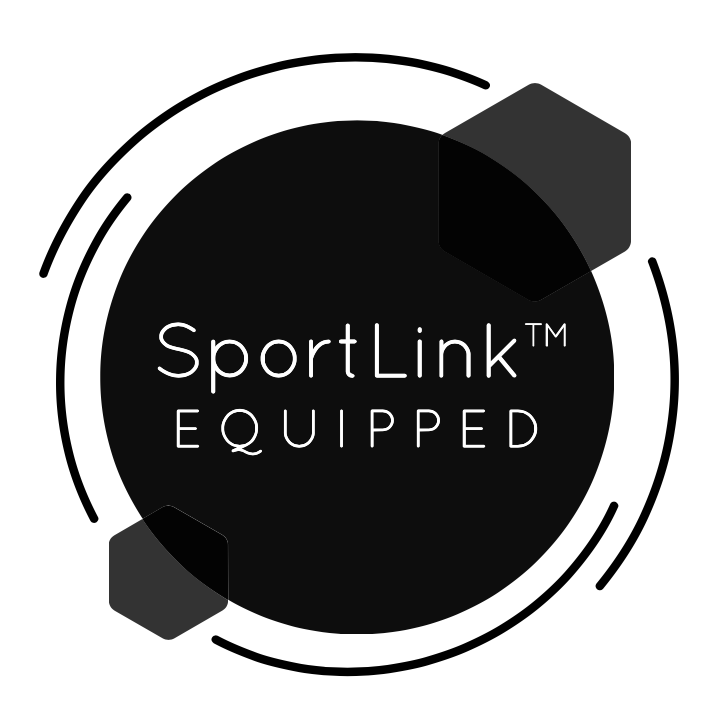 Logo used to identify a SportLink® Equipped boat.
Breakdown by model
Open 312 Center Console
Standard
Naviop Digital Switching
Simrad NSS16 EVO3 MFD (x2)
SS175M-12° Tilted Element Thru-Hull Transducer
RS35 VHF Radio
Fuel Level Sensor
Water Level Sensor
Available Options
StructureScan® 3D Transducer
StructureScan® HD Transducer
Simrad Halo 4-foot Open Array Radar
Simrad Broadband 4G Radar
Optimus Autopilot & Precision-9 Compass
Simrad WR10 Autopilot Remote
WM-3 Weather Module
---
Heritage 251, Open 252, 282, 282TE & Masters 267
Standard
Simrad NSS12 EVO3 MFD
SS60-12° Tilted Element Thru-Hull Transducer
Simrad RS20 VHF Radio
Fuel Level Sensor
Available Options
SS175M-12° Tilted Element Thru-Hull Transducer
Simrad NSS12 EVO3 MFD (SECOND HELM DISPLAY)
StructureScan® 3D Transducer
StructureScan® HD Transducer
Simrad Halo 3-foot Open Array Radar
Simrad Broadband 4G Radar
Optimus Autopilot & Precision-9 Compass
Simrad WR10 Autopilot Remote
WM-3 Weather Module
---
If equipped with Half Tower Option
Simrad NSS9 EVO3 (Standard w/ Option)
Heritage 241 & Open 242
Standard
Simrad NSS12 EVO3 MFD
SS60-12° Tilted Element Thru-Hull Transducer
Simrad RS20 VHF Radio
Fuel Level Sensor
Available Options
SS175M-12° Tilted Element Thru-Hull Transducer
Simrad NSS12 EVO3 MFD (SECOND HELM DISPLAY)
StructureScan® 3D Transducer
StructureScan® HD Transducer
Simrad Broadband 4G Radar
Optimus Autopilot & Precision-9 Compass
NAC2 Autopilot Kit with RPU80
Simrad WR10 Autopilot Remote
WM-3 Weather Module
---
Heritage 211 & 231, Open 212 & 232
Standard
Simrad NSS9 EVO3 MFD
SS60-12° Tilted Element Thru-Hull Transducer
Fuel Level Sensor
Available Options
Simrad NSS9 EVO3 MFD (SECOND HELM DISPLAY)
Simrad NSS12 EVO3 MFD (UPGRADE TO SINGLE DISPLAY)
SS175M-12° Tilted Element Thru-Hull Transducer
StructureScan® 3D Transducer
StructureScan® HD Transducer
Simrad RS20 VHF Radio
Simrad Broadband 4G Radar
NAC2 Autopilot Kit with RPU80
Simrad WR10 Autopilot Remote
WM-3 Weather Module
---
Masters 247 Bay Boat
Standard
Simrad NSS12 EVO3 MFD
SS60-12° Tilted Element Thru-Hull Transducer
Fuel Level Sensor
Available Options
Simrad NSS12 EVO3 MFD (SECOND HELM DISPLAY)
SS175M-12° Tilted Element Thru-Hull Transducer
StructureScan® 3D Transducer
StructureScan® HD Transducer
Simrad RS20 VHF Radio
Simrad Broadband 4G Radar
NAC2 Autopilot Kit with RPU80
Simrad WR10 Autopilot Remote
WM-3 Weather Module
---
Masters 227 Bay Boat & Tournament 234 Bay Boat
Standard
Simrad NSS9 EVO3 MFD
SS60-12° Tilted Element Thru-Hull Transducer
Fuel Level Sensor
Available Options
Simrad NSS9 EVO3 MFD (SECOND HELM DISPLAY)
Simrad NSS12 EVO3 MFD (UPGRADE TO SINGLE DISPLAY)
SS175M-12° Tilted Element Thru-Hull Transducer
StructureScan® 3D Transducer
StructureScan® HD Transducer
Simrad RS20 VHF Radio
Simrad Broadband 4G Radar
Optimus Autopilot & Precision-9 Compass
NAC2 Autopilot Kit with RPU80
Simrad WR10 Autopilot Remote
WM-3 Weather Module
---
Masters 207 Bay Boat & Tournament 214 Bay Boat
Standard
Simrad NSS9 EVO3 MFD
SS60-12° Tilted Element Thru-Hull Transducer
Fuel Level Sensor
Available Options
SS175M-12° Tilted Element Thru-Hull Transducer
StructureScan® 3D Transducer
StructureScan® HD Transducer
Simrad RS20 VHF Radio
WM-3 Weather Module
---
Island Reef & Island Bay Series Boats
Standard
Simrad GO7 XSE MFD
HST-WSBL 83/200KHZ Transducer
For more information about SportLink®, navigate to www.sportsmanboatsmfg.com/sportlink-garmin